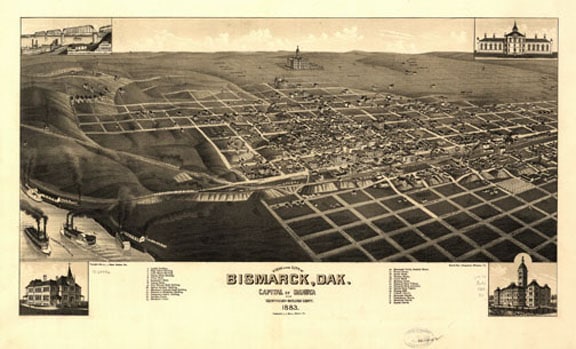 Dakota Bitters
Bismarck, 

Dakota
19 October 2013

I came across these two obscure small advertisements below in the Bismarck (Dakota) Tribune in 1877 noting a celebrated Dakota Bitters being sold by Dyer & Byrne at the Firemens Exchange (late 7th Cavalry Saloon) in Bismarck, Dakota. I say Dakota because North and South Dakota were not granted their statehood until November 2, 1892. According to the second clipping, Dyer & Byrne entered into a partnership that same year, 1877,  to "carry on the liquor trade or any other legitimate business." I like that, no drugs or prostitution goals here in this tough frontier town.
This looks like an unlisted bitters though Carlyn Ring and W. C. Ham do list a D2, Dakota Stomach Bitters in Bitters Bottles based on advertisements in 1882, 1883 and 1884 in Minneapolis, Minnesota. This brand was very briefly sold (possibly only 1883) by C. A. Mann & Co. (Calvin A. Mann and Henry Tucker) (see advertisements and listing below). The two were listed as chemists dealing in perfumes, cosmetiques and extracts and were only listed for three years with major advertisements each year in the Minneapolis City Directory. I really like their trade mark art that appears on the advertisements.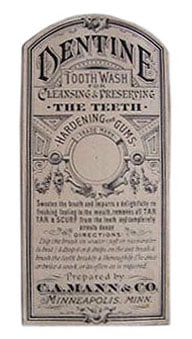 [Online Description] Label for C. A. Mann & Co, manufacturers of perfumery, ointments, & topical cures out of Minneapolis, Minn. The person posting believes this was the company of eventual University of Minnesota professor of chemistry Charles (Calvin) A. Mann. His associate was named Henry Tucker, a Virginia politician later in his career. Sources required.
"DENTINE toothwash for cleansing & preserving THE TEETH, Hardening the Gums. Sweeten the breath and imparts a delightfully refreshing feeling to the mouth, removes all TARTAR & SCURF from the teeth and completely arrests decary. Derections: Dip the brush in water (soft or rainwater is best) & drop 6 or 8 drops on the wet brush and brush the teeth briskly & thoroughly. Use once or twice a week, or as often as is required. Prepared by C.A. Mann & Co Minneapolis Minn." The business was located at 1629 Fifth Street S.E., Minneapolis, MN.