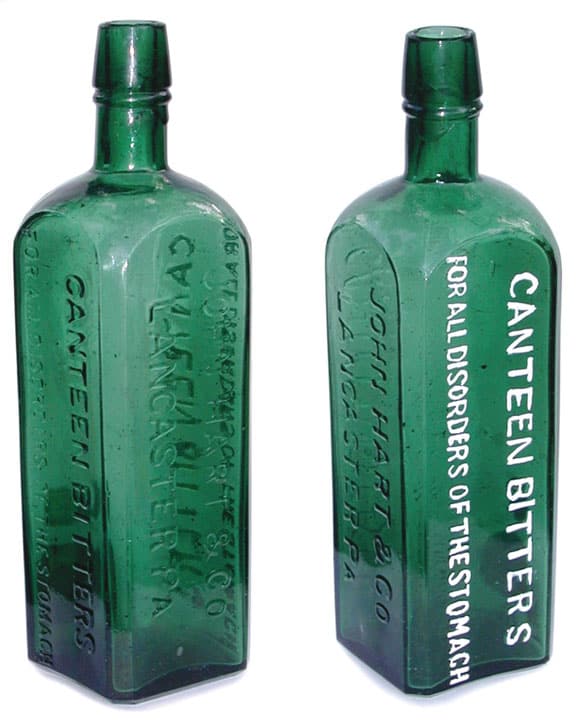 CANTEEN BITTERS
JOHN HART & CO. – LANCASTER PA
FOR ALL DISORDERS OF THE STOMACH
04 October 2013 (R•100915)
Scarcely a man was there who had not his canteen full; the most of the boys had already become inebriated, and were making an unwarrantable amount of noise. . . Before the close of that eventful day there may possibly have been ten sober men remaining in the regiment; but I doubt it.

I have not thought about my Canteen Bitters (pictured above) from Lancaster, Pennsylvania in a number of years. It was only when I started receiving e-mails and facebook prompts alerting me to a nice example showing up and eventually being put on sale on ebay, that I decided to do a post. What a great bottle and color.
Canteen is such an interesting name. John Hart & Co. put out this brand along with the rather well known, figural heart bottle (pictured below). I am kind of surprised he did not do a similar canteen figural bottle. He did have Trade-Mark 7111 – Bitters – filed by Hart & Myers, Lancaster, Pa. dated 11 March 1879 for "the figure of a canteen and the word-symbol 'Canteen.' I can not locate this art but I bet it is pretty cool.
Read: Historical Canteens – Canteen Figural Bottles
My Canteen Bitters example came from the Roger Long collection and prior to that, the Chris Batdorff collection. I actually made a trip up to Pennsylvania to see the Long collection prior to auction.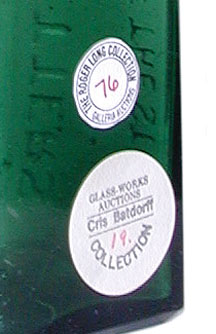 Likewise, a few Bucktails pried open a boxcar and discovered about a dozen bottles of whiskey that were intended for use by the Pennsylvania Reserves' medical director. The story, unfortunately, had a less than happy ending. The Bucktails began to drink from other bottles in the stash. A soldier tried to warn his companions that what they were drinking was

"no bitters at all,"

but they continued to imbibe. The bottles actually contained 

laudanum

, and two men died the next day from ingesting the bitter-tasting narcotic.
The example on ebay was titled and described:
Ultra Rare Antique CANTEEN BITTERS bottle, John Hart & Co., Lancaster, PA, Deep Green. Estate Fresh from Lancaster, PA, Circa 1860's to 1870's, Size: 9 13/16″ tall, 3 3/8″ across the base, corner to corner, Great Color! Lockwood green, Smooth Base, Long Tapered Collar with a ring beneath, applied, Nice clean pressing, Retains an old, possibly original cork stopper, No cracks. Has a chip on the lip of the collar, about 1/4″ long, and 3/16″ wide; a small chip/bruise on the base approx 1/8″ X 1/8″. tje497 (99.5% Positive feedback)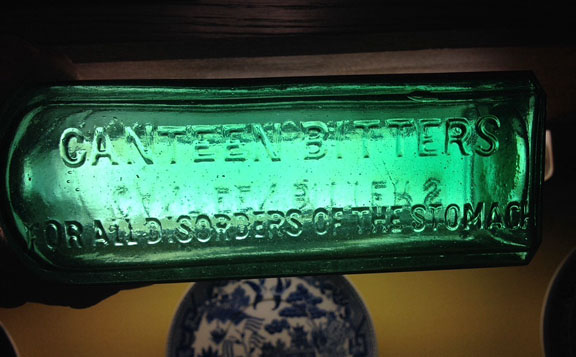 The new listing by Bill Ham for the forthcoming Bitters Bottles Supplement 2:
C 34  Canteen Bitters
C 34 CANTEEN BITTERS / FOR ALL DISORDERS OF THE STOMACH // JOHN HART & CO / LANCASTER PA // CANTEEN BITTERS FOR ALL DISORDERS OF THE STOMACH // f //
9 7/8 x 2 3/4 (7 1/4) 5/8
Square, LTCR, Applied mouth, Blue-green, Emerald: Scarce, Pale green, Amber, Extremely rare
FRE 479, UMB 399
Trade Mark, March 11, 1879 to John Hart and Abraham A. Meyers
John Hart
Most information supports John Hart being born in Pennsylvania about 1837 and being the son of immigrants from Baden, Germany. He was married to Elizabeth Atkinson. In the 1860 Federal Census, he was listed as a barber in Lancaster, Pennsylvania. An 1868 advertisement says Prof. John Hart. The 1870 census lists him as the "Manuf. of Hair Restorer." An 1879-80 Lancaster Directory lists Hart (Professor of Elocution) as a manufacturer of Canteen Bitters and Neufeld's Italian Balm (Francis L. Neufeld, Pastor). Address 111. S. Queen. During this period, his partner was Abraham A. Myers. I believe this bitters was only put out for a short duration of time, possibly only in 1879 and 1880. Very few examples are know. I suspect the Scarce rating may be a bit to wide.
FATHER NEUFELD'S ITALIAN BALM
The Greatest Remedy in tbe World for CHOLERA MORBUS, DYSENTERY, DiARRHCEA, COLIC, STOMACH CRAMPS, RHEUMATISM, HEADACHE, NEURALGIA, TOOTHACHE. PAINS IN THE LIMBS, BRUISES, CUTS, SPRAINS, BURNS, SCALDS, Etc., Etc.
Rev. Francis L. Neufeld, M. D., the discoverer of this wonderful Remedy, is Pastor of St. Joseph's Catholic Church, Lancaster City, Pa. He discovered the Italian Balm a number of years ago, but only manufactured it on a small scale for the use of his parishioners and neighbors. Its fame, however, spread with astonishing rapidity, and the demand for it be-came so pressing that Father Neufeld concluded to transfer it to the hands of a responsible person, who would present it to the public in a uniform manner, at a reasonable price.
To WHOM IT MAT CONCERN: This Is to Certify that I have this day transferred to Prof. John Hart all right, title and interest in the Balm originally prepared by me, and known as Neufeld's Italian Balm. The Balm will be manufactured with the same care, and according to the original recipe. Prof. Hart having received from me personal instructions in its preparation.
FRANCIS L. NEUFELD
Lancaster, Pa., July 1st, 1868.
Ask for Neufeld's Italian Balm, and take no other. If your druggist does not keep it, he will send and get it for you. All orders shall be addressed to:
JOHN HART & CO.