He was a member of the Lutheran Church, and for many years led the singing in the congregation. He had an excellent voice and was very fond of singing; yea, he was proud of his musical talents.

When quite a boy I recollect of hearing him tell how he used to take his "bitters," a common thing in those days, before going to church, "to clear out his throat,"- and that then his voice would sound clear and soft as the tones of a little organ.
History of the Eberharts in Germany and the United States
Christian Xander and his

Melliston Bitters

,

Wild Cherry Bitters

&

German Aromatic Bitters
28 September 2013 (R•082816)

Well, it happened again. I was off looking through New York Directories for Wheat Bitters and up pops a link leading to an advertisement for German Aromatic Bitters (see below) from Washington, D.C. That sure didn't ring a bell so I went off on a tangent looking for more information. I certainly had not heard of Christian Xander.
As it turns out, there is quite a bit of good information available. We will include a digging article called Bottles from our Nation's Capital by Andy Goldfrank and follow up with an article called Wine Made From Manassas Grapes Wins Bronze Metal at the 1900 Paris Exposition by Ray Olszewski. Both are represented further below.
The only reference I can find in the Ring & Ham Bitters Bottles book is as follows:
X 1 L

… Christian Xanders Stomach Bitters
909 Seventh
(7th Street)

Street N.W., Washington D.C.
Round Lady's Leg, Amber

There are some nice advertisements starting as early as 1878 in Washington, D.C. where Christian Xander was selling his Melliston Bitters and German Aromatic Bitters which is probable the same product.
Christian Xander Timeline:
1837 – Christian Xander appears to have been born in Grossweier, a small town in the state of Baden in southwestern, Germany, near Strasbourg, France, on January 10, 1837, the son of an earlier Christian Xander and his wife Magdalena Zerr (Zirn), who himself was the son of an earlier Christian Xander and his wife Maria Jorger.
1864 – Xander emigrated to the District of Columbia.
1864 – Xander married Caroline Blume (Blum), also a German emigree born in 1848, at the Concordia Lutheran Church in Washington, D.C. on 22 December 1864.
1872 – Xander listed himself as a wholesale liquor dealer in 1872 census, but as early as 1872, he was sufficiently established as a merchant to act as an incorporator for the Boundary & Silver Springs Railway Co, a trolley system for the District of Columbia, one of a group of visionary businessmen willing to invest to build the latest transportation improvement for the city of Washington.
1878 – Advertised Christian Xander's Melliston Bitters, German Aromatic Bitters
1882 – Xander winery established. For the vintage year 1893, he manufactured approximately 10,000 gallons of  "sweet reds and clarets" worth approximately $15,000.
1892 – Still advertising Christian Xander's Melliston Bitters, German Aromatic Bitters
1896 – As a wholesaler, Xander gave a plug to one of his domestic champagne manufacturers in 1896, by issuing a hearty recommendation of its product as equal to the more expensive imported champagnes.
1900 – Xander was willing to carry the challenge to foreign imports even further by displaying his own quality wines at the Paris Exposition of 1900.
1905 – Xander was regarded as a significant enough citizen to serve on one of the committees charged with organizing the Inauguration of President Theodore Roosevelt which took place on March 4th of that year.
1908 – Xander died apparently suddenly on March 7, 1908 at age 71 and was buried on March 10, 1908. His widow continued to make donations of wine to one of the local charity hospitals for years after his death.
Ads proclaiming the excellence of products of local German businesses, such as Christian Xander's "Wild Cherry Bitters (for the stomach)" and ads from non-German establishments like the "5 Cents Savings Bank"
The Washington Journal
Read Below: Bottles from our Nation's Capital by Andy Goldfrank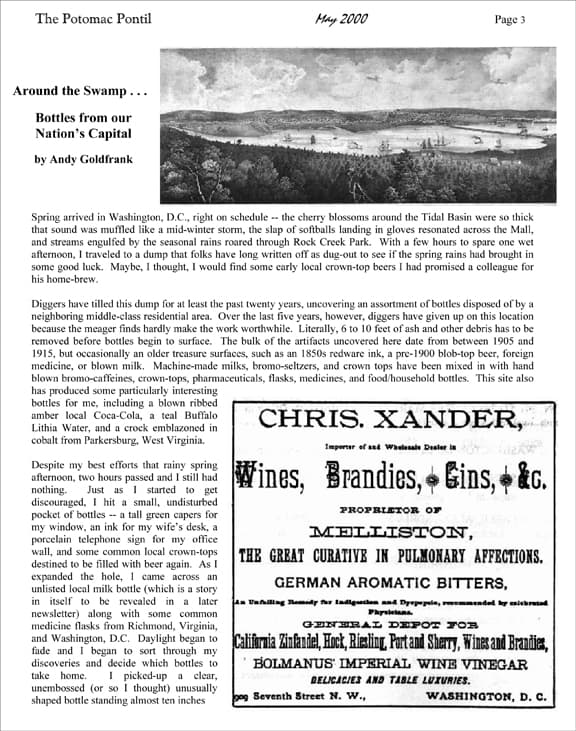 Read Below: Wine Made From Manassas Grapes Wins Bronze Metal at the 1900 Paris Exposition by Ray Olszewski