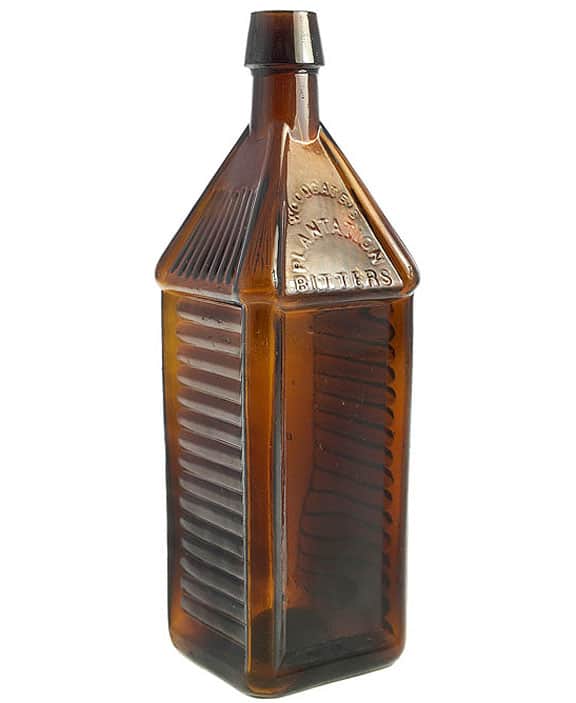 The Mystery surrounding the Woodgate's Plantation Bitters
06 August 2012 (Updated 07 August 2013 with Jeff Burkhardt information) (R•061317)

Why yes, I have written about the extremely rare, Woodgate's Plantation Bitters before, but ahah, now I possess the fourth known example which sits proudly on one of my shelves. This is a tough one to get folks. Two known examples are in amber and two are in an extraordinary olive yellow coloration. Now I am curious about the brand history.
And guess what, there is absolutely NOTHING I can find on the Woodgate's which gets jumbled in with the Drake's Plantation Bitters which is pictured above for comparison. Obvious similarities yet big differences. 100 to 1 odds that the Woodgate's was tailgating or piggy-backing on the Drake's success. What is puzzling and mysterious about the Woodgate's, is that there is no advertising, no directory listings, no labeled example etc. Only some sparse clues…
1.) The Drake's was made by Whitney Glass Works in Glassboro, New Jersey.
2.) Woodgate's Example #3: This was a new find to the market in the spring/summer of 2011, coming out of a home in Northern New Jersey. The irony of it, is that the consignor of this bottle found one of the other two, 40-years ago! (This is what I call the Knock – Knock bottle). I am trying to track down Jim Hagenbuch to expand on this.
3.) Woodgate's Example #2: The extraordinary yellow olive example is ex. Carlyn Ring who purchased it from Mark Vuono's father (Charles Vuono) in the very early '80s and then sold it to Jim Hagenbuch when he purchased the Ring collection. Jim kept the bottle all these years in his collection and I got it from him last year – Sandor Fuss.
4.) If memory serves correct, Woodgate's Example #1 is in the Ted Krist collection and is also yellow olive.
5.) Why did Carlyn Ring and Bill Ham only list the bottle in amber?
*Examples are numbered by appearance in collections
The Carlyn Ring and W.C. Ham listing in Bitters Bottles is as follows:
W 160  WOODGATE'S PLANTATION BITTERS
// c // WOODGATE
'

S ( au ) / PLANTATION ( au ) / BITTERS // 8 ribs // 8 ribs // 8 ribs //
9 3/4 x 3 (6)
Square cabin, Amber,

Yellow olive

, LTC, Applied mouth, Extremely rare
15 horizontal logs in each of 2 sides. 8 ribs on 3 shoulders
*Suggest Bill Ham add apostrophe in WOODGATE'S and Yellow olive as color in next edition of Bitters Bottles Supplement.
Read: Knock – Knock
Read: Glass Works Auction #93 – Woodgate's Plantation Bitters makes its Appearance