13 June 2013

With a suddenness that I thought not possible, we have lost one of the newer generation, pioneering collectors that brought so much to the hobby we all love. He illuminated our special world. I myself feel a special connection to Tom as we both specialize in color runs and 'cornering' a specific area. With Tom it was his love and passion for Udolpho Wolfe's Aromatic Schnapps that was so fun to watch. I feel lucky to have met and corresponded with Tom over the years and to have connected with him at some of the FOHBC National Shows where we talked bottles and socialized.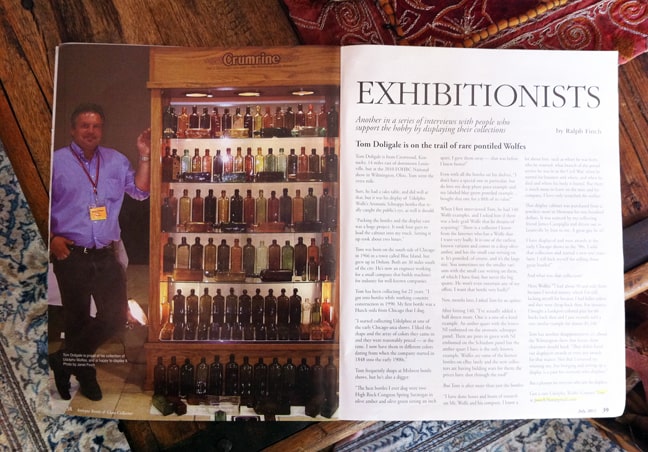 For now, the best way for me to pay tribute is to re-list some of his posts and to relay some of the comments from his friends that I have received by e-mail or I have picked from the facebook bottle forums which Tom enjoyed so much.
Tom Doligale Posts on PRG:
Tom Doligale and his Udolpho Wolfe's Aromatic Schnapps
The many apostrophes of Udolpho Wolfe's – Tom Doligale
Tom Doligale collection of Colored Squares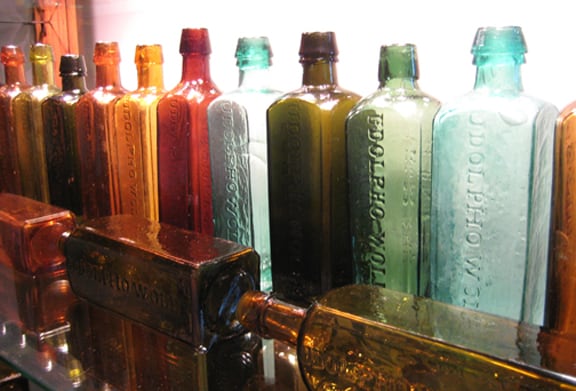 The Udolpho Wolfe King –

Tom Doligale
TOM DOLIGALE PASSED AWAY THIS MORNING. Stephanie wrote me and I share it with greatest sadness.
I am stunned. Stephanie wrote me last night that Tom was "holding his own" and I thought that was hopeful. Rest in peace, dear friend Tom. I will miss you very much, the whole bottle community will feel this horrendous loss.
Dana Charlton-Zarro
Tom Doligale was a true friend. Always upbeat and happy and loved his bottles! It was so fun to send a picture or email- he loved to see pics of bottles, places I travelled etc. He would send me bottle pics, car show pics, etc.
I sell on eBay under the name chipsbottles and I was selling some of my old casino chips to a guy in KY. One day he wrote and asked about the bottles part and said he used to live in Chicago and he and friends would find bottles digging years ago. He had an assortment but liked the Wolfe's Schnapps. He later sold all his bottles and moved near Louisville. We hit it off right away emailing about bottles and I would send him some pics and link to my site and that's all it took, the bottle bug big Tom hard and he lived bottles from then on. He met a wonderful woman named Stephanie and she enjoyed travelling to shops helping him find bottles, etc. He loved the outdoors and I know they both would camp and have the best times. My wife and I went to see Tom in 2009 and took him a display cabinet that I found in a shop here in Montana. The huge oak cabinet barely fit in the minivan but we made it to KY and I helped him set it up with his Wolfe's Schnapps collection. He proudly displayed his bottles at home and at the Mansfield show we went to together in 2011 I believe the year was. We shared a table and had a great time. Later at his house we did a bunch of bottle trading and showing off the bottles we had bought at the show. We hung out with friends at the show and had such a great time during and after.
I barely knew Tom when he told me his brother and friends like to come to Montana to snowmobile ride. When he invited me I knew I had to go to meet this new best friend. We all had some much fun we are still talking about it! Sadly Tom didn't come to the ride this year in Feb. and the Leukemia struck while we were all out riding. I sent him a text with a pics. of us on our sleds. He said he was not feeling well and his brother talked him into going to the ER. The shock of the horrible blood disease floored us all. Prayers were sent and positive thoughts as this was a man who would beat this. He beat if for months. He remained positive and strong. The shock today that the disease got the best of him has broken my heart. There could not of been a kinder, more positive, more fair wonderful person than Tom Doligale and all his friends will remember this as an example of a how a person should be and how others should be treated. Tom many of us will see you again someday so probe those pits as if there's bottles in heaven we will find the best ones!
I have so many stories to share, pictures etc. and will do so another day. Im going digging and staying up in the hills for the night.
James Campiglia
I'm stunned…I'm gonna write a brief article story about Tom Doligale and the only 2 known examples of the QUADS as he called them. Udolpho Wolfes Aromatic Schnapps Schiedam embossed on all 4 sides Tom told me about these bottles and I owned them both and recently sold him one, I still have the other. Now it means more to me and reached another interest level. Thanks for what you posted, class act as always. Pretty sad over this one, can't explain it….
Rick Ciralli
A dark day indeed… Tom will certainly be missed.
This is heartbreaking. My condolences to Stephanie and Tom's family and friends. I only met Tom a couple of times, but he really became a good friend to so many of us through these pages. I was looking forward to enjoying some time with Tom in Manchester… he will certainly be in our hearts.
Michael George
I am truly speechless…..I feel as though I just lost what could have been the best friend I would have ever known. Sadness does not even describe what I am feeling right now. I will miss you dearly my friend. As will countless others.
Dave Kam
Really Sorry to hear about Tom's passing, I never met Tom in person, but, carried on a running conversation on both the phone and via email for several years now. He bought out the last of my Good Wolfe's Puce Schnapps several years ago. Great sense of Humor and always willing to share knowledge, RIP Me Amigo
Rick Hall
I was like Rick Hall … Tom and I talked on the phone some and I sold him a bottle or two and you knew he was someone you wanted to be friends with. I had no idea things went this bad this quick. Too Good …Too Young… TOO VERY VERY SAD !!!!
Mark A. Turner
I was really looking forward to meeting Tom at "The Office" (otherwise known as JD's Tavern) at this summer's National Show. We will raise a toast for sure. Good guy gone too early. Sad.
Jeff Noordsy
How tragic, I'm sorry to hear this. His contributions here and in the bottle collecting world in general will be missed. My condolences to his family and friends.
Matthew Tigue Levanti
It would be nice if someone could bring a Udolpho , a framed picture & a couple of candles or such to Manchester for a tribute to Tom.
Edward D. Nikles
I can't believe it. He was just here…He was such a "bright light" to these bottle groups. I will miss him. Our deepest condolences to Stephanie.
Jeff Burkhardt
I am very saddened by this news. Tom was great to chat with, and he will live on in my memories, as a fine fun loving bottle collecting brother. To the Wolfe Man.
Steven James Anderson
It seems like he was just posting here, a few days ago. He certainly lived life and made the most of it, from what I could tell.
Bill Heatley
I know this always sucks the life out of us at first but, we collectors…we are a family. Warts and all but family. Those closer to Tom, honor him for us all. Those who were further, we understand, though the names we think of my be different, still the same damn pain. Love, prayers, thoughts for all his family.
Danny Catherino
I never met Tom either but I remember having a question about a Wolfe's that I was unfamiliar with and he emailed me and went into great detail about it, much more the you would think and I remember thinking how nice of him it was to help and give me all the great info he did. He will be missed in many ways. Prayers to his family in this time.
Tim Henson
Just heard this news. I'm still I'm shock! I never had the privilege of meeting Tom. But had talked back and forth with him several times. He was the most knowledgeable person on Wolfe's I had ever talked with. I so looked forward to meeting him at a future Show. We will meet Tom, just in a different place. God speed Tommy! Condolences to his Family and Loved ones. So sorry to hear this.
Brian Shultis
He also loved his unembossed squares we were happy to add the tilted one and others to his collection.
Maureen Crawford
Humility and forgiveness, signs of a great man! Never met Tom, except through this page, but our posts back and forth were warm ones. May God rest his soul!
James Becker