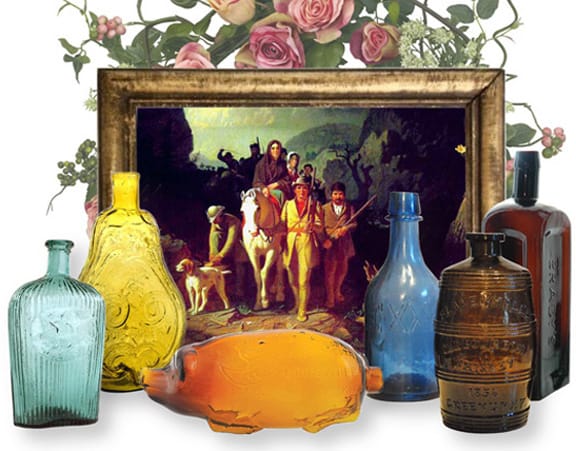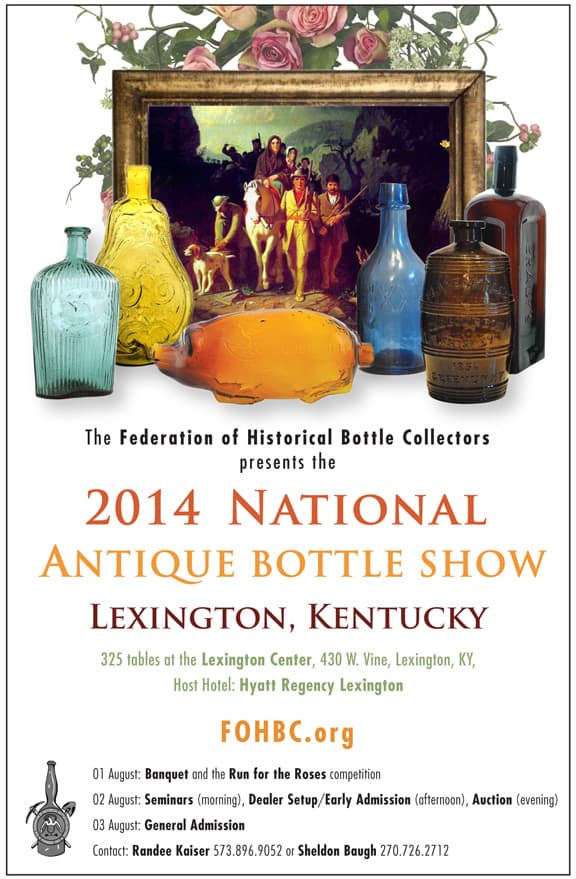 Not too long ago I was looking for some strong representative Kentucky bottles for a marketing piece I was developing for the FOHBC 2014 National Antique Bottle Show in Lexington, Kentucky. Of course I immediately thought of pieces attributed to the Louisville Glass Works and Kentucky Glass Works. Some of the local guys like Sheldon Baugh and Randee Kaiser (show co-chairs) sent me some bottle pictures for consideration, plus I had some archived files for use. I was able to come up with the final assemblage using a grouping of bottles in front of the famous painting of Daniel Boone Escorting Settlers Through the Cumberland Gap by George Caleb Bingham. I added a frame to it and a wreath of roses as a tribute to the fine Kentucky thoroughbred horses. Continuing this thought, our bottle shootout event will be called the "Run for the Roses". The Kentucky bottles in the art include a Louisville scroll flask, a bitters square, a whiskey barrel, a figural pig, a blue soda water and a pocket flask. Can you further identify them?

Well I finally got a chance to look again, and more thoroughly at the fine assortment of bottles in the Glass Works Auction #98 "Summer Sizzler Auction" and I was excited to see some great Louisville flasks which will occupy the second half of this post.
Glass Works Auctions | Auction #98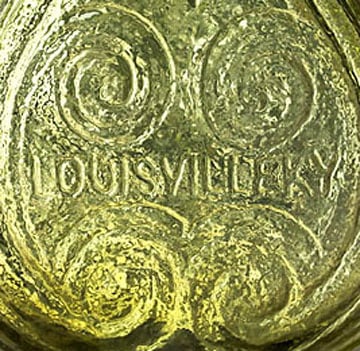 Fantastic flasks! Btw, no offense to Glass Works Auctions, but the Kentucky Glass Works (later, Louisville Glass Works) didn't start operation until 1850. These flasks, if they are truly Louisville products, date after 1850, NO earlier!
David Whitten
Read: Louisville Glass Factories of the 19th Century – Part 1 – by David Whitten
Read: Louisville Glass Factories of the 19th Century – Part 2 – by David Whitten