William's Royal Crown Remedy and Bitters – Isaac Williams Company
19 May 2013 (R•051219)
William's Royal Crown Remedy and Bitters: price: $1 a bottle, six for $5, manufactured by Isaac Williams Company, 268 Dundas St., London, Ont., for sale by all druggists

In pursuit of more information regarding Duncan Edwards Crown Bitters, I came across a Canadian labeled Bitters called William's Royal Crown Remedy and Bitters. Furthermore, do not see a designated number for this brand in Bitters Bottles or Bitters Bottle Supplement. I was quickly able to find an pretty cool advertising pamphlet (see below) which touted the benefits of this vile looking concoction. Read Pamphlet
I see that someone over at Antique-bottles.net has an example (pictured to the left) and wrote:
"I have this Williams Royal Crown Remedy and Bitters bottle. Anyone heard of it?"
"Still full with original contents. Original paper labels and box. One label in English, one in German (I think). The box is in pretty rough shape. I was told this came out of a drug store basement and was never opened, so I guess this is as close to "mint" as they come."
I think its neat that the bottle has never been opened, but I'm not a fan of full bottles. In this case, the brown liquid really obscures the embossing. Is a bottle like this more collectible/valuable with the original contents or should I dump it?"
William's Royal Crown Remedy and Bitters – Isaac Williams Company
19 May 2013 (R•082414 information from direct relative)

New Information 24 August 2014: I am working on my genealogy and Isaac Williams, the proprietor of this remedy, was my 3rd great grandfather. He was born on March 11, 1820 in Lincoln County, Ontario, Canada.
He was married to Sarah Mariah Ackert (1824-1897), whose parents came up from upstate New York. His parents were the colorful Benajah Williams (1765-1851) from Delaware, New York and Elizabeth Kennedy (1788-1842) from New Jersey.
My research shows that Isaac Williams was quite the entrepreneur with several enterprises under his belt. In 1855 he was a "pump maker and shingle maker". In 1861 a "farmer and pump maker". In 1865 the owner of a "chair and cabinet factory". He was a "peddler" from 1871 to 1881. In 1897 he was in Port Huron, Michigan and was listed as a "doctor". In 1901, ten years before he died, he was listed as a "medicine dealer". Isaac Williams died on June 8, 1911 in Guelph, Ontario.
I think he sold the snake oil with his son, Peter Nelson Williams, who is listed as a "Medicine Man" in the 1891 Canadian census and as the owner of a "patent medicine firm" on his death registration in 1924 in London, Ontario. Apparently Peter Williams put "Dr." in front of his name, although I'm fairly certain that he wasn't even close to being a doctor. The Royal Crown Remedy probably disappeared after Peter's death in 1924, although I'm not sure of that.
I hope this info is of interest to you and puts some flesh on the history of these bottles.
Regards, Alison – Kelowna, BC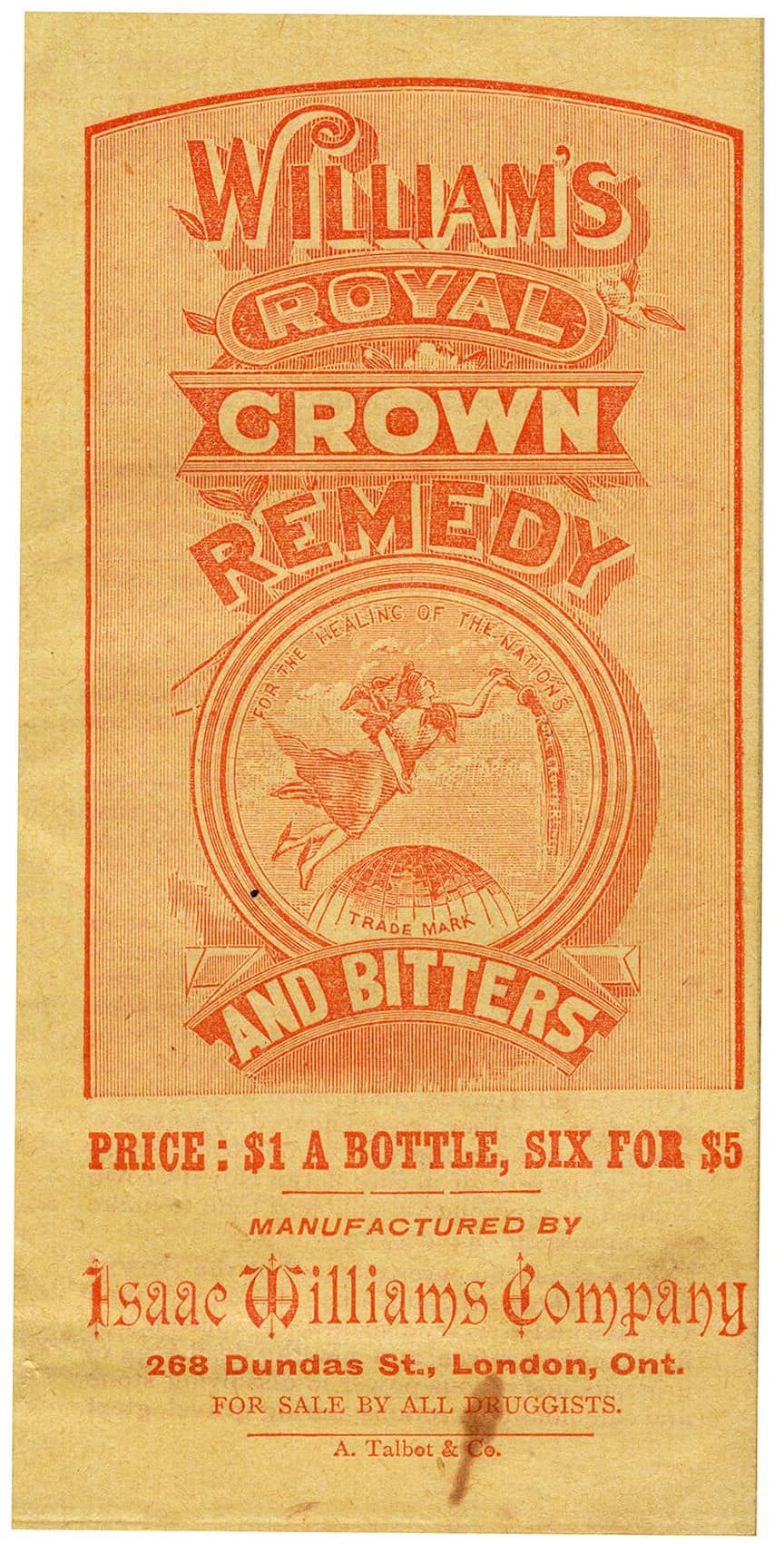 Updated listing information from Bill Ham for Bitters Bottles Supplement 2:
Brochure
W120.4 Williams Royal Crown Remedy And Bitters, Isaac Williams Company, 268 Dundas Street, London, Ontario, For Sale by all Druggists, 1894 calendar on the back cover. 20 pages of testimonials and advertising.
4 x 7 ¾
W 120.4 L . . . William's Royal Crown Remedy and Bitters, Price $1 a Bottle, 6 for $5. Manufactured by Isaac Williams Company, 268 Dundas St., London, Ont., for sale by all druggists
A Canadian brand