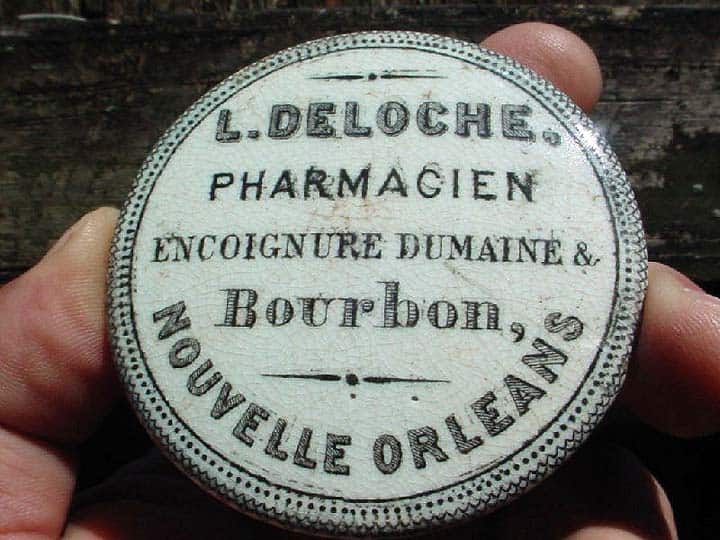 I was looking at this pretty cool New Orleans pot lid on ebay last night wondering if Greg Dean or Rex Barbour (both major pot lit collectors living in Australia) knew anything about it. Also Dr. Charles Aprill (New Orleans), had he any information on this pot lid or pharmacy. Well I check back this morning and the ebay listed had ended. Here was the listing and description. The pictures were rather nice. See original ebay listing.
Read more on PRG: American Pot Lid Pictures in from Greg Dean
Read more on PRG: Quack Pot Lids Display (Australia to Reno)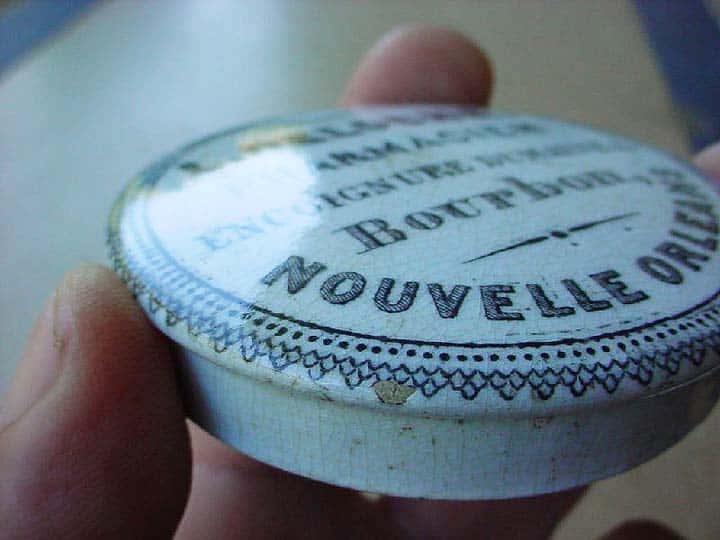 Ext. Rare New Orleans Pot Lid, Bourbon St. Address.
L. Deloche, Pharmacien Encoignure Dumain & Bourbon, Nouvelle Orleans, all within a round border, the pot is in black transfer, the pot is 2 5/8″ round, now, this is a extremely rare lid, it is unlisted and may be unique, it has world known famous and historic Bourbon St on it, put all this together and you have a very rare and important and historic lid, to date there are no others known, so now i will get to my price on this lid, with ext.rare flask selling for over a hundred grand, and a 1913 nickle that just sold for over 3 million, and there are five of those, my thought on the selling price is that its reasonable and cheap, of course many may not see it this way but in the 1940's that same v nickle sold for 3 thousand dollars,people thought that was high at the time, anyway this is no doubt for a advanced collection and one that has the budget to go with it, but be assured this a top shelf piece and would be a center of that advanced collection, a collection that has something others don't because even for more money there's not another to be bought, so here it is, a one time shot at a ultra rare lid, it has no cracks, or chips, not a matching base, overall very good condition.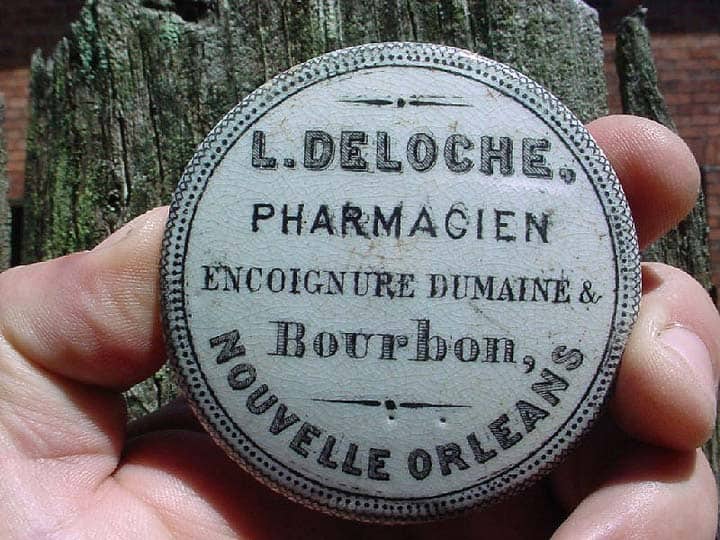 A search online reveals a Louis Deloche, druggist, Bourbon & Main (1834 New Orleans City Directory), 253 Bourbon (1838 New Orleans City Directory), listed as Druggist and Chemist in 1843 directory, 253 Bourbon (1850 New Orleans City Directory) and Louis Deloche, druggist, 195 Bourbon (1861 New Orleans City Directory). Louis had a wife named Josephine. She is listed in an 1876 New Orleans City Directory as Lewis' widow. Some address as pot lid, meaning I suppose, they lived above the pharmacy. A 1900 Meyer Brothers Druggist catalog lists a H. Gruebler as purchasing the Deloche Pharmacy.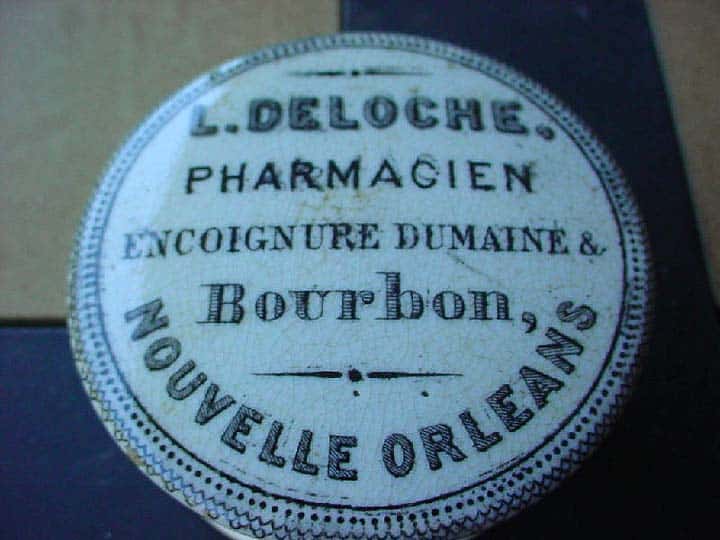 I also see that this same pot lid showed up over at Antique-Bottles.net late last year. The following comment was noted:
Looks like a French lid made for the US market. Plenty of UK lids were done for similar purposes with American addresses. Time for a bit of research on Deloche in Orleans to prove othewise. 
Here is another odd listing of an accidental death:
Simeon F. Boy C. – 10 years – N.O. La – cor. Dumain (sic) & Bourbon Sts. Killed by having his head crushed by the flywheel of a force pump used for making mineral water at the establishment of L. Deloche. The boy sliped (sic) and fell with his head in the wheel while it was revolving crushing his scull (sic) and right arm. Entirely accidental.
New Orleans August 6th, 1863
Does anyone have and Deloche druggists bottles? He was around a long time. By the note above, he was also making mineral water.