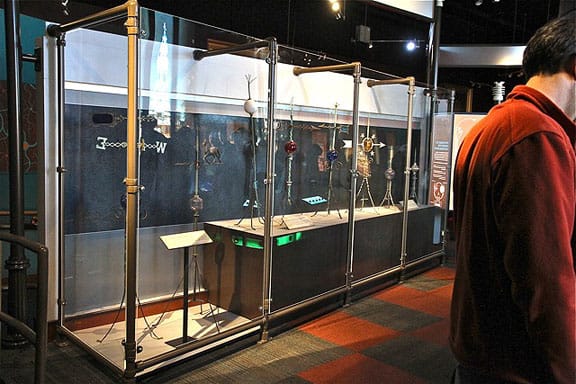 F – Thought you'd find interesting. (Some Executive at) AMC Pictures collects LIGHTNING RODS. Dealer Ted Storb in Connecticut sold many of these to him.
JEFF (FROGGY) BURKHARDT
Hi All,
Jeanne and I visited family in Philadelphia last weekend and also got to see the lightning rod exhibit at The Franklin Institute. Thought you might like to see some photos we took at the exhibit. Believe it's a nice well rounded collection of types, sizes and configurations, Ben would probably approve!
Ted & Jeanne

The Franklin Institute (named after the noted American scientist and statesman Benjamin Franklin) is a museum in Philadelphia, Pennsylvania, and one of the oldest centers of science education and development in the United States, dating to 1824. The Institute also houses the Benjamin Franklin National Memorial.
Read: The Franklin Institute Press release "New Exhibit of Antique Lightning Rods"
Read: Lightning Rod Balls – A Few From Our Collection