Rose Water – Lime Juice – Olive Oil whats-it-hold bottles!
03 December 2012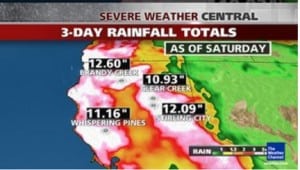 This past weekend at the El Nina – Monsoon, 49er Antique Bottle Show in Auburn, California I was able to put together a color run of some interesting early un-embossed cylinders with applied tops and really rich colors. You can see the bottles in the picture above.
In shape, the bottles remind me of the slightly smaller, Florida Water bottles (see picture below). When I got to asking around about the bottles, the usual group of advanced Western collectors all seemed to have different comments about the bottles which I thought was really interesting. Some of the comments:
My Comments so far?
Many were dug in 'The Big Dig" in San Francisco, referring to a dig of a mid-19th Century recycling plant in downtown San Francisco.
Some were dug at Negro Hill. In 1862, Negro Hill, California was an amazing community in Gold Rush California.
They held Rose Water – They were Lime Juice bottles – They are Olive Oil bottles
They are Western blown
They are Eastern blown
They were whore house bottles
Some examples were blown at the Baltimore Glass Works
I saw a partially labeled example once
They come pontiled
There are different but similar molds
What is going on here? I get that many have been found out west though they look like eastern bottles with New York and Baltimore colors. I actually feel like I am looking at  Greeley's or Bourbon Whiskey Bitters barrel colors, with the exception of the green color. When I look online for information, I see very little information and certainly no pictures of a bottle. This also includes advertising and merchant information.
So when this happens I post. I already have some great pictures and information from Matthew Levanti (see below). Let's see what type of information comes in from the East Coast people like Chris Rowell, Brian Wolff, Michael George etc.
Here is an image below of Florida Water cologne bottles. Very similar shape, but smaller than my new bottles.
FLORIDA WATER

COLOGNE BOTTLES
Look how similar the shapes are. The Florida water bottles are proportionally smaller.
ROSE WATER
I can find no pictures of antique rose water bottles.
Rose water is the hydrosol portion of the distillate of rose petals. Rose water, itself a by-product of the production of rose oil for use in perfume, is used to flavour food, as a component in some cosmetic and medical preparations, and for religious purposes throughout Europe and Asia. Rose syrup is made from rose water, with sugar added. Since ancient times, the rose has been highly prized for its source of perfume, medicinal use and nutritional properties. In fact so much so that ancient Greeks, Romans and Phoenecians placed as much importance on large public rose gardens as they did on wheat fields and fruit orchards. Rose perfumes are made from rose oil, also called attar of roses, which is a mixture of volatile essential oils obtained by steam-distilling the crushed petals of roses, a process first developed in Persia and Bulgaria. Rose water is a by-product of this process.
ROSE'S LIME JUICE
These are lime juice bottles. I can not imagine why a producer or merchant would want lime juice in a dark color bottle unless it was to protect the product from sunlight, like beer.
OLIVE OIL BOTTLE
Olive Oil seem very reasonable for the bottle in question though I can find no examples of antique bottles that are similar.
First Response
Hey Ferd,
I took some pictures of my utility bottles that I thought you would enjoy. I would guess they held any number of things, I have heard they were found out east with lime juice labels, but I wouldn't doubt the bottles were also used for rose water and other products. They do look exactly like a Florida water. The bottles were produced in New England, Baltimore and other Eastern glass houses but I'm not refuting Western origin for some too. MY favorite of the five I have is the yellow one, which is open pontil and Chris Rowell told me was likely made in Baltimore. Mike George had one that was a likely Stoddard bottle. On looking at mine I discovered all but the O.P. example have the strange four piece molds, either a half inch or inch and half from the bottom. These four were all bought in a lot from Glassworks out of the Paul hertz collection and were likely found out west.
I'd be glad to hear any more information about them, I'm betting there will be a very informative post on Peachridge glass soon!
Take care,
Matt
P.S., were any of yours olive, moss or forest green? I've not seen many green ones… puce seems to be the norm…