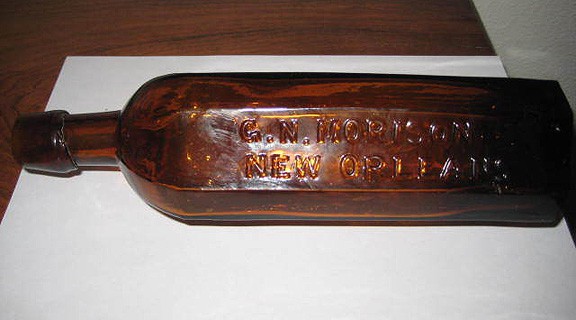 G. N. MORISON'S INVIGORATING BITTERS
02 December 2012 (R•031114) (R•072214)
"This just turned up at the Magazine Antiques Mall on Magazine street"
Gene Baudouin
"The other one was found about 30 years ago by a woman who decided to dig bottles and crawl under houses in New Orleans after her husband died"
Bill Ham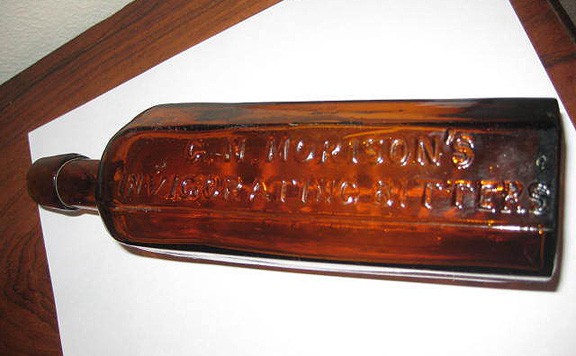 Many bitters collectors have been watching a bitters bottle on ebay (see listing) that closes today. A little early research shows shows that G.N. Morison was a wholesale and retail druggist and dealer in patent medicines located on No. 12 Magazine Street, New Orleans. It is ironic that this bottle was found at the Magazine Antique Mall in New Orleans. I have seen his name spelled Morison, Morrison and Morisson on historical documents.
It appears that 'G' stands for George and 'N' for Noble. George Noble Morison (I will use this spelling of Morison as it appears in most of his advertising and on the bottle. It seems that you would proof your advertising and product design) was born in Philadelphia, Pennsylvania October 20, 1814 and married a Louisa Chapman Harvey on November 14, 1849. George's father was from Scotland. They lived in New Orleans. The family later moved to Philadelphia and are listed in many Census reports up to the 1880 Federal Census. George at 65 years old was listed as a 'Gentleman' for occupation. Eight children are listed. He died on August 8, 1886 in Philadelphia.
The listing is as follows:
Rare New Orleans bitters…G N Morison's bitters bottle
This is the earliest of the bitters known from New Orleans. It is one of two known. Embossed G N Morison's Invigorating bitters on one side and G N Morison New Orleans on the other. It is crudely made 8 sided like a gilka bottle, and dates from the 1850's. It has a refired pontil, and is damage free but for a 1/2 inch sliver on the edge on the bottom, not too deep. No cracks anywhere and a perfect drippy top. All of the embossing is very strong. The other bottle is in the hands of a serious New Orleans collector. This just turned up at the Magazine Antiques Mall on Magazine street, and was spotted by an experienced collector. Don't miss it, you will never see another.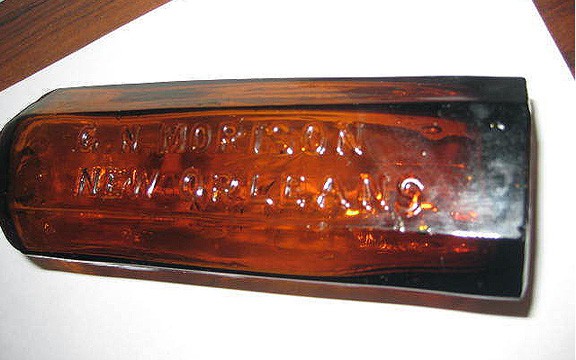 The ebay seller "ntqlvr" seems legit with the following handle and information:
Hi, my name is Gene Baudouin, and I have been a collector of Louisiana furniture, and other things related for over 35 years. Later my collecting spread out to guns, bottles, early electrical items, etc. And basically anything of quality and rarity. I discovered ebay in 1997, and began selling off some of my stuff to make room for more junk! It has been a lot of fun and hope to keep finding more interesting items. Keep looking for my auctions, and maybe i will have what you are looking for.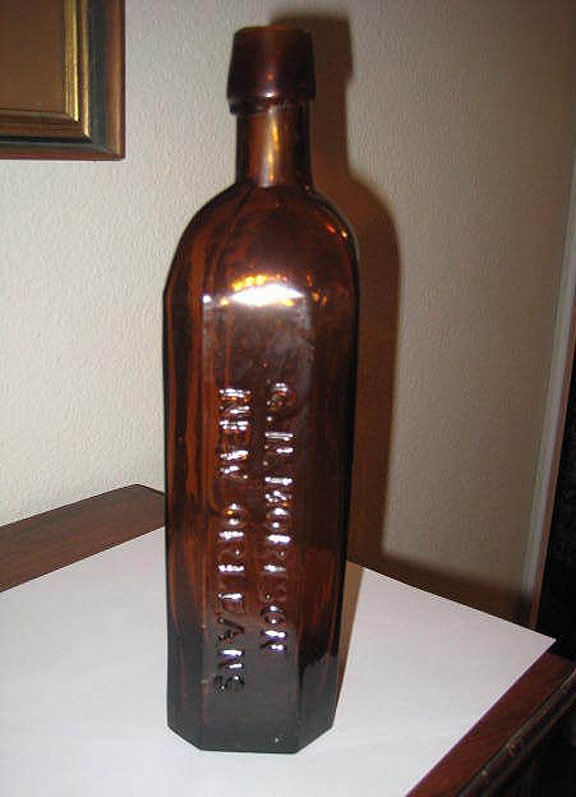 Only one question has been posted with the article:
Q: Hi, Could you send me the measurements on the bottle? height, base, width of corner bevels? Thanks. I would really appreciate the information. Great bottle!! Bill Ham
A: Sorry, I forgot the measurements, it is 9 and 1/2 tall, by 3 wide, 2 and 1/2 deep. 3 inches wide across the bevels It is also a very heavy bottle for it's size, plenty of glass.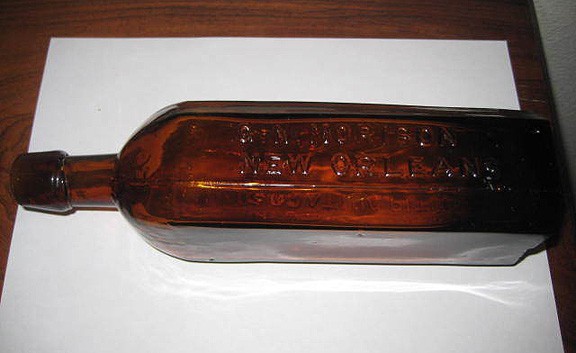 Communication from Bitters Bottles author Bill Ham:
Ferd
Here is an email from the Morison's seller. I had gotten measurements from them.
"Thanks, as I said there are only two ever found of this bottle, no broken ones either. The other one was found about 30 years ago by a woman who decided to dig bottles, and crawl under houses in New Orleans after her husband died, she and her son combed the whole city of new Orleans and found many rare pieces."
Bill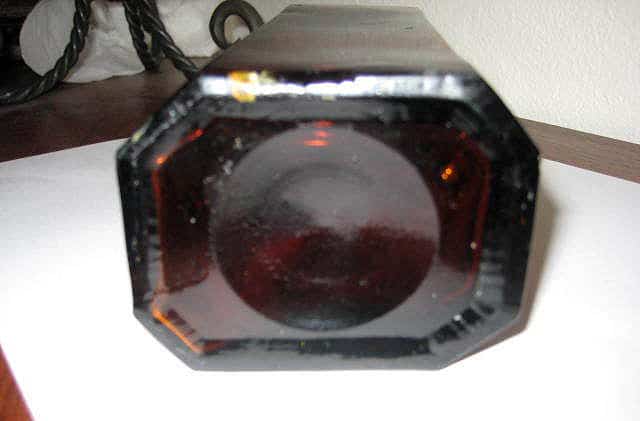 The updated listing in a future Bitters Bottles Supplement will be:
M 129  G.N. MORISON'S INVIGORATING BITTERS
*Updated Ring & Ham Listing (from Bill Ham) as of today, 03 December 2012
G. N. MORISON'S / INVIGORATING BITTERS // f // G. N. MORISON / NEW ORLEANS // f //
9 ½ x 3 x 2 ½ (7 ½) 5/8
Rectangular, Amber, LTC, Applied mouth, Extremely rare
G. N. Morison Druggist, No. 12 Magazine Street, New Orleans
Believed to be one of the oldest New Orleans Bitters.
Lousiana State Medical Society, Orleans Parish Medical Society,
American Society of Tropical Medicine, 1852
Lavaca Herald (Port Lavaca, Texas) Vol. 2, No. 22, September 13, 1856
De Bow's New Orleans Monthly Review 1852-1854
The Texas Almanac, 1860
Southern Journal of Medical Sciences, 1866
Two examples known to have been found in the New Orleans area

Note: incorrectly entered with as RR in MORISON as M 38.5 in the M 100s in BITTERS BOTTLES SUPPLEMENT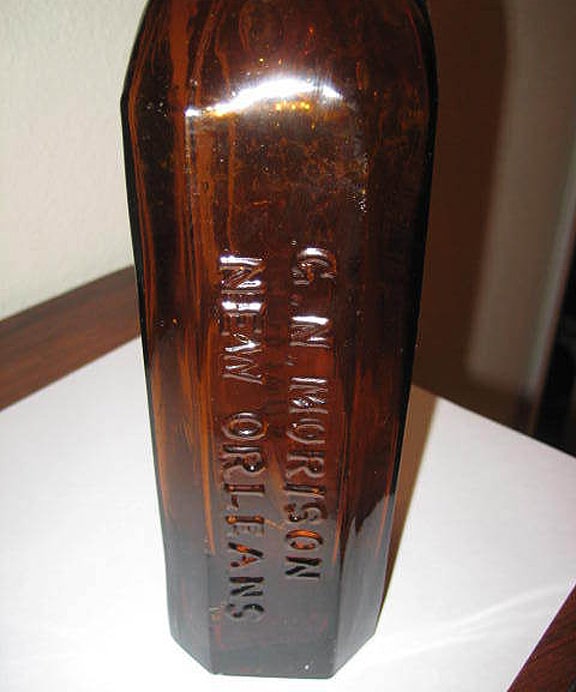 The wholesale druggist, G.N. Morison seems to be the closest to our current-day drugstore. His full-column advertisement lists having 20 kegs of refined saltpeter, 100 pounds of chloroform and 50 gallons of Pure Bay Rum "on hand and coming in store." He also carries paints, turpentine, paint brushes, and "Dr. Abernathy's Detergent-the Infallible Remedy for gonorrhea," pure brandy for medicinal purposes and Morison's Invigorating Bitters for night sweats and diarrhea. 
Businesses as Cultural Icons: Their Application towards Understanding Urban Morphology, Stephanie Lawrence, University of New Orleans
Morison Ancestry
WILLIAM T. MORISON – John Morison, the father of William T. Morison, was born in Keith, Scotland, in 1760, came as supercargo from a Scottish port to America, and settled in Petersburg, Va. In 1801 he removed to Philadelphia, and soon after purchased the property on which his son now resides. He was, in 1790, united in marriage to Ann Coke, a native of Virginia, and had children, John P., a physician, who died in 1849, Jane (Mrs. Robert Montgomery), who died in 1875, Mary Ann (wife of Rev. Nathan Harned, a native of Rockingham County, Va., and a clergyman of the Presbyterian Church), whose death occurred in New York, October, 9, 1854, Robert (deceased), a druggist in Philadelphia, William T. Agnes, deceased,  George N., a merchant and wholesale druggist, formerly of New Orleans and now of Philadelphia, Robert, deceased, James, cashier of Adams Express Company, Charles S., deceased.