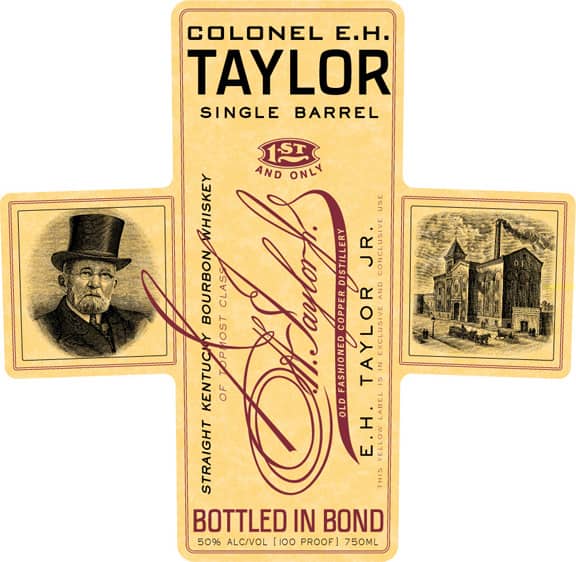 COLONEL E. H. TAYLOR SINGLE BARREL
Taylor was one of Kentucky's original Bourbon aristocrats and was called the "father of the modern bourbon industry."
20th Century Old Taylor Kentucky Bourbon Advertising
20 December 2012

Old Taylor Straight Kentucky Bourbon Whiskey was named in honor of Colonel Edmund Haynes Taylor, Jr. (E.H. Taylor) (1830-1923). Taylor was one of Kentucky's original Bourbon aristocrats and was called the "father of the modern bourbon industry." He was an industry leader who greatly advanced the quality of Kentucky Bourbon and safeguarded the Bourbon label from bogus producers. Taylor supported and produced some really nice advertising all exemplifying the quality of his product. His picture, Old Taylor Castle, signature and Distillery images occurred on many pieces of advertising throughout 20th century advertising in great magazines like LIFE and LOOK.
I hope you enjoy these images as much as I have. I really enjoy looking at advertising art, typography and styles through various decades.
Read More: Buchanan's Black & White Scotch Whisky Advertising
Read More: A question regarding an "Old Taylor" find
WITH TRUE ARTIST'S PRIDE, HE SIGNED HIS FINEST WORK
Great is the work signed with a Master's Name
Your passport to Whiskey Quality Bears This Famous Signature
Signed with this Famous Signature
Sealed with a Government Bonded Stamp
To this matchless product, as to any other masterpiece, the maker proudly signed his name.
Sign of a Good Host
As the Taylor brand has been established, marketing the product relies less on the Taylor signature header as the signature occurs on labels and Taylor Bourbon is almost a househod name.