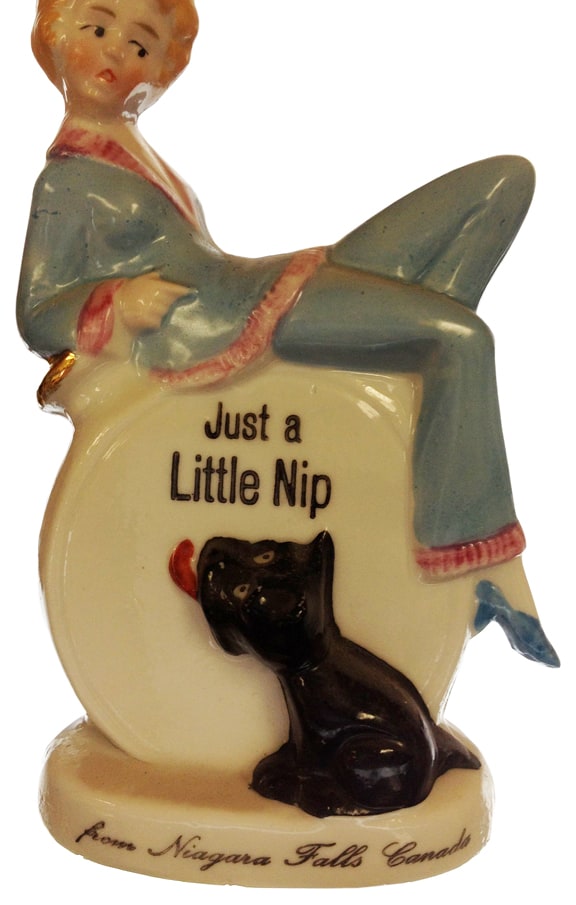 S H A F E R    &    V A T E R  
 

WHISKEY NIPS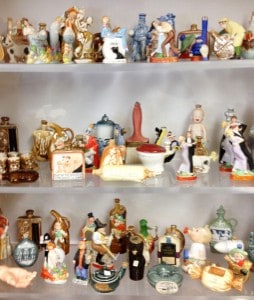 When I was at Jeff Wichmann's over at American Bottle Auctions yesterday I was kind of surprised that Jeff had all these ceramic figurines. At first they reminded my of tourist gifts my grandparents would buy when they went to vacation in the Smokey Mountains. They had all these ash trays, figurines and assorted kinds of cartoonish characters on shelves in their living room.
When I looked at the shelves closer at Jeff's and struck up a conversation with Jeff's right hand man, Dennis Fox, I was pleasantly surprised to find out that these were primarily German whiskey nippers or 'Nips' as some call them. What a wonderful little world Jeff has created on each shelf. It looks like he had fun grouping them by type. I can see why these flasks would be collectible.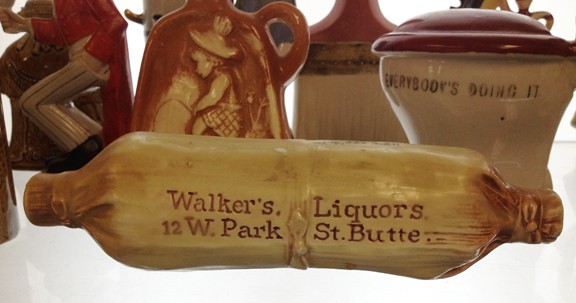 As I was looking at each piece, Dennis pointed out that the ones with "Compliments of…" were more desirable because they had the bar or saloon name on the piece. It seems that these flasks were given out as gifts by bars, liquor stores, at dances, fairs, and by organizations to patrons with two or three swigs of the merchant's favorite whiskey or bourbon. Many were used to celebrate the holidays. These have "Merry Christmas" and "Happy New Year" embossed or lettered on them. Apparently, around 1910 or so the barkeeps would pull out their trusty Sears Roebuck & Company catalog and place an order for a set of Schafer & Vater ceramic bottles.
According to the Shafer & Vater web site, these bottles were made in various shapes, styles and sizes. There are the Figurals – such as the Tango, the Baseball Player, Santa Claus. There are the Objects as the Whisk Broom, a Milk Can, the Dice. There are the Flasks – the Hunter with a Gun, the White Elk. There are the Weather Forecasters and the Drinkometers made with glass trimmers. Many of these were made in three sizes and even in three colors.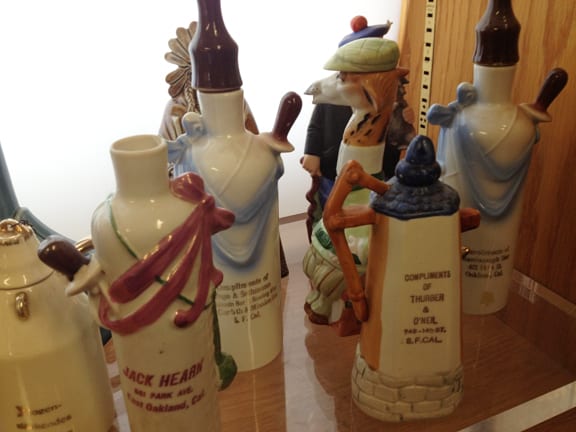 The German Giveaways were made of fine quality porcelain, a hard porcelain, highly vitrified. Many are glazed, some are left with the bisque of unglazed surface. Some of the bisque are painted, but still not glazed. Many of the bottles are multicolored, others in either blue & white or brown. Many have a wood-grained finish on the backs, and in a few cases all over.
I have added a link below to read more about Shafer & Vater.
Read More: Shafer & Vater
Read More: Collectors filling the gaps on figural whiskey bottles
Jeff's Little Nipper Gallery