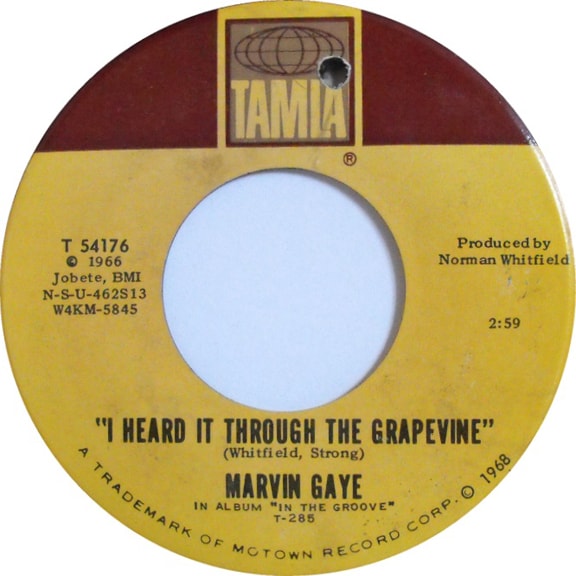 This is the cover art for the single "I Heard It Through the Grapevine" by the artist Marvin Gaye.
Oh I heard it through the grapevine,
Oh and I'm just about to lose my mind.
Honey, honey yeah.
I wanted to do a little H O U S E K E E P I N G and get some stuff outta my head and outta my emails. Speaking of heads, I have a nagging head cold or allergies, who knows? Doesn't help flying. Just arrived at my hotel in Newport News, Virginia. Be in this area and Williamsburg through Friday. I keep humming Grapevine now. Why did I do that to myself.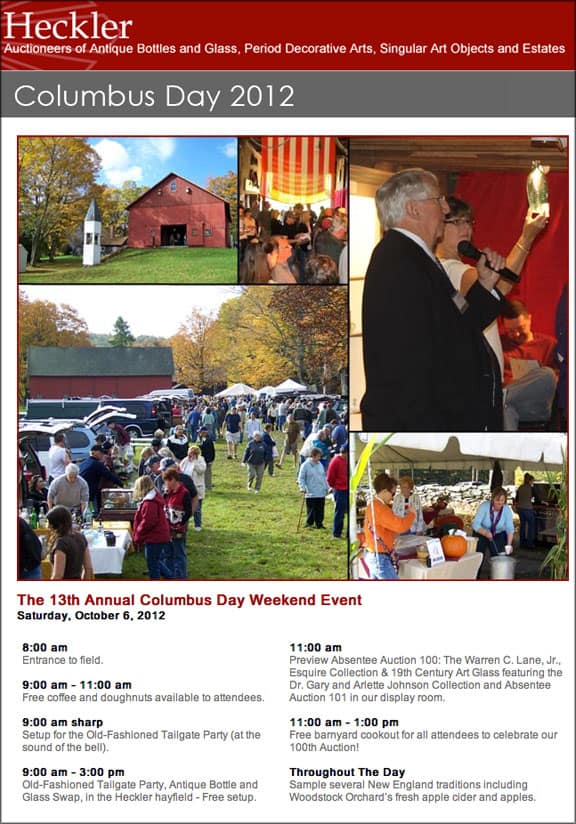 HECKLER | KEENE
I suppose many sights in the bottle world are on the monster Heckler | Keene Columbus Day Weekend event. You can read more at Heckler and on the FOHBC Show section. That same weekend, on the 'Left Side' of the country you will find the Jefferson State Antique Bottle, Insulator & Collectible Show & Sale in Oregon. If it wasn't for the Heckler | Keene event, I would be there.
O T H E R   S H O W S
Between now and then there are a ton of other shows such as the 14th Annual Greater Buffalo Bottle Collectors Annual Show & Sale, 11th Annual Greensboro Antique Bottle & Collectibles Show & Sale, Bill McKim's Estate Bottle Show & Sale, The Los Angeles Historical Bottle Club's 46th Annual Antique Bottle, Fruit Jar, Antiques & Collectibles Show & Sale, New Mexico Historical Bottle Society & Enchantment Insulator Club's 25th Annual Show & Sale, 27th Annual Memphis Antique Bottle & Advertising Show, Merrimack Valley Antique Bottle Club's 38th Annual Show and Sale and the New Jersey Antique Bottle Club (NJABC) Annual Antique and Bottle Show and Sale.
Whew! Again visit FOHBC.org for more show information.
W.WOLF UPDATE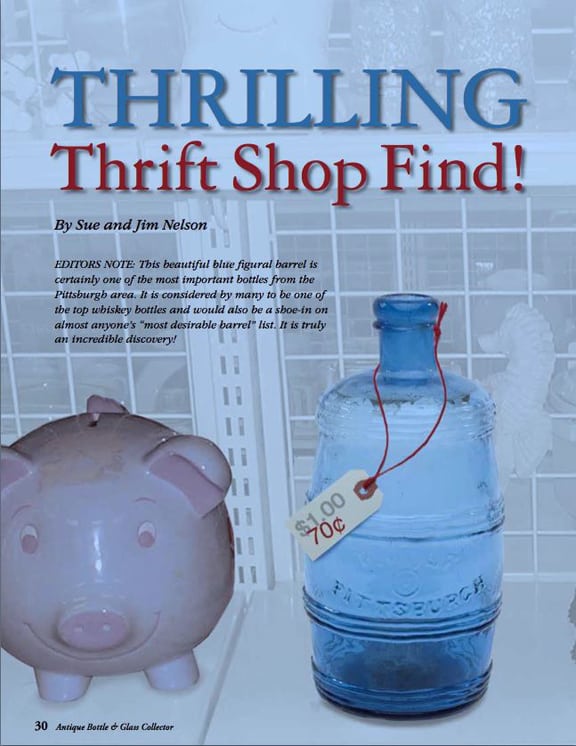 John Pastor will have a neat story in Antique Bottle & Glass Collector on the blue W. Wolf Pittsburgh barrel that will be in American Glass Galleries next auction. Read More: Barrel Series – W. Wolf found at Thrift Shop for $1.00.
FRUIT JAR for GREELEY'S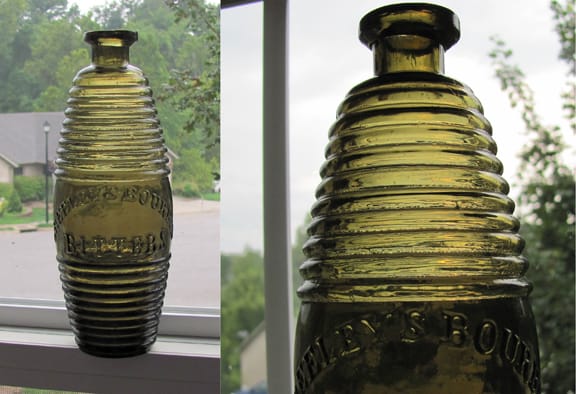 I have a gentleman wanting to trade a rather nice looking green GREELEY'S BOURBON WHISKEY BITTERS for a fruit jar(s) of equilavent value. Let me know if you have something or want to make contact.
Big John Feldmann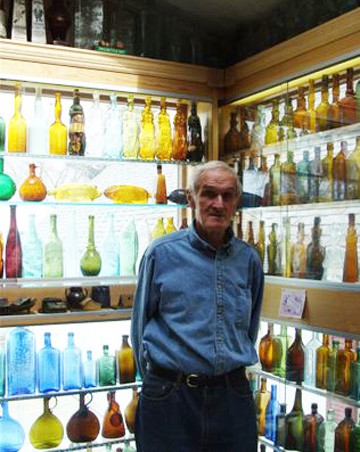 Working on a major feature article for Bottles and Extras for the November / December issue called "John Feldmann – Amityville Legend". It's like 14 pages long with some killer pictures. Sent the draft to the editor today. John has been telling me some pretty funny stories.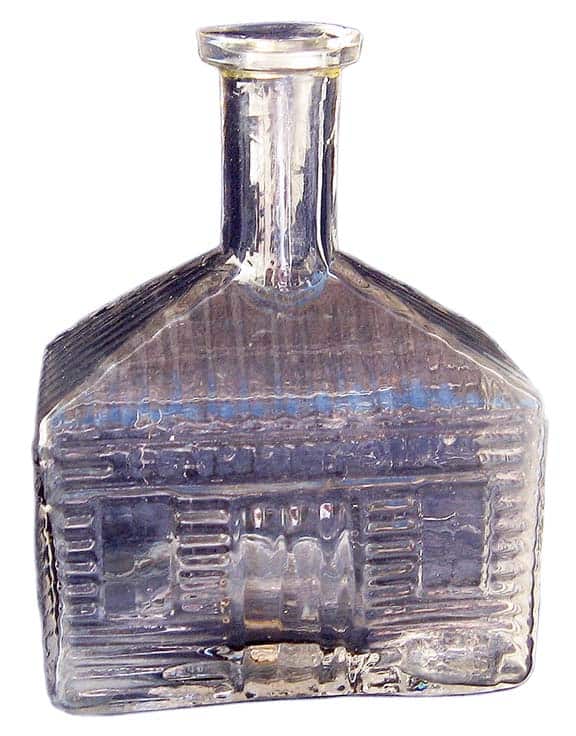 More Tippe News
The fellow selling that great clear Tippecanoe Log Cabin ink on eBay just sent me an email asking me to guess where it might end up as far as cost. Who knows? Anybody asked about the yellow line? See eBay link. Read About: Rare Circa 1840 William Henry Harrison and Tippecanoe Log Cabin Bottle! – on eBay! Oh…and according to Mount Vernon Glass Works authority, Brian Wolff, there is no supporting evidence to associate this piece to MVGW.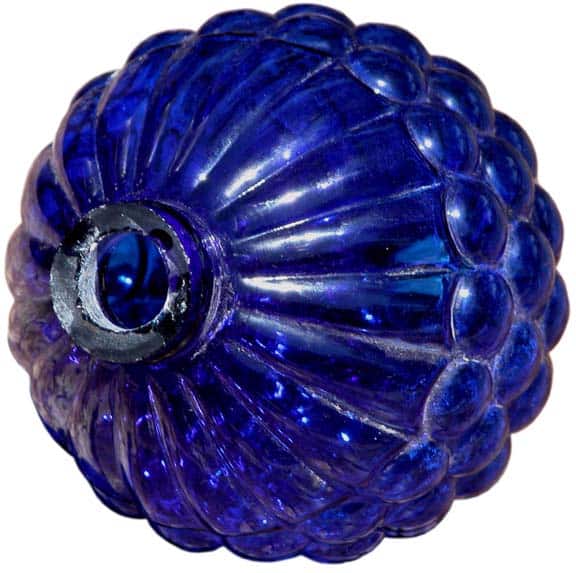 National or Fenton or What?
Real mystery here…Who made this Lightning Rod Ball? Read: XR Cobalt Blue Ribbed Grape Lighting Rod Ball. A couple of interesting follow-up comments, so check it out.
Diving News
From Louie Schreiner: This bottle was recovered in 45 ft of water in Far Rockaway, NY. We have been locating items for the last year now by drifting (Drift Diving) on the last 20 minutes of incoming water from the ocean into our inlet. We then continue our dive for an hour during (Slack Tide) by following the natural contours of the bottom looking in the lower slopes yet checking the higher sides for bottles sticking out. I have found many small med bottles doing this. In this picture, taken by diver Matt Friedrich during this days dive he had come across bottles dating from 1860 to 1920's, myself included but, this bottle I couldn't ID. It has no writing on it at all. Could you help ID this one with time period and what it might have been used for Soda or Beer? Thanks. I have others but, do not want to go nuts on your page so, I'll ask about the one's I really like from time to time! Thanks In Advance !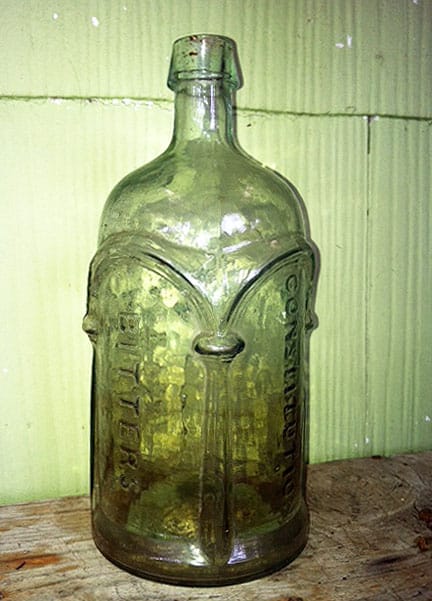 Good Grief Charlie Brown
Guess what was just found? This makes three now! Good Lord. Can you believe it. Stay tuned.