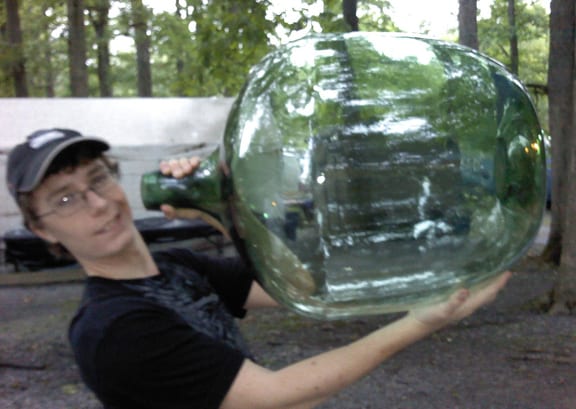 I received this response on facebook to my recent post Cool Embossings 2:
Those are all cool!!! but I'm saddened by the fact that you didn't mention any NYC stuff, there are some amazing embossing on blobs, Olbermeyer and Liebmann, Easter Brewing Co, John Kress Brewing Co, Defender Bottling Co, Jos. Strohmenger / Fred Opperman Jr. Turtle Bay Brewery Lagar Beer. and an NJ, Feigenspan Brewing Co. I though for sure one of them would be on the list, the Olbermeyer usually is. Michael Urbanski
My response:
Don't be sad. Just send me pictures like most are doing. Agree for sure that I am weak in beers unless Rick DeMarsh or others jump in. These posts are numbered so let's do beers next. Tks
Michael:
I got to looking at Michael's web site and realized that this guy is a pretty talented digger who seems really ahead of the curve regarding finding, collecting, photographing and posting about primarily New York blob top beers. His web site is organized, visually attractive and covers historically the areas of New York City such as Manhattan, Brooklyn, Queens, Staten Island, Coney Island etc. Michael's home page reads as follows:

Welcome!
For those of you who don't know who I am, my name is Mike AKA Chinchillaman1. I'm a Youtube Bottle Digger so to speak which means that I collect bottles and post the videos of various digs or elements of my collection onto Youtube. This site is for those who want to get into the hobby of bottle hunting, metal detecting or any treasure hunting hobby in general, or for those who want to find out about the history of bottles that they might already own. Ive been a collector for two years and my goal is to find out about the histories of all of the bottles that I have, local especially. If you'd like to view my bottle digging channel here is the link: http://www.youtube.com/chinchillaman1
If You Have Any Information On The Bottles Marked, No Info, Please Send Me An Email. I Am Looking For The History Of The Companies Specifically. Thank You!

A few of my favorite bottles after perusing his site, which he says he has more bottles to add: