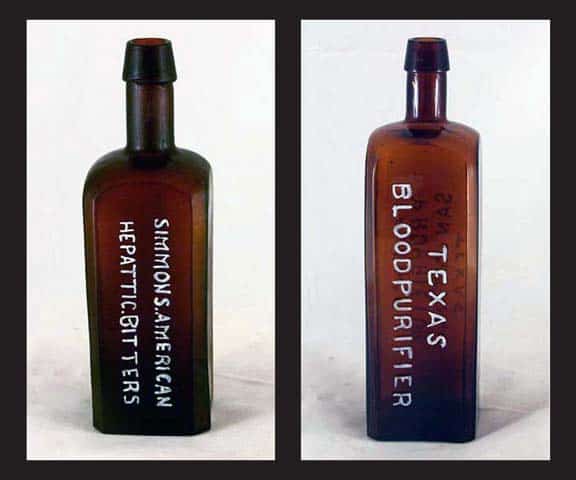 The two embossed TEXAS Bitters
17 July 2012 (R•032519)

Seeing pictures of these two legendary Texas embossed bitters and meeting David Cole, who may have the most complete and extensive collection of Texas embossed blobs, hutches, crown tops and related go-withs, was great this past weekend at the Houston Antique Bottle Show.
(Read more: 2012 Houston Antique Bottle Show – Rain or Shine!)
I have challenged Jim Schmidt to use his talent in finding more information such as advertising, letterheads and other ephemera.
(Read: Houston Bottle Show 2012!)
[From David Cole] Ferdinand, was good to meet you at the Houston show. Brad (Seigler) called me as he was traveling home and told me about his visit to your home. You and your collection had quite an impact on Brad. Looking forward to when you can come here and see my Texas collection. Will attach the pictures of the three embossed sides of the San Antonio bitters in this e-mail, and will send a separate e-mail of the Navasota bitters. This is the only Texas bitters that I have that are embossed with the word "bitters".  I have a couple that were most likely bitters with paper labels.

Also, please pay attention to the spelling 'disaster' on the SIMMONS' AMERICAN bottle. I count four mistakes! "POULWARE" should be "BOULWARE", "HAVASOTA" should be "NAVASOTA", "MANUFACTURIED" should be "MANUFACTURED" and "HEPATTIC" should be "HEPATIC"! At least "AMERICAN" is spelled right. This could be a record for errors on a bottle and I am not even counting misplaced dots.
The Carlyn Ring and W.C. Ham listing in Bitters Bottles is as follows:
S 106.5  SIMMONS' AMERICAN HEPATTIC BITTERS
SIMMONS. AMERICAN / HEPATTIC BITTERS // HAVASOTA, TEXAS. // f / MANUFACTURIED / BY. W. P. POULWARE & CO //
8 1/2 x 2 1/2 (5 3/8) 3/8
Square, Amber, LTC, Applied mouth, Extremely rare
"POULWARE" may be "BOULWARE" misspelled
"HAVASOTA" may be "NAVASOTA" misspelled
Example was dug in Lynchburg, Texas, a town that settled so much it is under water.
[Wikipedia]  Lynchburg is an unincorporated area in east central Harris County, Texas, United States. The community is also known as Lynch's Ferry. In 1822, Nathaniel Lynch built a ferry to cross the San Jacinto River just below where Buffalo Bayou flows into it. The ferry connected what would become the community of Lynchburg, on the east side of the crossing with the road to Harrisburg. At the western landing is the location of the San Jacinto Battlefield where Texan forces under Sam Houston defeated Antonio López de Santa Anna's Mexican forces in 1836.
T 13.5   TEXAS BLOOD PURIFIER AND TONIC BITTERS
TEXAS / BLOOD PURIFIER // AND // TONIC BITTERS // R. L. SMITH / PROPRIETOR / SAN ANTONIO / TEXAS. // f //
9 7/8 x 2 3/4 (7 5/8) 3/8
Square, Amber, LTC, Extremely rare
T 14  TEXAS BLOOD PURIFIER AND TONIC BITTERS
TEXAS / BLOOD PURIFIER // AND // TONIC BITTERS // area with lettering removed showing plate mark with two round marks / SAN ANTONIO / TEXAS // f //
10 x 2 3/4 (7 1/2) 3/8
Square, Amber, LTC, Extremely rare
The A in Texas in the panel with San Antonio lacks cross bar.
This bottle was found under an old house being razed in downtown San Antonio.
T 14.5  TEXAS BLOOD PURIFIER AND TONIC BITTERS
TEXAS / BLOOD PURIFIER // AND // TONIC BITTERS // area with lettering removed showing plate mark with two round marks // R. L.  Smith /
10 1/2 x 2 3/4 (7 1/2) 3/8
Square, Amber, LTC, Extremely rare