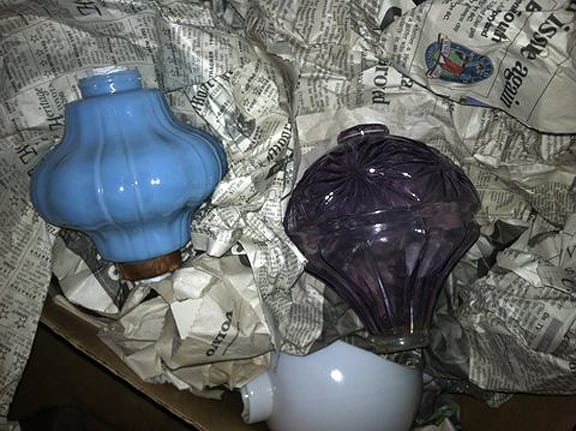 [PRG] I am hoping that someone in the New England area, with a knowledge of Lightning Rod Balls, would be interested in visiting and conducting an inventory of this collection. Please contact me if this is a possibility. I may be interested in making an offer for the collection and would certainly partner with someone. If I do not make an offer, I will certainly be directing Melinda to others who may have an interest so please let me know. I will also ask for more pictures.
If you look at the boxes, you will see examples of Chestnut, Hawkeye, Moon and Stars, Ribbed Horizontal "Pee-Wee", Diddle Blitzen, Plain Rounds, Pleated Rounds, Ribbed Grape, Raised and Flat Quilts, JFG, D & S and W.C Shinn balls etc.
Please read the email below.
Hello Ferdinand:
Here are some pictures of my dad's collection.  The next emails will have pictures of the balls. The boxes of balls have about 6 in each. I just unwrapped a few from most of the boxes to give you an idea of what he has. Hopefully I won't overwhelm you. Thank you for offering your expertise in the matter. Any help is greatly appreciated. By the way, the photos of your home are amazing!
Melinda
P.S. I can take them from my Dad's house and take better pictures and send them. These originals were taken quickly and in the attic.