The

Amber

Willington Cathedral Pickle Jar
02 May 2012 (R•042519 – Heckler Aprill example, top of post)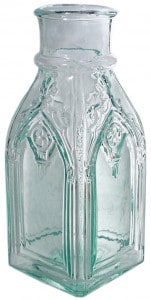 Many of the early American pickle bottles and jars were made in the 1850s and 1860s. As would be expected, the earlier examples have pontiled bases and exceptional character. The most popular style amongst collectors is the "cathedral" pickle with fancy Gothic styled architectural sides. More common in aqua, the rarer examples in yellow and green command higher prices and are very sought after by collectors. The amber Willington Cathedral Pickle jar is the Prima Donna and the topic of this post. The amber jars come in three sizes, 8″, 11″ and 14″ with the 8″ being the rarest.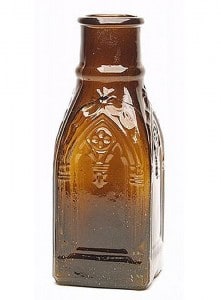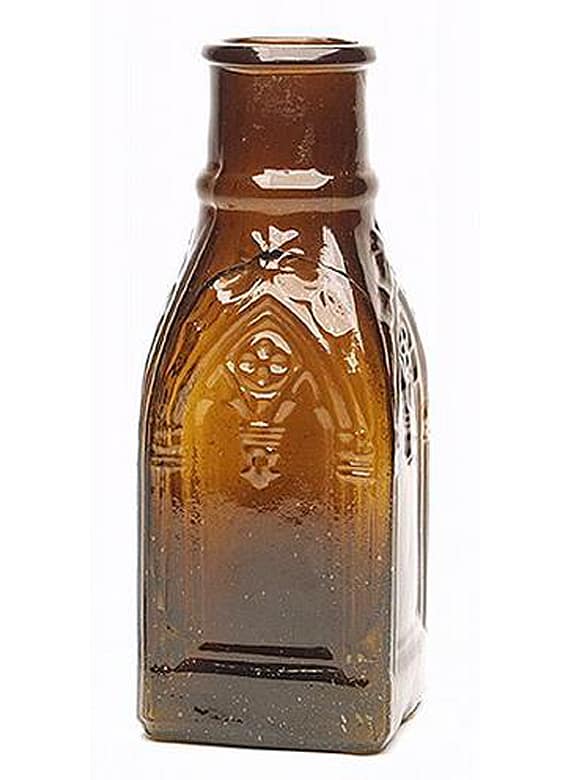 Interestingly enough, this week holds news for two amber Willington Cathedral Pickles. The first sighting (read below) was in the American Bottle Auctions | Auction 55 | Lot #157. See pictures and auction write-up below. The second sighting (read below) was the amber Willington in the large collection of 61 Cathedral Pickle jars from a collection that will go on eBay this Thursday evening. Read: MAJOR Cathedral Pickle Collection News. First we will look at the West Willington Glassworks as defined by The Museum of Connecticut Glass.
The West Willington Glassworks 1814-1872
In 1814, a stock company was formed by John Turner, Ebenezer Root and Frederick Rose, all presumably from Coventry, CT and Roderick Rose, Stephen Brigham Jr, Elisha Brogham and Spafford Brigham, all of Mansfield, CT. Abiel Johnson Jr was also said to have been part of the organizing group which was clearly competing against the Pitkin Glassworks, The John Mathers Glassworks and the Coventry glassworks.
They remained the owner until 1828 when Gilbert, Turner & Company acquired the glassworks as well as the Coventry works. This company operated the Willington glassworks until 1847. There was a Hartford agent named Lee, Hopkins & Butler who advertised Willington porters in 1829. In 1847, Gilbert, Turner and Company sold the works to a group of six men. Harvey Merrick, Elisha Carpenter, William M. Still, William & Francis Shaffer and James McFarlane. The first output of glass bottles consisted of inkwells, snuffs, demijohns, chestnuts and flasks including some pitkin types. There were reportedly a few rare sealed bottles as well. As far as we know, there were no marked bottles or flasks prior to 1849.
Perhaps the most famous of the wares are the Willington gothic cathedral type pickle jars of varying sizes and colors.

 
From this date to 1872, demijohns dominated the sales with wines, some bitters and even a booze bottle cabin figural. Perhaps the most famous of the wares are the Willington Gothic cathedral type pickle jars of varying sizes and colors. They also produced base-embossed cylindrical bottles (there are 9 variants known), varying sizes of berry bottles in olive amber and olive green colors, and of course, the popular Liberty Eagle marked flasks in 1/2 pint, pint & quart moulds. The Willington glassworks also produced utility bottles, insulator types, rolling pins and assorted tableware.
The colors of the glass were similar to Pitkin's & Coventry's but the shades of greens are among the most beautiful glass ever produced in this country. The Willington Historical Society has many members with interest in the local glass and Connecticut glass also. They have regular meetings with guest speakers and presentations. A glass display and historic museum are in the works.
The first amber Willington Cathedral Pickle sighting of late
[as described by American Bottle Auctions] WILLINGTON CATHEDRAL PICKLE, Connecticut. Made most likely circa 1850. Willington Glass was in business from 1815-72. 8 ¼". We obtained this amber cathedral from Sacramento native, Don Smith. Years ago when Don and his wife Charlotte were staying with their friend and mentor Charles Gardner,
"Years ago when Don and his wife Charlotte were staying with their friend and mentor Charles Gardner, Charlotte inquired if Charlie had any Willington pickles he would let loose with."
Charlotte inquired if Charlie had any Willington pickles he would let loose with. He answered no but did remember he had one in the basement with a hairline crack in it. After looking at it Charlotte expressed her desire to buy it but Charlie was unmoved and declined the offer. As the weekend continued according to Don, Charlotte apparently used a little womanly charm on him and he finally recanted. Charlie sold the pickle to her. As Don said, "Charlotte had a way with Charlie." So, 40 or so years later, Don lies in a hospital with pancreatic cancer and called me and asked me if I would sell it. "I want someone else to enjoy as much as Charlotte and I did," he said without missing a beat. With a heartfelt nod of my head, we are presenting it here. The jar has a crack in the side panel without the cathedral archway. It starts about 4" below the mouth and runs down and through the pontil and about 2" up the opposite base. 
According to Don he's had it all these years and it's never changed. Value? That's a tough one. It would be about dead Mint without the crack. We see a gorgeous, heavily whittled amber cathedral pickle but some might see a crack. It's a bittersweet object to sell, when Don had consigned his other pieces he was told he had six months of good living left. That was a week ago. [PRG] Bottles sold for $2,000 plus ABA premium.
Second Amber Willington Cathedral Pickle sighting of late
Hi Ferdinand, I am sending you some pictures of a collection that took my Mother, Father and myself 46 year to put together. There are 61 cathedral pickles from shade of aqua, emerald green, amber and blue. I will be listing this collection on eBay in one 10 day auction. So just wanted you to know ahead of time and give you some pictures to post on your web sight if you would like. I am going to try and list this Thursday night.

Thanks
Read: MAJOR Cathedral Pickle Collection News. The condition report of the amber Willington has not been posted on eBay or relayed to PRG as of this date.
Norman C. Heckler: The Aprill Collection: Non-Blue Bottles & Glass, Session I, Select Auction 174, 06 May 2019
Past historic eBay sale of amber Willington Cathedral Pickle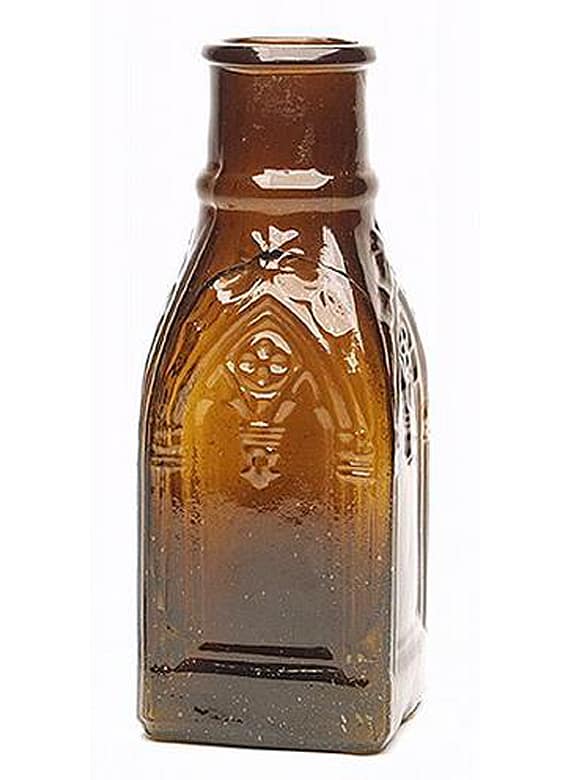 The pickle pictured above is a mid-sized, 11″ Willington cathedral-style pickle jar from Willington CT, circa 1850's. It has an iron pontil but most important, it is the very rare amber color; less than 5 known examples in this color as the bottle usually occurs in green. This example is in mint condition with 3 arched panels – the 4th panel is plain (for the label). This exceptional pickle sold for a record $44,100 on March 31, 1999 on eBay.
Read More on this big eBay event: Collectors On Internet Bid Up Bottle Big Time – Chicago Tribune
The seller, Richard Rushton-Clem of Lewisburg, Pa., picked it up at a plain old tag sale in western Massachusetts last summer. "I used to have an antiques shop in Kennebunkport, so I realized it was an unusual bottle," Rushton-Clem said. "I figured it was worth $300 or $400." He kept the pickle bottle (a term that among bottle collectors is interchangeable with the more familiar "pickle jar") on a window sill for eight months. Then he asked the proprietors of the Rollermills Antique Center in Lewisburg to sell it for him on eBay. It was listed as an "early blown glass cathedral pickle bottle," with a minimum bid of $9.99. The reserve–the lowest price the seller will accept, which is not disclosed to prospective bidders–was set at $275.
According to Jim Persing, the man who runs Rollermills Internet, a consignment service run by the antique center, the response was immediate. "An hour after we put the bottle on eBay, a guy called, all excited, and asked me to tell him more," he said. "After I answered his questions, he told me we had something really rare, the 11-inch amber Willington pickle bottle." The bottle was made in Willington, Conn., in about 1850. "By the end of the day," Persing said, "we were at $2,500, and the bottle was in a locked case."
Within days, bottle collectors from four different states had visited Rollermills to see the pickle bottle. First on the scene was John C. Mosman of Waterbury, Conn. (eBay name: Pickleman). Mosman described the bottle as a must-have piece because of its color, provenance and condition. "Amber is the rarest of all the colors," he said in a post-auction interview, "and Willington is the only glass house who made Gothic cathedral pickle jars in the amber coloration." In addition, he said, the jar was in perfect condition. "This was the top example of what you're going to get in that size," he said.
Jim Hagenbuch, the publisher of Antique Bottle and Glass Collector magazine, agreed. "No question," he said. "The amber Willington is the Cadillac of the category." Willington's pickle bottles came in three sizes, 8, 11 and 14 inches. According to Norman C. Heckler, who has been a bottle auctioneer for 38 years, the 11-inch version is probably the rarest–only five are known to survive–and this was the first time an 11-inch Willington pickle bottle was offered at public auction. "They just don't come to the market," Heckler said.
During the week-long auction, which ended on March 31, there were 57 bids. Pickleman stopped at $27,999, but with its 2.5 percent commission and Rollermills deducts 20 percent, Rushton-Clem will walk away with a

cool

$34,395 profit.
An amazing dig
[from Antique-Bottles-net] Now for my real criers, parts and pieces of 3 half gallon and 2 quart amber pontilled Willington cathedral pickles. these came out of a 5″ upper layer in an 1880`s town dump that also was loaded with pieces of amber berry bottles and Drakes Plantations, all broken. A hotel must have cleaned house to dump these older pieces there. The last large amber Willington pickle that I know of that sold was on eBay about 10 or so years ago, and I think it was for $44,000. I can imagine what they would be worth now! – Bill Bixby (Ellington, CT)