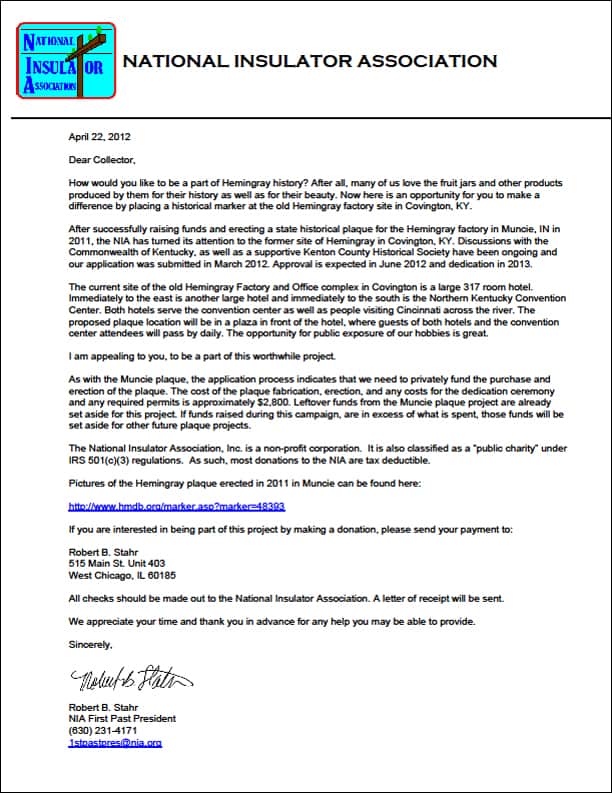 NATIONAL INSULATOR ASSOCIATION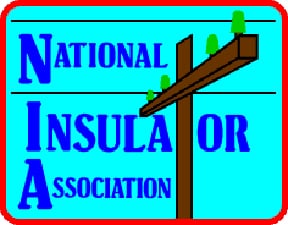 April 22, 2012
Dear Collector,
How would you like to be a part of Hemingray history? After all, many of us love the fruit jars and other products produced by them for their history as well as for their beauty. Now here is an opportunity for you to make a difference by placing a historical marker at the old Hemingray factory site in Covington, KY.
After successfully raising funds and erecting a state historical plaque for the Hemingray factory in Muncie, IN in 2011, the NIA has turned its attention to the former site of Hemingray in Covington, KY. Discussions with the Commonwealth of Kentucky, as well as a supportive Kenton County Historical Society have been ongoing and our application was submitted in March 2012. Approval is expected in June 2012 and dedication in 2013.
The current site of the old Hemingray Factory and Office complex in Covington is a large 317 room hotel. Immediately to the east is another large hotel and immediately to the south is the Northern Kentucky Convention Center. Both hotels serve the convention center as well as people visiting Cincinnati across the river.
The proposed plaque location will be in a plaza in front of the hotel, where guests of both hotels and the convention center attendees will pass by daily. The opportunity for public exposure of our hobbies is great.
I am appealing to you, to be a part of this worthwhile project.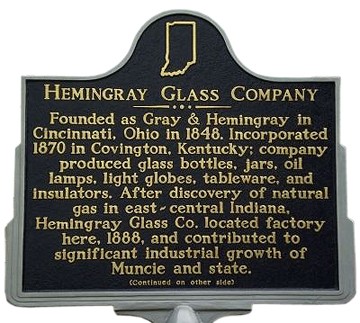 As with the Muncie plaque, the application process indicates that we need to privately fund the purchase and erection of the plaque. The cost of the plaque fabrication, erection, and any costs for the dedication ceremony and any required permits is approximately $2,800. Leftover funds from the Muncie plaque project are already set aside for this project. If funds raised during this campaign, are in excess of what is spent, those funds will be set aside for other future plaque projects.
[from Shaun Kotlarsky] Here are photos and video of the Muncie dedication on my Hemingray site… http://hemingray.net/dedication/index.html
The National Insulator Association, Inc. is a non-profit corporation. It is also classified as a "public charity" under IRS 501(c)(3) regulations. As such, most donations to the NIA are tax deductible.
Pictures of the Hemingray plaque erected in 2011 in Muncie can be found here: http://www.hmdb.org/marker.asp?marker=48393
If you are interested in being part of this project by making a donation, please send your payment to:
Robert B. Stahr
515 Main St. Unit 403
West Chicago, IL 60185
All checks should be made out to the National Insulator Association. A letter of receipt will be sent.
We appreciate your time and thank you in advance for any help you may be able to provide.
Sincerely,
Robert B. Stahr
NIA First Past President
(630) 231-4171
1stpastpres@nia.org