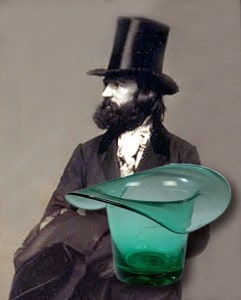 I like when I do a general post about a specific topic and I get comments and additional information and pictures. The beauty of this site and the digital age in general, is that I can update, modify and correct as I need to. This work is now archived for everyone forever. Once something is printed, it is cast in stone.
In this case, my post Toppin' it off with a few Glasshouse Hat Whimsies generated the following from Mike in Maine. To me, it is like Christmas or my Birthday (uh..that's tomorrow…send Bitters Bottles!) when I get new material! Look at these great E A R L Y pieces that make a rather nice group. I will add the Hats to the previous post, but I felt like these beauties needed to be nested together. Thanks Mike.
Ferdinand,
Liked the article on whimseys you posted. Have a bunch of pics… Small collection of 13 hat and salt (pontil) whimseys. See attached.
Mike in Maine