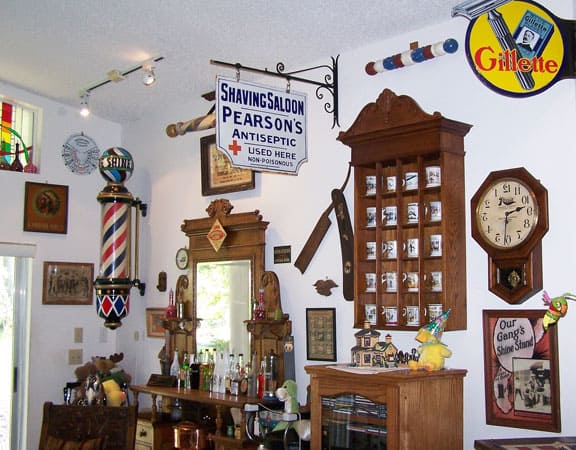 I have to say, I meet some interesting people online through this site, the FOHBC site and the facebook bottle and glass sites. In this case it is Chief Mike Murro. Enjoy…

Barber-shopping for me started with shining shoes with my grandfather in a little town of Ludowici, Georgia…so I have been exposed to barber bottles – hair tonics – shaving mugs since the1960's….
Although career-wise, my occupation is a marine engineer, as sail on a ship as chief engineer with weeks marine hence the name Chief Mike…we build beaches all over the United States….
My schedule is three weeks on the ship and three weeks home. So it gives me lots of time to hunt out barbershop treasures.
My main collecting interests, are label under glass hair tonics, shaving mugs but only those for the occupation of barber and I am sure my collection is the largest in that respect. Also have a large gathering of shoeshine items such as, signs, stands, mutoscope signs etc…
As a hobby, I buy-sell-trade & restore barber chairs, barber poles, for collectors and as eye candy for car collectors. Work 2-3 shows a year at the Barrett Jackson Auction with fantasy – pinup artist Greg Hildebrandt helping him sell his art work and offer my goods at the show too.
Visitors in the Longwood area are always welcome to pay a visit!!! as my house is a Barbershop Museum…..
See more of Greg's art at Spider Web Art Gallery. My items are also in one of Gregs paintings…just so you see the connection…
Some of Chief Mikes collection:
Read more: Occupational Shaving Mugs
Read more: A Sampling of the Famous David P. Wilber Barber Bottle Collection