OLD CAROLINA BITTERS 

|

Charleston
01 May 2012 (R•012815) (R•041919)
The most delightful and healthful Tonic ever introduced to the Southern Trade

I wrote a post earlier today on the extremely rare SUMTER BITTERS from Charleston, South Carolina (Read: Sumter Bitters – The Great Southern Tonic) and it seemed logical to pair it with a follow-up post on the extremely rare, OLD CAROLINA BITTERS, also from Charleston, South Carolina. Interesting that so many broken examples of each bottle were dug in one pit.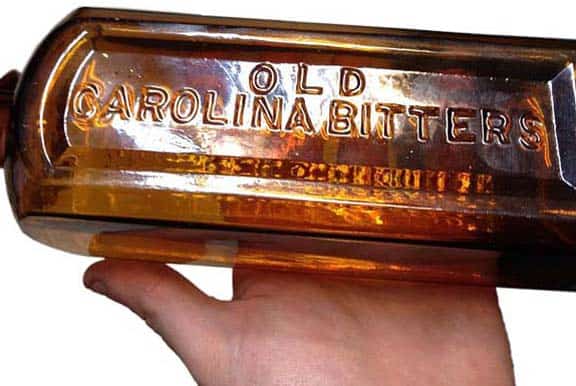 Tom Leveille holding bottle
"dug in Charleston. The lone survivor, from a Crazy pile of crushed Old Carolinas and Sumters that literally measured up to my knee. It has issues. Missing rear corner and an interior ice pick bruise from opening. There were also 3 Old Carolinas with lip issues."
 Phil Edmunds
The Carlyn Ring and W.C. Ham listing in Bitters Bottles is as follows:
O 20

 OLD / CAROLINA BITTERS // f // GOODRICH WINEMAN & CO // sp // Charleston, South Carolina, 10 x 2 3/4 (7 3/4) 3/8, Square, Amber and Puce, LTCR, Applied Mouth, 3 sp, Extremely rare
Read Further: 2 XR Augusta and Charleston Square Bitters Spotted
Read Further: South Carolina Top 25 Bottles by Bill Baab
NEWSPAPER ADVERTISING
THE BOTTLES
STORIES
From the informative bottle web site RicksBottleRoom.com: This weeks bottle of the week is from fellow collector and member, Robert Biro's collection. The bottle was found in a Savannah dump".
"Rick, Here is one dug in a late 1860's to a early 1870's dump in Savannah"
Robert Biro