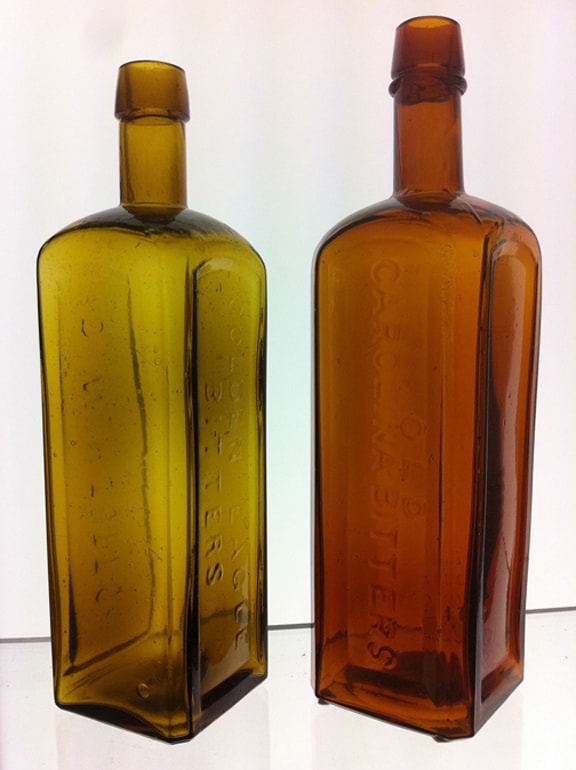 2 XR Augusta and Charleston Square Bitters Spotted
Dr. Tutt's Golden Eagle Bitters & Old Carolina Bitters
06 August 2011 (R•030314 with Tutt's Golden Eagle and Old Carolina Bitters Advertisements) (R•012915)

My business trip to Augusta, Georgia this past week allowed me to visit and see the collections of Bill Baab and Mike Newman. (Note: The collection posts are separate). Hidden away from the great cures, flasks and soda waters, I spotted two (2) extremely rare Bitters squares from Augusta and Charleston. These are great bottles that I have not seen before. A real treat for me.
Tutt's Golden Eagle Bitters | Augusta
The Carlyn Ring and W.C. Ham listing in Bitters Bottles is as follows:
T 71

  f // DR. WM. H. TUTT'S // f // GOLDEN EAGLE / BITTERS //

9 1/2 x 2 1/2 x 2 1/2 (6 1/4) 3/8
Square, Amber, LTC, Applied mouth, 2 sp, Extremely rare.
Special note: There is a T.71.5 noted in the R/H Bitters Bottles Supplement that is the same as T 71 except AUGUSTA, GA. appears on the third panel.
Read: Dr. Tutt's Golden Eagle Bitters – Augusta & New York
Dr. William Henry Tutt
William H. Tutt was born in Augusta, Georgia on August 31, 1823 and was a wealthy druggist and prominent physician in the south. He would graduate from the Augusta Medical College and later amass a sizable fortune as he became a manufacturer of patent medicines in both Augusta and New York City.
He would sell his concoctions by using well-placed advertisements in national newspapers for Dr. Tutt's Liver Pills, Dr. Tutt's Expectorant, Dr. Tutt's Sarsaparilla and Queens Delight, Dr. Tutt's Improved Hair Dye and of course Dr. Tutt's Golden Eagle Bitters, the main topic of this post. A few of those advertisements from New York are represented below.
Dr. Tutt first started in the drug business in Augusta in 1850 or so and soon moved to 264 Broad Street taking on Robert Henry Land as a partner with Wm. H. Tutt & Land – Druggists.  Dr. Tutt remained in the drug business until he moved to New York City in 1873 and engaged in the manufacture of proprietary medicines on a larger and broader scale. While in New York he retained his Augusta drug business as W. H. Tutt & Remsen. This was probably his wife's father or brother as Dr. Tutt married Miss Harriet Remsen Bell in 1847. Although most of Tutt's concoctions appeared to be manufactured in his New York plant, many bear Augusta's name, indicating strong personal ties with his place of birth. Dr. Tutt moved his family back to Augusta in 1888 but continued his business in New York until he sold it in the mid 1890s.
The Dr. Tutt's Golden Eagle Bitters with the Augusta embossing was most likely made first, probably in 1869 or 1870. It is extremely rare. The advertisement above shows 500 cases available of Dr. Tutt's Golden Eagle Bitters, along with 100 cases each of Hostetters and Plantation Bitters.
On May 28, 1888 Tutt purchased the four acre Hillside estate of Mrs. Anna McKinne Winter in Augusta for $12,500. He would then build the Bon Air, as a summer retreat from New York for his family. This expansive four story Victorian inspired architecture would next become a winter resort for eastern millionaires and was named The Bon Air Hotel, opening on December 2, 1889, on the "Hill" overlooking Augusta.  Tutt was also instrumental in the development of the Augusta Canal. Dr. Tutt would die on March 15, 1898 in Augusta but is remembered today.
Old Carolina Bitters | Charleston
The Carlyn Ring and W.C. Ham listing in Bitters Bottles is as follows:
O 20

 OLD / CAROLINA BITTERS // f // GOODRICH WINEMAN & CO // sp // Charleston, South Carolina
10 x 2 3/4 (7 3/4) 3/8
Square, Amber and Puce, LTCR, Applied Mouth, 3 sp, Extremely rare
Read More: Old Carolina Bitters