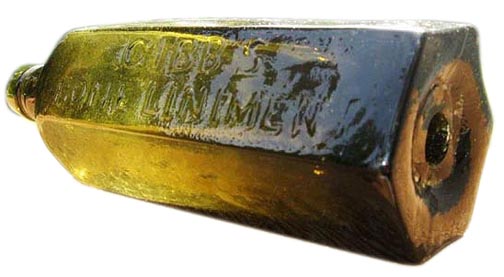 "A cure liniment for external use only: For Skin Inflammations, Soreness, Eye Inflammation, Frost bit, Weeping Sinews, Burns, Cancer Humors, Chilblains, Rheumatic Affections, Itching, Ring Worm, Facial shaving Injuries, Strained Cords etc."
This post is prompted by Connecticut collector and glass authority, Rick Ciralli who picked up a new GIBB'S BONE LINIMENT this past weekend. He sent me a picture which I included in another post (read: Cocamoke Bitter Co. – Hartford, Conn.). The Gibb's is a fascinating old bottle with tons of character, and I am sure, history. Let's follow and look at some of the dialogue and historical information I have reposted below. I would like to update this post as new information comes forward. Thanks.
[PRG note from Rich Ciralli] The testimonial at the bottom is from Gibbs and he mentions A A Cooley of the Hartford area. Note the address on the bottom right hand corner. Charlie (Flint) has info that the family was only about 60 miles from Coventry. Many of us think it might be a Coventry product but this ad brings it closer…great stuff to debate…
[PRG] Read more: Is the Cooley's Anti Dispeptic Bitters our oldest Bitters?
[PRG note from Rich Ciralli] A.A. Cooley was quite the merchant in his day, as you know. He sold his own products and those of others as well. I have never seen this ad/poster print before, look at the dates, they all coincide with the Coventry glassworks years in operation. They closed in 1848 according to town records and others…AA Cooley and State Street in Hartford…it's all good! Isn't there a Gibbs variant with the 4×4 on the base? I swear I saw one years ago…maybe I'm wrong.

 [PRG: Historical note from DiggerDirect on Antique-Bottles.net] "Dr. Gibb's from Stockbridge, Vermont" Researching an unrelated item, I came across this clip (see below) from a Geneva, NY newspaper dated Friday Morning, April 21, 1853. Time period roughly right, Could be just a dead end lead, but a lead none the less.
[PRG: Historical note from AntiqueMeds on Antique-Bottles.net] There was an L. E. GIBB'S B. LINIMENT aqua bottle. Assuming its the same guy. Trying to figure out where it is from.
[PRG: Historical note from ePackage on Antique-Bottles.net] It's listed here as a Vermont Med, maybe the guy who runs the site knows more info and you could e-mail him….Jim 
http://www.vtmedicines.com/buyselltrade.htm. This is the original page I found it on…. 
http://www.vtmedicines.com/bottle222.htm 
[PRG internet notation for three historical documents] Connecticut State University Library: Includes note that states recipe for bone liniment was an original of Lester E. Gibbs in his own handwriting.

[PRG: Interesting past eBay listing for a found, but damaged GIBB'S BONE LINIMENT]. Antique Civil War era crude Keene or Stoddard olive green glass mold blown hexagonal patent medicine bottle with its embossed GIBBS BONE LINIMENT. Today we are listing all the better damaged bottles we found in a Civil War era farm near Canton, Maine. The family found most of the bottles first. During the 1960's, they were attracted to the bottle digging fade sweeping the nation. They made a modest attempted at gathering the old bottles scattered in the buildings of the farm, brought them all to the main house, washed them and then scattered them about the home, mostly on window sills. They did not discriminate but kept all the bottles they found including the damaged ones. We separated the better damaged bottles for today's listing. It is a nice group. This bottle is the classic Keene or Stoddard Glass Works Gibbs Bone Liniment bottle. It is a New England early American glass legendary classic and a beautiful specimen of the crude early New England glass in the rich olive green color. Although damaged, it appears that the bottle was …possibly intentionally broken… to allow, with hand grinding, the bottle to be used as an applicator (by stuffing a rag in the angled end) for glue, stain… or even "bone liniment". Very good damaged as found condition. The patent medicine bottle has the whole top of the bottle gone with the edges of this break hand ground at an angle, a ¼"spider or star check at the top shoulder of one blank panel and a corner chip at one hexagonal corner of the base, all as found. Otherwise the bottle is perfect… and a crude beauty. Right out of the farm house, it has appropriate and light soiling for it's age and from it's old farm residence. Please see photographs. As found in an estate near Canton, Maine.
[Incoming from Charles Flint from Lenox, Mass.] 
Gibbs Bone Liniment
Owned and produced in 1843 by Capt. Lester E. Gibbs of Blanford, MA. (I believe the business was short lived). Hexagon shaped glass bottle in olive/green, applied collared lip with an open pontil and the size: 6 ½" high. A cure liniment for external use only: For Skin Inflammations, Soreness, Eye Inflammation, Frost bit, Weeping Sinews, Burns, Cancer Humors, Chilblains, Rheumatic Affections, Itching, Ring Worm, Facial shaving Injuries, Strained Cords etc.
I am descended from the Flint/Lloyd/Gibbs family of East Otis/Blandford. My Great Great-grand Father Loren Flint (Otis) married Delila Lloyd of Blandford, which was directly related to the Gibbs of Blandford.
The original Gibbs 1843 poster is in the collection of Blandford, Mass Historical Society. They were so kind to supple me with most of this information.
I think business people did business with the glass works choose the ones closes to them. Travel was a very difficult, roads weren't so good in 1843 so Coventry was the path of least resistance from Blandford only 43 miles and the closest glass factory.