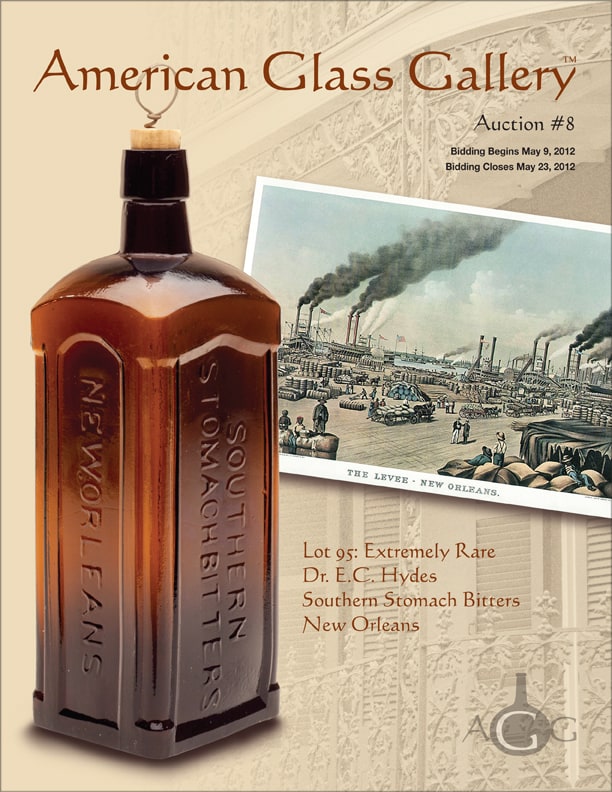 INKS continue to be in the news with some stunners in the latest American Glass Gallery Auction 8 which is now online. A few babies that really caught my attention are highlighted below.
"J – & I – E – M" Turtle Ink, America, 1865 – 1890. Clear medium blue green with a teal tone, cylindrical with domed shoulders and offset neck, sheared mouth – smooth base, ht. 1 5/8", near mint; (two shallow sliver-type flakes at the side of the neck below the fine horizontal rim and a little interior residue that would likely easily wash out, otherwise perfect). Similar to C#627. Outstanding color, beautiful example.
Pattern Molded Inkwell, twenty vertical ribs, probably America, 1825 – 1845. Brilliant clear olive with a bright yellowish almost lime tone, outstanding reddish striations swirling from the neck through the base, square, sheared mouth, blowpipe pontil scar, ht. 1 3/8", near mint; (a tiny pinpoint bit of roughness and a small 1/16" flake on the edge of sheared mouth, otherwise pristine). C#1116. An extremely rare, possibly unique pattern molded ink. The color and striations are exceptional! Provenance: Ex. William Covill Collection.
"Estes – N.Y. – Ink", America, 1847 – 1860. Brilliant olive yellow, 8-sided umbrella form, inward rolled mouth, blowpipe pontil scar, ht. 3 1/8", near mint; (a little faint exterior wear, otherwise perfect). Similar to C#117. A very scarce mold, exceptional, absolutely stunning color! In addition, the glass is highly whittled and filled with tiny seed bubbles giving it plenty of character and eye appeal. Provenance: Ex. Bob Mebane collection (#591), and pictured on the cover of the Mebane catalog. As noted in the text of the Mebane catalog, the description states, "one of the best", and we would have to agree!
Umbrella Ink, America, 1840 – 1860. Brilliant medium to deep cobalt blue, 8-sided umbrella form, sheared and inward rolled mouth – delicate blowpipe pontil scar, ht. 2 ½", near mint; (just a touch of expected light exterior wear). Form similar to C#129. Gorgeous color and clarity, nice whittled wavy glass, a beautiful example! Read more about this great little ink, and the young collector who had the great fortune of finding it, in the May issue of Antique Bottle & Glass Collector! As noted in AB&GC, this fantastic little ink bottle was dug by a young collector in Glen Ridge, New Jersey, this past year. Amazingly, the bottle only needed a light cleaning by hand with soap and water and has never been tumbled! A clean, bright example that could easily pass for an attic find!
More Peachridge Glass INK posts of late:
Read More: Two simply stunning inks in drop dead colors
Read More: Small Inkwell Bottles Page
Read More: The "Star of Baltimore"
Read More: More on Harrison's Columbian Inks