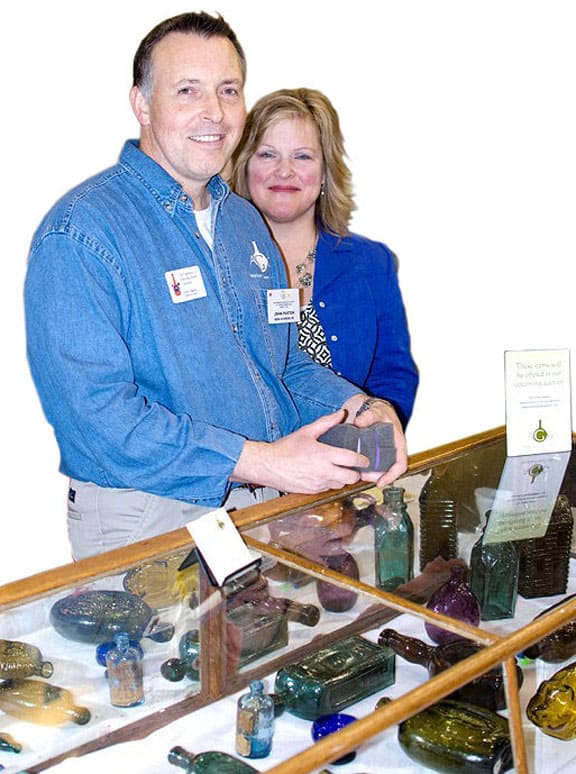 John Pastor, pictured with Liz Maxbauer above, had this great little flask called a Charter Oak at the 2012 Baltimore Bottle Show (Read further: A Salute to the 2012 Baltimore Antique Bottle Show) this past March. It was part of a preview series of bottles for their upcoming American Glass Gallery Auction 8, which is occurring now and is online (visit auction).
Sandor Fuss (Denver, Colorado) took me over to the Pastor | American Glass Gallery booth and showed me this exquisite little gem. I typically like the larger quart and pint sized historical flasks but have to admit, good things can come in smaller sizes. This flask is drop dead gorgeous!
Seeing the bottle again online refreshed my memory of the Baltimore moment and made me want to develop this post and find out a little more on the Charter Oak.
[Wikipedia] The Charter Oak was an unusually large white oak tree growing, from around the 12th or 13th century until 1856, on what the English colonists named Wyllys Hyll, in Hartford, Connecticut. According to tradition, Connecticut's Royal Charter of 1662 was hidden within the hollow of the tree to thwart its confiscation by the English governor-general. The oak became a symbol of American independence and is commemorated on the Connecticut State Quarter.
The American Glass Gallery Auction #8 description:
Eagle – Liberty / Oak Tree Historical Flask, America, 1825 – 1835. Bright yellow green, sheared mouth – pontil scar, half pint, very near mint; (a small flake or bit of roughness on one of the raised beads near the base, on the reverse, otherwise attic mint). GII-60. A scarce mold in an extremely rare and desirable color with only one other example known to exist in a similar shade. An exceptional little flask with great eye appeal!
Here are two more examples of this beautiful flask in aqua.