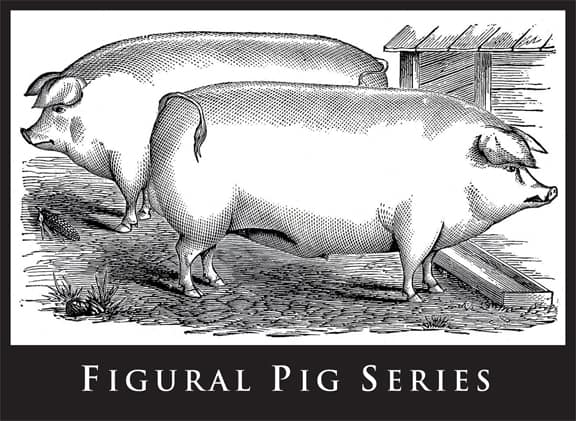 BEISER & KEISER N.Y
---
"This rare whiskey bottle is among the very rarest of the figural pigs and it is the key bottle that many collectors are missing in their "run" of piggies".
Jeff Noordsy

Not much is know about the rare BEISER & FISHER – NY figural whiskey pig. It is however, an American bottle, circa 1865 – 1875. You do not see these bottles often, but in my opinion, the pig is a necessity for the figural bitters and whiskey collectors.
Always in amber, the pigs are stylized and 'boxy' in their form. They measure about 9.626″ inches long by 4″ inches tall. With an applied double ring top and a smooth base, these bottles are really exciting and look great when grouped with a Suffolk Bitters and a Berkshire Bitters.
Here are a few pictures I have put together. I ask for additional information and example pictures if you possess one of these pigs.
Read more: Figural Pig Series | Berkshire Bitters
Read more: Figural Pig Series | Suffolk Bitters