A letter for Davenport's Celebrated Jaundice Bitters?
26 May 2012
Ferd – Thought you would like the attached 1849 letter I recently added to my collection…from George Dixon in Dedham, Mass. to William Potter in South Dartmouth, Mass.
He is inquiring as to the stock of medicines that Potter has and includes a question about "[illegible] Bitters" but given the context of the letter I think he almost certainly means "Davenport's Celebrated Jaundice Bitters." See also the attached advertisement from the December 28, 1839 Hartford Times which shows that Dixon was sole agent in Massachusetts for Davenport's products including the bitters. Feel free to share as you see fit. I love how postal history and bottle history can intertwine! Wondered….
1) if you have a Davenport's bottle in your collection?
2) how it would stack up in the "what is our oldest bitters?" timeline given that it was being sold in the 1830s?
All My Best, Jim Schmidt
Visit Jim's Civil War Medicine (and Writing)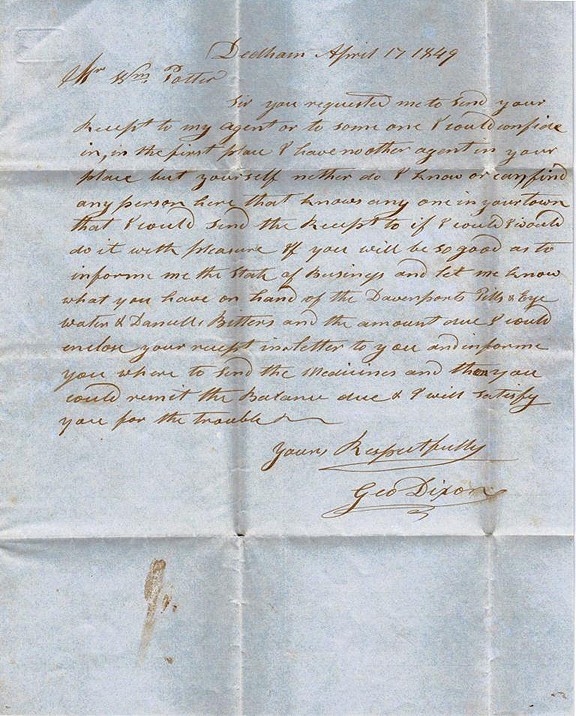 Jim: I have not heard of a Davenport's Celebrated Jaundice Bitters nor is there one listed in Carlyn Ring & W.C. Ham Bitters Bottles or Bitters Bottle Supplement. I would suspect the Jaundice Bitters reference might be to the J 25 JAUNDICE BITTERS, prepared by Thomas Hollis, Druggist and Chemist, 23 Union Street, Boston, Massachusetts. 4 x 1 1/2 x 7/8 Packaged Dry, Printed Wrapper on Box. on part of the rather long label under directions it says "An excellent beer can be made by infusing the Bitters in water, and adding molasses and yeast as usual" Yum… I wonder if Dr. Davenport repackaged this product with his name as your ad suggests?
Read More on the oldest Bitters: Constitution Bitters – The oldest Figural Bitters?
Read More on the oldest Bitters: Is the Cooley's Anti Dispeptic Bitters our oldest Bitters?
[PRG: from Dear Old Greene County]
In Times of the Catskill Whig
From the Catskill Messenger, published by Ira Du Bois in 1830, a copy of which was preserved by the late Judson Wilcox, we are able to secure a number of interesting matters. The paper was 4 pages of 6 columns and the subscription price was $2.50 per year.
One of the most conspicuous matters advertised was Wheaton's Itch Ointment, 25 cents, "Cures in an Hour," The itch was called loathsome disease. Also a cure for "fever and Ague."
Croswell and Brace, druggists, of whom we are able to present pictures, sold "Jaundice Bitter." "Davenport's Celebrated Eye Water," and "Bilious Pills."  Henry Mc Kinstry sold "Hygiean Medicine" which was guaranteed to cure Small Pox, Kings Evil, Apoplexy, Palsy, Consumption, and other ills including St. Vitus Dance. This medicine was alleged to have been recommended by a lot of Royal Eminent Gentlemen. $2.00 packet.
The shipping was done by Penfield and Day who operated the sloops Buck Tail and Shakespeare.
The streamers Champlain and North America between Albany and New York landed at Catskill running day trips and the Dewitt Clinton and the Ohio and Robert L. Stevens night line on same route did not stop at Catskill.
T. C. Atwater sold saw mill cranks, iron and steel.
Griggs and Bullock sold ploughs
J. W. Hunter sold crowbar drafts.
S. Bosworth and J. Gebbard sold satin beaver hats.
T. C. Atwater sold bark mills.
H. Comfort sold prepared floor plank.
Francis Sayre offered $1000 for any stove that beat his invention.
S. W. Bullock and Co. sold leather rollers.
Riesdolph and Van Kuren took care of the horse shoeing.
C. Trowbridge operated a soap and candle factory.
Thomas Reed taught a select school on William street, district school building.
The block of stores occupied by William L. Du Bois, Howard Smith, the Examiner and the old building on the Hasselman lot since remodeled, was built by Mackey Croswell, and the Croswells and Dr. Brace had their offices on Greene street. Here the first Catskill Packet was printed and this building was later moved to the corner where the express office now is where they opened a drug business. In 1822 they built the brick block, where they continued. Later Benjamin Wey and Wm. L. Du Bois at the same stand, Mr. DuBois over 61 years.