Really liking this "Charleston Shield" Superior Soda Water
22 April 2012

You can not miss this eBay listing for a blue Superior Soda Water or "Charleston Shield". The bottle is drop dead gorgeous and is in great condition. This has to be one of my favorite sodas because of the embossing, locale and the various colors that I have seen.
I recently saw a run of these at Mike Newman's (see pictures below) house in Augusta, Georgia. Anyway, the eBay listing is as follows:

Damage Free – Iron Pontil – Smokey Blue – 100% the real thing –  Charleston Shield
eBay: 9965ralph Huntley, Illinois
eBay description:
Voted as one of Charlestons top ten most famous bottles. Many of these have been tampered with replacing the missing tops, this one is 100% there, no repairs or any other real concerns, a dug bottle fresh to me from the privy and guaranteed to be original! Professionally cleaned by me, (and to use an over used phrase), to its original luster!!! All kidding aside it truly is a top shelf gem of soda deserving a prominent place on your shelf.
It is virtually stain free, save a small spot on one side of the interior upper most part of the neck, retaining some minor ground-ware mainly in the form of light sporadic scratching and a few mineral swirls, there are no chips, dings, cracks or any other form/s of damage!!!! It is a smokey blue in color almost having a tone of gray to it. The pictures are accurate and you get a real good idea of its true color!!! A knock out gotta have it soda in excellent shape!!!!
Iron pontiled with a thick grayish residue remaining. It has a super crude undamaged taper top and it is guaranteed not to have been repaired or altered in any way. There is no heavy ground-ware on the shield/eagle etc. Itself, and it is bodly embossed from the top of its sun-rays to the bottom of it's branches and from flag to flag, in other-words a strong strike top to bottom as well as side to side on its front with the famous rays/pikes/ eagle/shield/flags and branches.
On it's reverse and unlike most, this one is strongly embossed in the usual very thin print: superior/soda water with the 'er' in water being a bit weaker than the rest of the lettering but there is no problem reading them, or in other words they are all very legible and mentioned for complete accuracy only as this soda is a glow in the dark gem that displays well in any situation. The pictures are an accurate portrayal of it, my feedback speaks for itself, so please bid with confidence. 7-3/4" x  2-5/8″. Estimate: S1,700-2,300
Within a minute Tom popped out another soda: an iron-pontiled Superior Soda Water with an embossed eagle, shield and crossed flags in cobalt!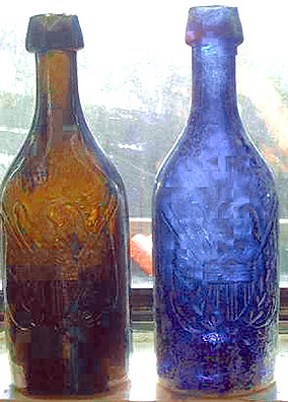 Looking around on the internet I found a great digging story where many great bottles were found including a Superior Soda Water "Charleston Shield" Read further: Christmas Isn't Just for Kids!
 But for dedicated bottle diggers, too!
 by Andy Goldfrank. The phrase "Within a minute Tom popped out another soda: an iron-pontiled Superior Soda Water with an embossed eagle, shield and crossed flags in cobalt!" really jumps out. I can only imagine the excitement of finding a bottle like this.
I have also posted some pictures of Mike Newman's Superior Soda Waters which were spectacular when I saw them in Augusta on a visit to see his magnificent collection last year.
Read More: Mike Newman Bottles – Upstairs Sodas
Read More: Mike Newman Bottles – Upstairs Flasks
Read More: Mike Newman Bottles – Downstairs