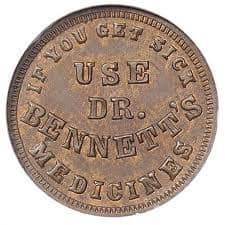 In from my friend, Civil War authority Jim Schmidt:
see: CIVIL WAR MEDICINE (AND WRITING)
* Thanks to Rick DeMarsh for token, and newspaper submissions.
Stomach Bitters   1.75
Sure Death to Rats   2.00
1866 D.M. Bennett bill-head from Cincinnati, Ohio…recently added to collection…see the Bennett's Stomach Bitters listing!…"Sure Death to Rats" poison Love the name…D.M. Bennett did issue a Civil War Proprietary Medicine Stamp (re30)..Enjoy!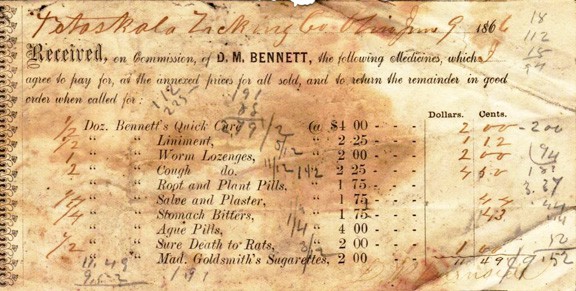 D. M. Bennett, Cincinnati druggist, produced one or more proprietary items. Private die stamps were issued for his firm from February, 1865 through August 17, 1871. 329,700 were issued on old paper.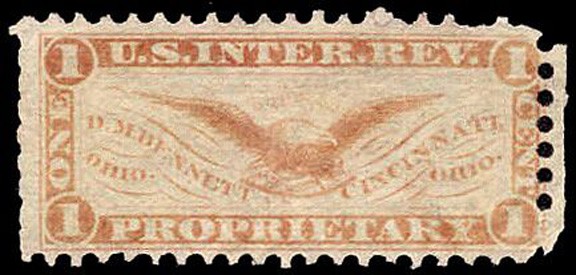 This is a puzzle to me. There are two western Bitters squares, a BENNET'S CELEBRATED STOMACH BITTERS (B 73) and a BENNET'S WILD CHERRY STOMACH BITTERS (B 74) both with SAN FRANCISCO embossing. Note there is only one 'T'  in BENNET on the western examples. What bottle is this billhead referring to when they say D.M. BENNETT and Cincinnati druggist. I need help on this one folks. I have come up with the following on D.M. Bennett:
DeRobigne Mortimer Bennett
Dr. D.M. (DeRobigne Mortimer) Bennett compounded Dr. Bennett's Family Medicines. Dr. Bennett learned to compound drugs while studying herbal medicine during the time that he was a member of the United Society of Believers in Christ's Second Appearing (i.e. the Shakers). Bennett is probably most famous as "the founder, publisher, and editor of the Truth Seeker, the largest and most radical free thought and reform journal in the world" as described by as Roderick Bradford in his article titled "Theosophical Odyssey of D. M. Bennett". 1856 Williams' Cincinnati Directory: not found. 1859-1860 Hawes' Ohio State Gazetteer and Business Directory: not found. 1860 Williams' Cincinnati Directory: D.M. Bennett, druggist and apothecary, southwest corner of Chestnut Street and Western Row. 1860-1861 Hawes' Ohio State Gazetteer and Business Directory: "Cincinnati . . . Bennett D.M., druggist, cor. Central Ave. and Chestnut." 1861 Williams' Cincinnati Directory: "Bennett D.M., druggist, 435 Central Av.". 1862 Williams' Cincinnati Directory: "Bennett Derobigne M., drug store, s.w.c. Chestnut and Central Av., h. 21 Chestnut." 1863 Williams' Cincinnati Directory: "Bennett Derobigne M., druggist and apothecary, proprietor of Bennett's Family Medicines, and manufacturer of sealing wax, s.w.c. Central Av. and Chestnut, h. 21 Chestnut." 1864 Williams' Cincinnati Directory: "Bennett Derobigne M., druggust & apothecary, and manufacturer of sealing wax, & c., s.w.c. Chestnut & Central Av., h. 21 Chestnut."