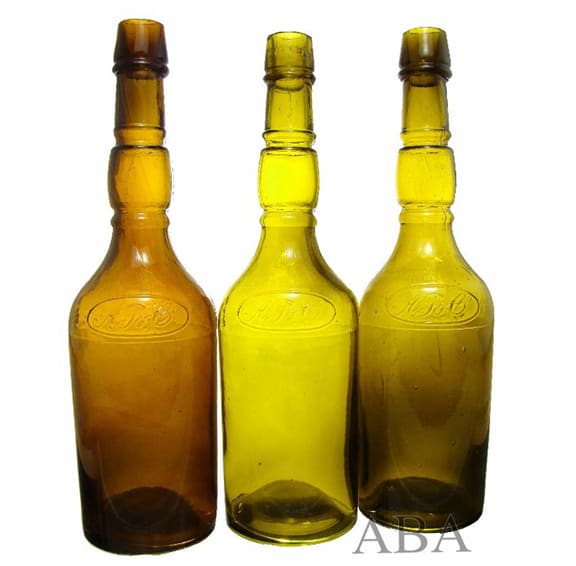 AT & Co. means Asher S. Taylor & Company
21 April 2012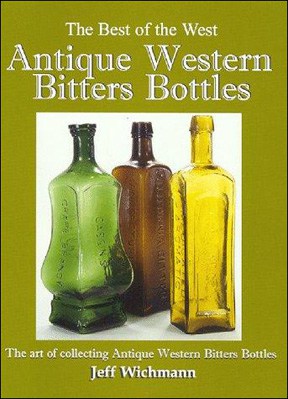 Ahh…what a nice trio of AT & Co bottles that are represented in the American Bottle Auctions | Auction 55 that is now on line. AT & Co. means Asher S. Taylor & Company.
I first became aware of these bottles when I saw them pictured in Jeff Wichmann's Antique Western Bitters Bottles which honestly, was instrumental in fueling my passion for collecting Bitters Bottles back when I started in 2002.
Interestingly enough, the AT & Co. is prominently embossed in an oval on the shoulder but does not have the word 'Bitters' embossed on the bottle. Most likely, the bottle was labeled with one of the Bitters products marketed by Taylor. This is an elaborately shaped bottle with a beautiful neck design that is like no other.
Jeff notes in his book that many AT & Co. bottles, usually found in yellow, amber and olive amber,  were unearthed in the famous San Francisco dig in 1998 at the 19th century recycling plant.
For more information on Asher S. Taylor I reference Warren B. Friedrich's landmark book Early Glassworks of California.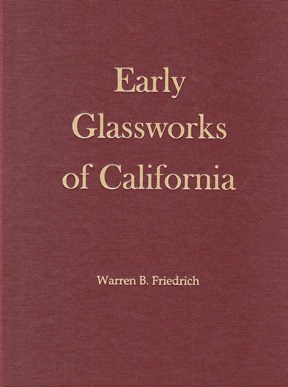 [referencing Early Glassworks of California by Warren B. Friedrich]
Asher S. Taylor is primarily know for operating a soda water factory (see bottle patent below) in San Francisco and Sacramento. Having his background in the soda water industry, Taylor may have concocted a bitters beverage for which he applied for two trademarks on January 17th, 1868: one for his Champagne Wine Bitters and the second for his Champagne Soda Bitters. After only s brief time of advertising his Champagne Wine Bitters, Taylor filed for a trademark of a Calisaya Bitters on July 22, 1869. In the 1871 San Francisco Directory, Taylor was listed as an agent for a Sparkling Medicated Gin Bitters.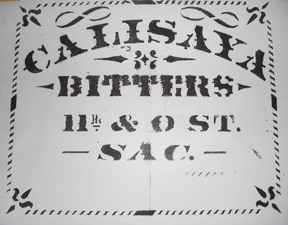 The elegantly shaped bottles is most likely a product from the San Francisco Glass Works. The Pacific Glass Works was out of blast at the time Asher Taylor marketed the Champagne Wine Bitters, however the Pacific Glass Works was the only glassworks in operation at the time Taylor advertised the Calisaya Bitters in July 1869.
Read more: Asher Taylor's Sacramento Connection at Western Bitters News
Lot 95 AT & CO on shoulder with applied top. We are lucky enough to have three of these unusual western bottles in this sale. Until the San Francisco dig of 1990, there was only one of these bottles thought to exist. A number were found in that dig and they have been collected and treasured by western bitters collectors ever since. Through the work of Warren Friedrich and his exhaustive efforts in uncovering the Asher Taylor provenance, much more is now known about this interesting bottle. For more information please refer to Early Glassworks of California. This example is amber and a pretty one at that. As all of these examples are revealed, you'll see three mint specimens in varying colors. Interestingly the three-piece mold accommodates a great deal of whittle in the upper section with some lesser crudity through the bottom. A terrific example in the hard to find amber. The top appears a little different color than the bottle. Grades 9.8.
Lot 96 AT & CO on shoulder with applied top. And another of the Asher Taylor bottles, this one also in super condition in an olive coloration. Under high intensity light we are seeing some nice bubbles and crudity again mostly in the upper half. Maybe a few light scratches but generally a Grade 9.6.
Lot 97 AT & CO on shoulder with applied top. This last example is a brilliant yellow and is one that will really stand out in any collection. Taylor started in New York in the 1850's before coming to San Francisco in 1854 and then Sacramento. According to Friedrich, his Champagne Wine Bitters was marketed in Sacramento, he also filed for a trademark for Calisaya Bitters in 1869. The history is intriguing and very worthwhile for collectors of early western glass. We doubt a trio of these will be offered again for some time.