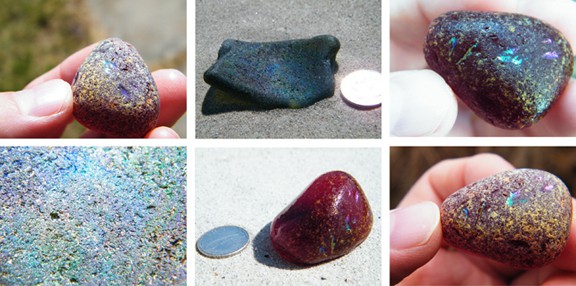 If anyone can help with Clyde's questions, I would appreciate it. Clyde found my post Benicia Iridescence and Patina on Bottles – Not a Sick Bottle and tracked me down on PRG. Thanks!
Hello,
I am a collector of sea glass. I have three questions about "benicia iridescence". It would be greatly appreciated if you could help me find the answers or lead me in the right direction in finding them.
What ingredients in the glass help to create this type of patina, and what earth or water conditions must the glass be put in to earn this patina?
Approximately how long does it take for glass to acquire this type of patina in the right conditions?
Are there any other names for this type of naturally occurring iridescent patina glass?
I have attached a couple photos of pieces of sea glass which has this "benicia iridescence" even though they have been worn by the sea. Perhaps they obtained this patina after, and not during active tumbling in the ocean…if you have any thoughts on this matter it would be of great use to me.
All the best, Clyde S., Canada