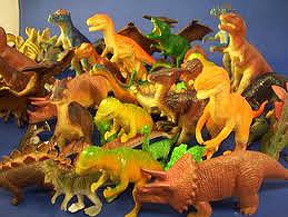 Some time ago, and we still laugh about it now, we had an interesting and unexpected learning experience on eBay when my wife bid on what she thought were some large (12" tall or so) dinosaurs for my grandson Nicholas (see above). Nicholas loved dinosaurs and we wanted to buy some replacement and new dinosaurs that Adriana (his older sister) had when she was younger. After searches at toy stores and on line, Elizabeth finally triumphantly said that she had found some more of the big fellas on eBay. Well you can see where this is going. When they arrived they were little plastic dinosaurs. She assumed that they were like the others we had and did not catch the dinosaur measurement copy description. There was no penny scale. These were puny dinosaurs. USE A PENNY.
What made me think of the dinosaurs and my first small bottle experience was the post of the small bottle next to a penny on a block of wood (see above). This brought a smile to my face because John Akers correctly used a penny, old Abe himself, to show scale. No doubt here about the size of the bottle. I even jokingly added to the Old Bottle Page on facebook that he could have photographed the bottle next to a grain of sand and made the bottle look like a gallon or so.
You see, back when I was finally captured and fully engulfed with historical bottles and  glass in 2002, my wife Elizabeth, who had been on eBay for years, surprised me with a winning bid for A NEW BOTTLE. WOW!
Who cares what it was! She won, a bottle and was going to surprise me. This was after my first purchase of a Drakes and a few other 'mainstream' big bitters (with a low cost) at the DELMARVA Bottle Show in Lewes, Delaware. (My dad founded this club). Ahhh, the good ole days!
"Use a penny!"
Well the package finally arrived and I opened it only to find a puny little bottle called a DALBY'S CARMINARIVE. You see, I live in Texas where everything is BIG, and I have big head anyway, so I have to admit, I was disappointed. My point is. Use a penny! As a follow-up, I do like small bottles now as I have a major collection of miniature Bitters. It did take me a least five years or so before I would even look at them. Even to this day, this collector prefers quart Historical Flasks over pints and half pints.