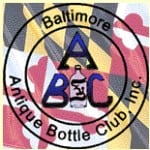 Baltimore Digger and Collector Chris Rowell posts over at Bottle Collectors on Facebook the following information and pictures. Just love those Baltimore bottles. Reminds me of home too.
[CR] William Coughlan Baltimore's most prolific bottler 1842-1874. This picture represents 10 of the 12 different molds known that he used during that time period. All the bottles in the picture are pre-1865 as no known marked bottles of his date to the last few years of his business 1865-1874 he may have had a large supply of early bottles still in use but I would assume there are marked bottles of his that are missing from that late period.
[CR] P.S. really looking for a Wm / COUGHLAN – BALT. olive green torpedo and a W. Coughlan / Baltimore open pontiled "patent" style soda will pay top dollar for either of these bottles.
[CR] Peter Babb is Baltimore's second most prolific bottler. This image represents the 8 different known molds he used during his time in Baltimore from 1850 until his death in 1857.
[CR] There is also a stoneware bottle marked BABBS ROOT that I would really like to get my hands on an example of to finish out my Babb grouping.