This past week I had lunch with an associate of mine from my company FMG Design at the Tea Room at the Museum of the Shenandoah Valley in historic Winchester, Virginia. This is always a nice experience with wonderful light lunches served on Fiesta dinnerware and tea served from contemporary modern teapots.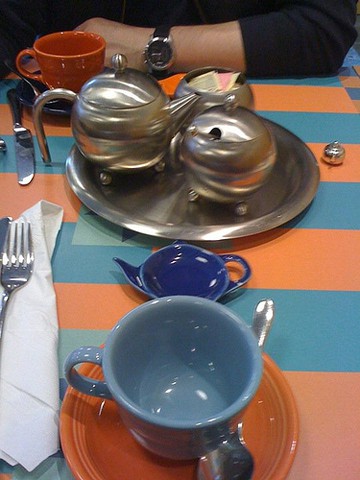 Being a design person, I think this is really cool. Kim Cao, one of my designers certainly knew about the Graves designs but was not aware of the Fiesta settings. I was able to fill her in partially about why all of the settings were different colors but I was prompted to dig a little deeper on my iPad for images and information which I have posted below.
My big question out of all this, Is the "Laughlin" of "Homer Laughlin China Company", makers of Fiesta in Newell, West Virginia, ANY way related to the "Laughlin" of OLD HOME BITTERS? Read: Old Home Bitters – Wheeling, West Virginia

[from Wikipedia] Fiesta is a line of ceramic dinnerware glazed in differing solid colors manufactured and marketed by the Homer Laughlin China Company of Newell, West Virginia.
The original shapes, glazes and concept of combining various colors were designed by the company's art director Frederick Hurten Rhead in the 1930s. The dinnerware was introduced for retail sales to great success in 1936. Homer Laughlin withdrew Fiesta from production in 1973 in response to declining sales before reintroducing the line in 1985. Some of the original shapes were redesigned and other new shapes were designed as part of the 1985 reintroduction by the late Jonathan O. Parry, who became the company art director in 1984.
As a line of open-stock dinnerware, Fiesta allows buyers to select by the piece, rather than requiring the purchase of entire sets. Notably, buyers can mix and match from the color range. According to David Conley, the company's director of retail sales and marketing, Fiesta's current colors derive from home decor and fashion trends. According to the Smithsonian Institution Press, Fiesta's appeal lies in its bright colors, modern design, and affordability.
Fiesta's red-orange glaze is well known for having contained significant amounts of radioactive materials in its uranium oxide glaze. It has been described as "one of the most radioactive commercial products you could buy."