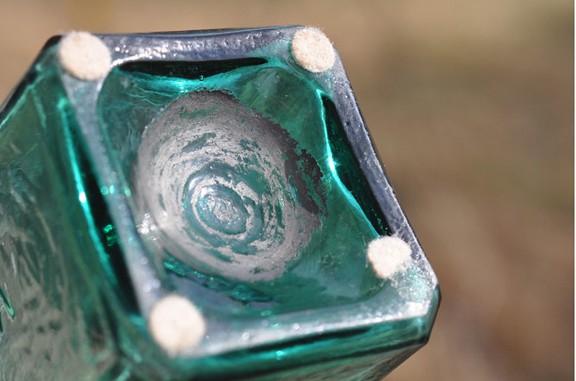 Watching this stunning example of a Dr. Townsends Sarsaparilla on eBay. Besides being beautiful glass, it has the killer pontil that is similar to the pontil I wrote about last night. That bottle was thought to be a Dr. Townsend's also. dendirtyd is a strong eBayer with a 100% feedback that I can vouch for. The pictures are stunning and great examples of how a bottle should be represented on eBay.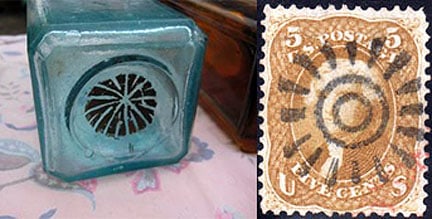 (see: The Fancy Pontil and Fancy Cancel)
[eBay description] This is a very nice bottle embossed Dr. Townsends/ Sarsaparilla/Albany,N.Y. Color is blue/green and leaning more to the green side. I have placed it next too a quart scroll for color comparison. The bottle is iron pontiled and heavily whittled. Some light use type scratches.  No chips,cracks or dings. Postage is $12.00. Any overage in postage will be refunded in dollar amounts only. I have been collecting bottles for right at 40years and I'm a member of the FOHBC. Bid with confidence.If not satisfied with your item you can return it for a full refund less return postage. If I have grossly missed something then I will refund the return postage also. If you have any questions the best time to reach me is mornings,afternoons and early evenings sometimes. I will be listing some items in different catagories over the next several months. Thanks For Looking!