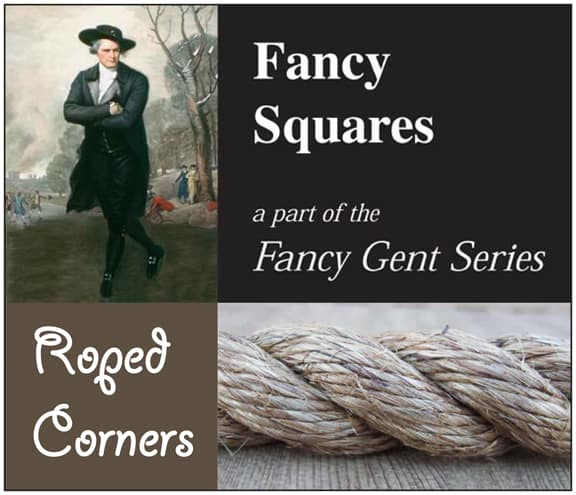 H.P. Herb Wild Cherry Bitters -Another Roped Corner Fancy Gent
28 December 2011 (R•060314)

I am nearing the conclusion of writing about Roped Corner squares (at least in my bitters collection). Of course, some new bottle addition could change this statement, but as of this moment, this series is limited and includes the previously written about Bakers Orange Grove Bitters, National Tonic Bitters, Russian Imperial Tonic Bitters, Dr. Wheelers Tonic Sherry Wine Bitters and Rohrer's Expectoral Wild Cherry Tonic.
I realize the Rohrer's is a 'stretch' from being a square but none-the-less, the roped motif dominates this bottle form as it does the other noted bottles. With that said, it is only fair now to look at the very well known and popular H.P Herb Wild Cherry Bitters from Reading, Pennsylvania. This square, figural 'cabin' form comes in two (2) different mold (larger and smaller) sizes and were blown in delicious colors that may come as a surprise. The embossed tree is also very pleasing and graphic and reminds of a tree emboss you might see on a LQC Wishart's Pine Tree Tar Cordial bottle.
The first group of pictures is the Ring/Ham H 93 bottle which is the larger of the two (2) molds at 10″. The amber is the common color but the yellow olive is the one you want to obtain if you get a chance. Of coarse I own both because I like runs of color and bottle juxtaposition.
H 93

  H.P. HERB BITTERS, Circa 1880 – 1885
H.P. HERB / WILD / CHERRY / BITTERS / READING / PA // f // WILD CHERRY ( au ) / motif cherry tree / BITTERS // f // // s // BITTERS // BITTERS // BITTERS // BITTERS //
L… Herb's Pure Compound Wild Cherry Bark Bitters
10 x 3 (6)
Square – cabin, LTCR, Applied mouth and Tooled lip, Roped corners, Amber – Common, Yellow olive –  Very Rare
This second group of pictures is the Ring/Ham H 94 bottle which is the smaller of the two (2) molds at 8 7/8″. Surprisingly, the amber is the very rare color and the green is noted just as rare.
H 94

 H.P HERB WILD CHERRY BITTERS, Circa 1880 – 1890
H.P HERB / WILD / CHERRY / BITTERS / READING / PA // f // WILD CHERRY ( au ) / motif cherry tree / BITTERS // f //  // s // BITTERS // BITTERS // BITTERS // BITTERS //
L…H.P. Herb Wild Cherry Bark Bitters
8 3/4 x 3 1/4 x 3 (5 1/2)
Square, cabin, LTCR, Tooled lip, Roped corners, Amber – Very Rare; Green – Rare
Read: Roped Squares – Bakers Orange Grove Bitters
Read: Roped Squares – National Tonic Bitters
Read: Roped Squares – Russian Imperial Tonic Bitters
Read: Roped Squares – Dr. Wheeler's Tonic Sherry Wine Bitters