The highest bid so far for the 1915 contour Coca-Cola Prototype bottle (read: 1915 Coca-Cola Prototype Bottle and Concept Sketch) is already at $65,000 and we have a little less than two (2) weeks to go with the auction ending live on 03 December 2011. While the estimate was 10k – 20k, I really do not find this as shocking as it may appear. Let's watch this closely. For reference and perspective, I have posted a few other recent RECORD prices for familiar smaller items that we cherish so much.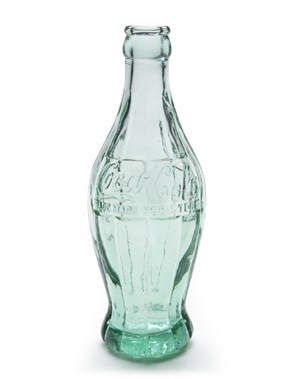 1915 Coca-Cola Prototype Bottle (Lot 1009). A contour Coca-Cola prototype bottle designed by Earl R. Dean. In 1915, when most beverages were packaged in generic, straight-sided bottles, bottlers worried that Coca-Cola was easily confused with imitators. Benjamin Thomas, co-founder of the Coca-Cola Bottling Company, came up with a solution. He stated, "We need a bottle which a person can recognize as a Coca-Cola bottle when he feels it in the dark." In response, Coca-Cola launched a competition among bottle suppliers to come up with a distinctive design. During the 1916 Bottlers Convention, and among several other design entries, Dean's contour design would be voted the winner. The prototype never made it to production since its middle diameter was larger than its base, making it unstable on conveyor belts. Dean resolved this issue by making the necessary alterations needed for the design to go into production. The contour bottle was so successful that it became the standard for the Coca-Cola brand. It was also the first bottle design to be granted trademark status by the United States Patent Office. The only other known example of this bottle is owned by the Coca-Cola Company. Bottle reads "Coca-Cola/ Trademark Registered." Additional embossing of Coca-Cola can be found on the bottom of the bottle. 7 1/2 inches PROVENANCE From the Estate of Earl R. Dean.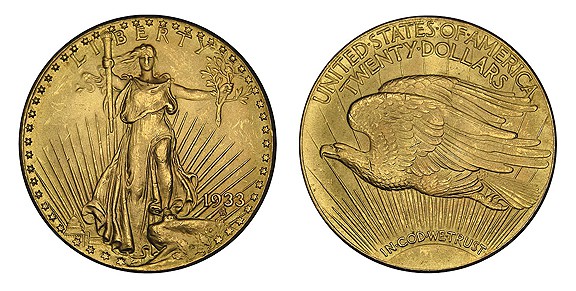 From Wikipedia: The 1933 double eagle (United States 20-dollar gold coin) currently holds the record for the highest price paid at auction for a single U.S. coin when it was purchased for $7.59 million. 445,500 specimens of this Saint-Gaudens Double Eagle were minted in 1933, the last year of production for the Double Eagle, but no specimens ever officially circulated and nearly all were melted down, due to the discontinuance of the domestic gold standard in 1933.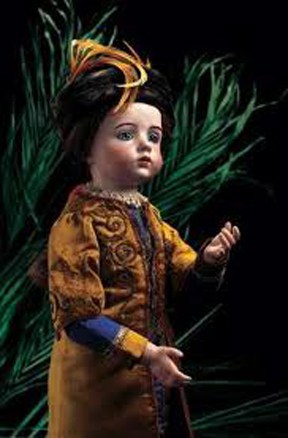 At the Theriault's auction held in conjunction with the United Federation of Doll Clubs national convention in Atlanta on July 12, a French antique doll sold at a world record auction price of $263,000. Created in 1914 by Albert Marque, the doll drew heated worldwide bidding and was won by a collector from Boston who was in attendance at the auction. The old record had been set in 2003 (also for an Albert Marque doll) and was $215,000.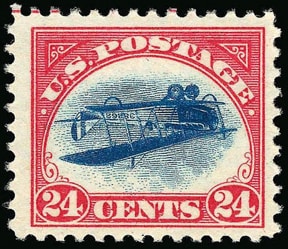 From Wikipedia: The Inverted Jenny (also known as an Upside Down Jenny or Jenny Invert) is a United States postage stamp first issued on May 10, 1918 in which the image of the Curtiss JN-4 airplane in the center of the design was accidentally printed upside-down; it is probably the most famous error in American philately. Only one pane of 100 of the invert stamps was ever found, making this error one of the most prized in all philately. A center-line block catalogs for $600,000, which is probably low; a single inverted Jenny was sold at a Robert A. Siegel auction in November 2007 for US $977,500. In December 2007 a mint never hinged example was sold for $825,000. The broker of the sale said the buyer was a Wall Street executive who lost the auction the previous month. A block of four inverted Jennys was sold at a Robert A. Siegel auction in October 2005 for US $2.7 million.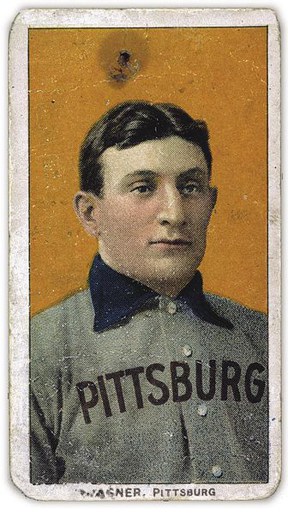 From Wikipedia: The T206 Honus Wagner baseball card depicts Pittsburgh Pirates' Honus Wagner, a dead-ball era baseball player who is widely considered to be one of the best players of all time. The card was designed and issued by the American Tobacco Company (ATC) from 1909 to 1911 as part of its T206 series. Wagner refused to allow production of his baseball card to continue, either because he did not want children to buy cigarette packs to get his card, or because he wanted more compensation from the ATC. The ATC ended production of the Wagner card and a total of only 60 to 200 cards were ever distributed to the public. In 1933, the card was first listed at a price value of US$50 in Jefferson Burdick's The American Card Catalog, making it the most expensive baseball card in the world at the time.
The most famous T206 Honus Wagner is the "Gretzky T206 Honus Wagner" card. The card has a controversial past, as some speculate that it was once altered, based on the card's odd texture and shape. The Gretzky T206 Wagner was first sold by Alan Ray to a baseball memorabilia collector named Bill Mastro, who sold the card two years later to Jim Copeland for nearly four times the price he had originally paid. Copeland's sizable transaction revitalized interest in the sports memorabilia collection market. In 1991, Copeland sold the card to ice hockey figures Wayne Gretzky and Bruce McNall for $451,000. Gretzky resold the card four years later to Wal-Mart and Treat Entertainment for $500,000, for use as the top prize in a promotional contest. The next year, a Florida postal worker won the card and auctioned it at Christie's for $640,000 to collector Michael Gidwitz. In 2000, the card was sold via Robert Edward Auctions to card collector Brian Seigel for $1.27 million. In February 2007, Seigel sold the card privately to an anonymous collector for $2.35 million. Less than six months later, the card was sold to another anonymous collector for $2.8 million. In April 2011, that anonymous purchaser was revealed to be Ken Kendrick, owner of the Arizona Diamondbacks. These transactions have made the Wagner card the most valuable baseball card in history.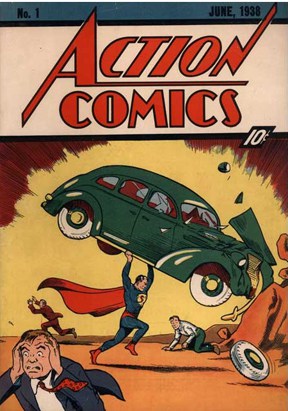 From The Telegraph: A copy of the 1938 edition of Action Comics No. 1 sold for $1.5 million on the auction website ComicConnect.com. The issue features Superman's debut and is widely considered the holy grail of comic books. The same issue sold in February for $1 million. That number was quickly beaten when a 1939 comic book featuring Batman's debut sold for $1 million and change. The issue that sold was bought from a private collector and then sold by Stephen Fishler and Vincent Zurzolo, the co-owners of ComicConnect.com.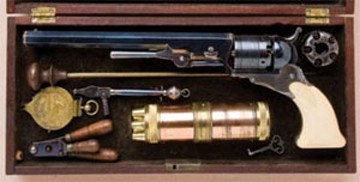 From Heritage Auctions: An exceptional, rare and fine ivory-gripped Texas, or Holster Model No. 5, Paterson Revolver from the Al Cali Collection realized $977,500 as part of Greg Martin Auctions/Heritage Auctions Sept. 18 Signature® Arms & Armor Auction in Dallas, setting a world record price realized for a single Firearm sold at auction. It was purchased by an unidentified West Coast collector, who auction house officials will only identify as a Silicon Valley mogul.
The revolver, with a 9-inch barrel and attached loading lever, is the finest known surviving example of Samuel Colt's first revolver, produced by the legendary gunsmith in Paterson, N.J. in 1836. "This is as desirable as any piece that exists, and as desirable as any piece I've seen in my more than 40 years of buying and selling the very best firearms in existence," said Martin. "Out of maybe 3,000 similar pieces made, with most likely less than 300 surviving, this is clearly among the very best, and the market realized that."
Norman Heckler announced on their web site, the sale of an extraordinary General Jackson | Eagle Flask in their Auction 90. The auction listing is as follows…
GII-66   General Jackson. " And Bust – "J.R. / Laird. S.C. Pitt." And Eagle Portrait Flask, John Robinson Manufacturers, Pittsburgh, Pennsylvania. 1820-1840. Brilliant yellow green, inward rolled mouth – pontil scar, pint; (a reflection adjacent to a bubble at the interior of the base at the left side of the Jackson bust that occurred at the time of manufacture). Extremely rare mold in an extremely rare color, perhaps unique. Particularly strong embossing. This flask was purchased by the consignor's father in 1971 from a Mr. Ernie Burger who had purchased the flask from a house in North Dayton, Ohio. The price was $41.80. As the years went by Edmund Blaske offered $750 and later Roy Brown offered a new Cadillac for the bottle. It has been in the family for the last 39 years and safely stored in a box. Estimate: $40,000-$80,000, Price Realized: $176,670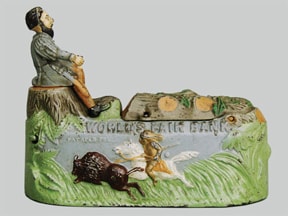 From RSL Auction: Clad in age-defying cast iron, antique mechanical banks made another bulletproof run across the auction block June 4th at RSL's 499-lot sale featuring the John Jirkofsky collection. "Everyone waited with anticipation for the final lot, which was the top lot of the sale – a pristine, multicolored J. & E. Stevens mechanical bank commemorating the 1893 Chicago World's Fair," said Haradin. "Only about five of the color variation we offered are known to exist; 99% of those produced were painted gold with silver highlights." Estimated at $14,000-$18,000, the bank depicting Christopher Columbus sitting on a rock, with the Santa Maria at one side and an Indian chasing a buffalo on the other side, "discovered" its true market value at a record $45,325 (all prices inclusive of 22.5% buyer's premium).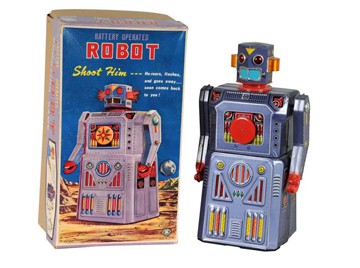 It came from outer space, and when it landed in southeastern Pennsylvania last month, Masudaya's multi-action Target Robot smashed a world auction record for an example of its type when it hit the bull's-eye at $52,900. The boxy tinplate alien invader – complete with original box and shooting accessories – took top-lot honors in Dan Morphy's Feb. 26-27 sale, which grossed $1,070,000 (all prices quoted inclusive of 15% buyer's premium).
"The robot result shows what the market will pay for a classic-era robot whose condition is complete and this close to being brand new," said Morphy's chief operating officer, Tom Sage Jr. The Target Robot, which is one of Masudaya's 'Gang of Five' robots made in the late 1950s and early 1960s, was designed for use with a tin shooting pistol and two rubber-tipped darts. "This is the first instance we know of in which the robot still has not only its rare original box but also its shooting accessories still intact in the original sealed bag," Sage said. The 15-inch robot with a carnival-style target on its chest came from the factory in Japan in a multicolor box that instructs: "Shoot him…He roars, flashes, and goes away…soon comes back to you!"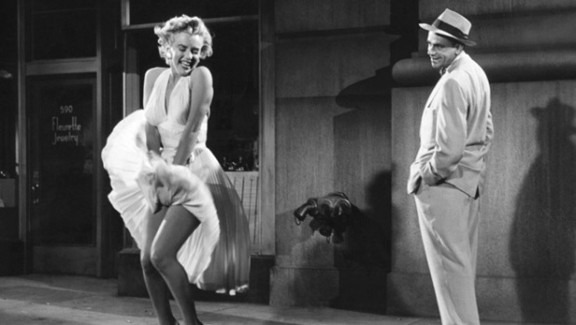 Marilyn Monroe was definitely the star in a recent auction of Hollywood memorabilia, with the iconic dress she wore in the 1955 film "The Seven Year Itch" sold for a blockbuster $4.6 million. In a classic movie moment, the ivory pleated Travilla dress billowed up as air rose from the subway grate underneath, revealing Monroe's legs, in the glory of Technicolor and CinemaScope.
Monroe's red-sequin number from "Gentlemen Prefer Blondes" didn't do badly, either, for a "little girl from Little Rock": $1.2 million.
Monroe's saloon girl costume from "River of No Return" sold for $510,000. The gold charmeuse gown covered with bugle beading, red fringe accents, and gold velvet train with red netting benefitted from having been worn by TWO Hollywood goddesses: The Helen Rose dress was originally created for Betty Grable for the "Cuddle Up a Little Closer" number in 1953's film "Coney Island."