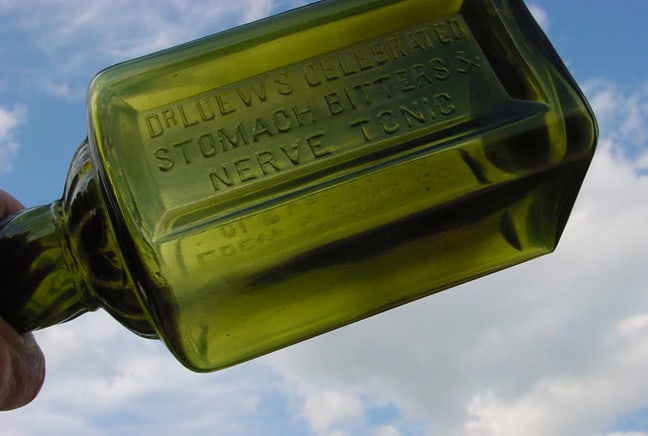 Rare color Dr. Loew's Celebrated Stomach Bitters & Nerve Tonic snagged on eBay
03 October 2011

I am pleased to add a rare color Dr. Loew's Celebrated Stomach Bitters & Nerve Tonic, Cleveland, Ohio to my collection. This bottle closed on eBay last night. The color and condition look to be quite extraordinary. The yellow olive color (see top of post) will go great with my apple green and emerald green variants (pictured below). I also have a trio of the tough-to-get miniatures (pictured below). We'll see though. Best not count my chickens yet. Pictures and description looked real good (see below).
The eBay listing was as follows:
Dr. Loew's Celebrated Stomach Bitters & Nerve Tonic,  Cleveland Ohio
You are bidding on a rare Ohio bitters bottle. It is 9 1/8 inches tall with a 3 inch square base and a fluted neck. It is a dark yellow green color. One side is embossed in a recessed panel with Dr. Loew's Celebrated Stomach Bitters & Nerve Tonic. The other side says The Loew and Sons Co. Cleveland, O. This bottle was found in the same estate as the flask that I have also listed. This bottle is free of chips, hairlines, dings and wear. I'm starting this one low with free shipping. Photos 1 to 6 were taken inside with lamps. The last 4 photos were taken in natural light outside. The bottle was sitting on the steps for the first and last of those four. I was holding up the bottle to the sky on the middle two with my camera in one hand and the bottle in the other. The colors on my monitor looks like the correct color. I've added two photos taken at 4:50 in the afternoon outside holding the bottle toward the sky. One is toward the clouds and the other is directly into the sun.  Hope this helps on color.
eBay name: bestifuru, Northwest Ohio, 31 Bids $1,425.00, 02 October 2011