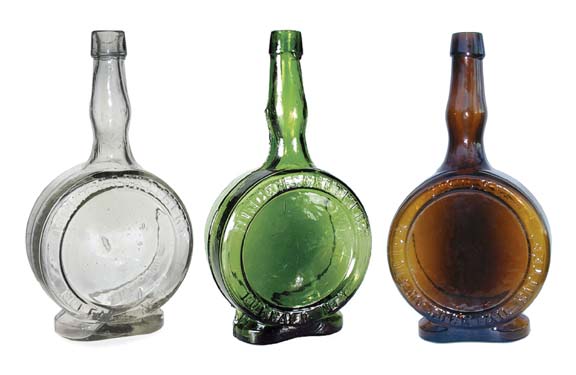 Dingen's Napolean Cocktail Bitters in a Lilac Amethystine
22 October 2011 (R•111116)

Wow, take a look at this beauty (pictured below)! I bet this bottle is tough to photograph but I can just imagine how killer this is. Maybe I can see in person sometime….Thanks Jack Stecher.
Hi again, Ferd.
Thanks for the quick post and photos of the Root's bitters on your site.
While I was at it, I thought I'd take a couple photo shots of my prize Dingen's and send them along. I won't mind if you post on your 'killer" or "color" site, if you wish, unless you only do the photography for that site. Anyway, I did not do any back lighting and just put it out on my pool table against a white sheet background and utilized only ambient overhead fluorescent lights.
It's a very unusual color, as you would probably agree.  It's the N-3 pedestal with iron pontil. I know they are listed in "smokey clear" and "aqua", but not in "amethystine", as mine evidences. I am sending 3 photos, but just pick the anyone you wish to use, if you do. Use any or all or none, if I'm too presumptuous (maybe you already have same?). It's a strange color and changes shades at times with the lighting, whether indoor or outdoor. I have seen it shade to almost a "lilac", having a bit of blue in it from time to time.  I guess it's still more an amethystine color than anything. I've had it since 1997 and purchased it from a private party who found it at an estate sale, would you believe. He paid $3.00 for it! I paid considerably more, as you might guess.
Let me know what you think.
 Jack
The Carlyn Ring and W.C. Ham listing in Bitters Bottles is as follows:
N 3

DINGEN'S ( au ) / NAPOLEON COCKTAIL BITTERS ( ad ) // c // DINGENS BROTHERS ( au ) / BUFFALO, N.Y. Circa – 1865 – 1875  ( ad ) // c // 10 1/2 x 4 x 2 1/2 ( 5 3/4) with pedestal, maximum width 5 ½ Banjo lady's leg, Yellow amber, Olive amber, Yellowish olive green, smoky clear, and Aqua, LTC, Applied mouth, Metallic pontil mark, Very rare
Label: On Napoleon Cocktail side – a picture of Napoleon, bats with spread wings, a devil stirring a cauldron of brew, and some glasses. Dingens Hot Punches prepared by Dingen Bros., Buffalo. In 1835 John Dingens started a grocery business. In 1836, with his sons, Joseph A., Frank L., John C., and C. Bernard they established the firm of Dingens Bros. at 277 Main Street, New York. At this time Napoleon Bitters was introduced. The company also made syrups and cordials, and were wholesale liquor and cigar dealers.