Digger Down: The Thrills and Spills of an Antique Bottle Collector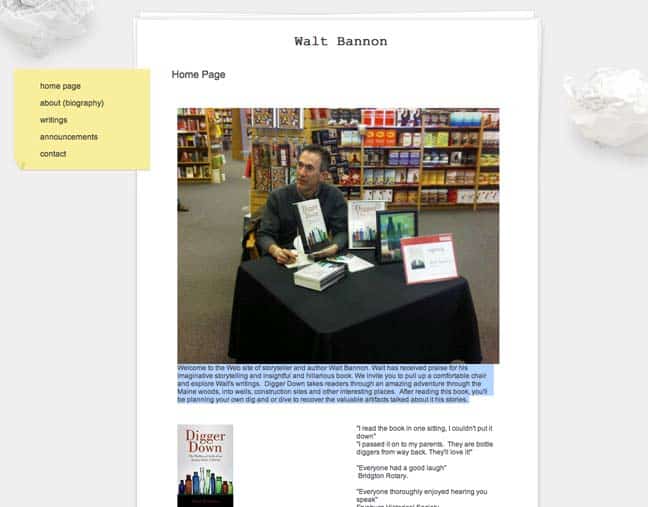 Welcome to the Web site (visit web site) of storyteller and author Walt Bannon. Walt has received praise for his imaginative storytelling and insightful and hilarious book. We invite you to pull up a comfortable chair and explore Walt's writings. Digger Down takes readers through an amazing adventure through the Maine woods, into wells, construction sites and other interesting places. After reading this book, you'll be planning your own dig and or dive to recover the valuable artifacts talked about it his stories.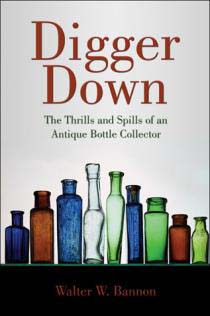 Walt Bannon, one of Maine's most notorious bottle diggers, shares the zany and often danger-filled predicaments he's found himself in one too many times. His near scrapes with the law-combined with insanely ridiculous situations-are humorously exposed in this enjoyable book about his antique bottle collecting adventures. You'll learn how he quickly amassed an admirable collection of old glass treasures, but better still, you'll learn from his experiences and mistakes how not to build a collection of antique bottles. If you're already a digger of these old gems, you'll certainly relate to the borderline and perilous aspects of this hobby. However, if you're just curious about Walt's passion for the hunt of these treasures that secretly lie beneath the ground your feet tread upon every day, this book will pleasantly enlighten you.
[PRG] Walt has a cryptic Maine Antique Bottle and Glass Museum coming soon note on an ad he placed in Antique Bottle and Glass Collector