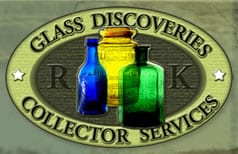 Ray Klingensmith will be ending his September Auction #65 for his dual Pole Top Discoveries Catalogue of Scarce, Rare and Colorful Insulators and Glass Discoveries' Catalogue of Scarce, Rare & Colorful Bottles. The closing date is tonight, Monday, 26 September 2011, 10:00 pm, Eastern Time.  Read more on…3 Gems in the new Pole Top Discoveries' Catalogue of Rare & Colorful Insulators.
Ray also publishes the best auction catalogue…period. They are works of art and belong in a museum book store. As noted on their web site…
Large, Printed Catalogues Available!
The all color, high quality printed Catalogue for Sale #65, with 144 pages, can still be ordered! Don't miss this large Catalogue loaded with huge color pictures and a wealth of historical information. Price is still only $32 ppd. in the U.S, or $38 when shipped to Canada. International, please inquire. Preferred form of payment is a check payable to "Ray Klingensmith." Those who desire to use PayPal, please add an additional fee of $1, using the email account shown below. THANKS!
Ray Klingensmith
PO Box 628
Parkman, OH 44080
440.548.5408
 poletop@clover.net
A few sample pages from the Glass Discoveries' portion…