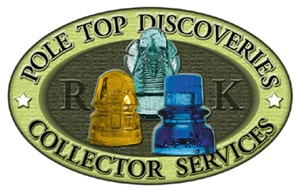 Ray Klingensmith has started his September Auction #65 for his dual Pole Top Discoveries Catalogue of Scarce, Rare and Colorful Insulators and Glass Discoveries' Catalogue of Scarce, Rare & Colorful Bottles. The closing date is Monday, 26 September 2011, 10:00 pm, Eastern Time.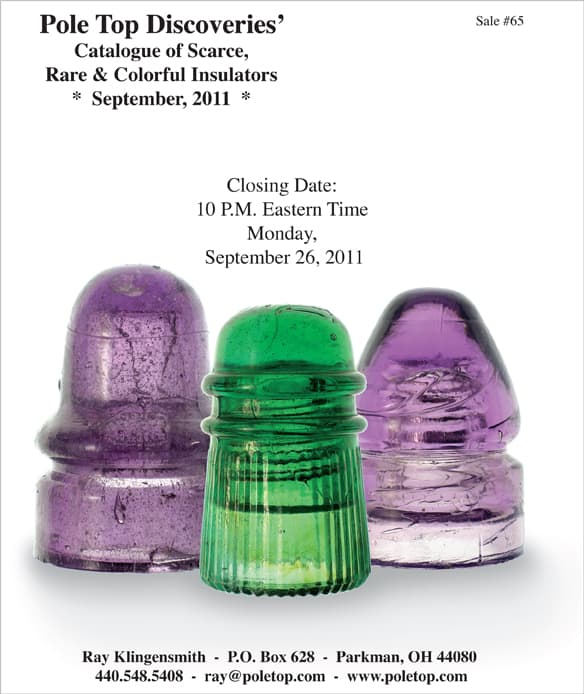 I found these three (3), and there are many more, extraordinary insulators within the auction.
#2 CD 726 Unmarked Bright purple The CD 726 has been found in widespread areas along Canadian railways, ranging from Ontario to the Maritime Provinces. Some have surfaced on railways which were completed in 1869 and 1870, indicating this style was likely produced into the late 1860's and possibly the early 1870's.
They have been found in a rainbow of exotic colours, ranging from the more readily available aquas, various blues, a couple green shades, purple, and cranberry red. Blackglass purple and a couple variations of blackglass olive and olive amber have also been reported.
The Canada Glass Works, in what is now Hudson, Quebec, is known to have produced threadless insulators including some CD 726's. The company manufactured various types of glassware including bottles and ornamental wares such as lamps, thus utilizing a wide range of glass colours.
Found in the 1990's by the Plunkett family and previously sold in the 1998 Pole Top Discoveries' Yearbook.
A couple internal stress fractures and a couple surface fish-eyes. This purple example is in better condition than any offered for sale in the past several years! The small number of known purple examples are currently locked solidly into collections. Dale Evoy collection.
Opening Bid: $6,000 (Estimate: $ 10,000 – $ 13,000)
#4 CD 718 Unmarked Dark smoke Circa 1860's. A unique and highly unusual colour! Various colour tones are evident, including smoke, amethyst and ginger ale.
Insulator collector Morgan Davis reports digging this item along a railway in Nova Scotia many years ago. To date, it is the only example known. The highly unusual colouration places it as one of the most desirable Canadian threadless in existence.
Extremely crude, textured surface adds wonderful character. Flat dome chip and a flat base chip. An item for the collector seeking the ultimate coloured threadless collection! Dale Evoy collection.
Opening Bid: $5,000 (Estimate: $ 9,000 – $ 12,000)
#19 CD 158.6 new CD Number Skirt embossed: J. SLATER LEWIS. BIRKENHEAD ENG. PATENT Base embossed: (GRAY) & HAM PATENT NO. 8532 1884 Rich blue aqua Two segmented interior threading, consistent with some early New England glass production.
A United States patent was issued on May 1, 1883 to J. Slater Lewis for an insulator with a spiral top and accompanying metal clip for attachment to a line wire. The base embossing is in reference to a patent issued to Lawrence Gray and Joseph Ham of Boston, Massachusetts for a method of forming threads in glass insulators using a contractible threaded plunger.
Approximately 10 of these insulators were found in 2010 at the site of the Lyndeborough Glass factory in Lyndeborough, New Hampshire. Most were specimens with heavy damage. This insulator was the best example recovered. Only a couple other units were in respectable condition. A great and historical rarity, which should be of special interest to CD collectors and those seeking unique rarities. One of the most exciting insulator discoveries in recent years! Repair to a portion of the reverse skirt area.
Opening Bid: $3,000 (Estimate: $ 5,000 – $ 10,000)
Ray also publishes the best auction catalogue…period. They are works of art and belong in a museum book store. As noted on their web site…
Large, Printed Catalogues Available!
The all color, high quality printed Catalogue for Sale #65, with 144 pages, can still be ordered! Don't miss this large Catalogue loaded with huge color pictures and a wealth of historical information. Price is still only $32 ppd. in the U.S, or $38 when shipped to Canada. International, please inquire. Preferred form of payment is a check payable to "Ray Klingensmith." Those who desire to use PayPal, please add an additional fee of $1, using the email account shown below. THANKS!
Ray Klingensmith
PO Box 628
Parkman, OH 44080
440.548.5408
 poletop@clover.net
A few sample pages