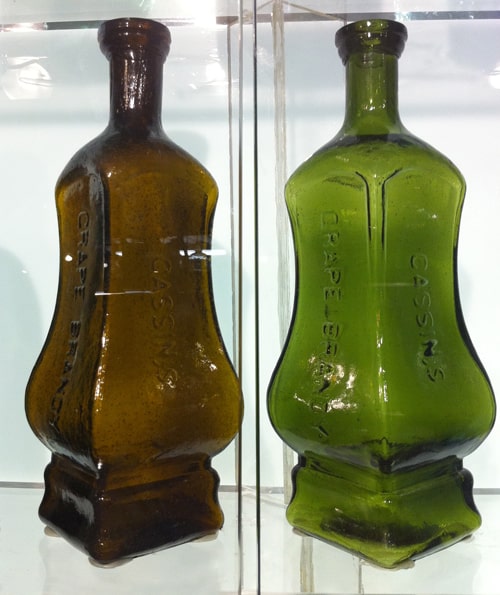 It looks as though Jeff Wichmann has the famous example of the Cassin's Grape Brandy Bitters…read Two Sexy Ladies – Cassin's Grape Brandy Bitters
View on YouTube
From American Bottle Auctions Bottle of the Month
[ABA] When one talks of antique bottles from the western part of the United States, for the advanced collector the name Cassin usually comes up. Francis and Patrick, together they worked at the corner of Pine and Montgomery Streets in San Francisco in a store Francis had established in the Fall of 1849*.
Today only a few different variants of their bottles exist as a reminder of their efforts, a whiskey bottle, a soda and this grape brandy bitters. Amazingly, all of their bottles are difficult to find and the whiskey and bitters shown here can sell for exceedingly high amounts. The bottles made for the Cassin Brothers were done with quite a bit of forethought and ingenuity. The greatest example of that has to be in their Cassin,s Grape Brandy Bitters. Even the apostrophe was made a comma by mistake. There were two variants after the first was deemed infallible and the number of variants of any kind number close to a baker's dozen, damaged or not. Of those known in amber, which is miniscule, it is thought that this example is the only perfect example.
Some things about the Cassin,s Bitters is vague. What we do know is they are a very rare bottle made to resemble a cello. The bottle has the three-stage Lacour's Bitters like top and measures 10″ in height and approximately 3″ across at the base. This particular example is a special one indeed. Aside from the fact that it could be the only perfect amber example, it is very heavily whittled and full of tiny bubbles. In natural sunlight it glows brilliant gold against the blue sky showing what looks like a million tiny bubbles frozen in time. Here's a bottle unlike any other and it's pretty obvious that is and always will be just fine with Francis and Patrick Cassin. Francis the original 49'er immigrant and his ambitious brother. Today we celebrate their triumphs by acknowledging their legacy in glass.
*For more information on the Cassin bottle and much more, try and find, Early Glassworks of California by Warren B. Friedrich. It is a richly detailed and finely researched book on western glass