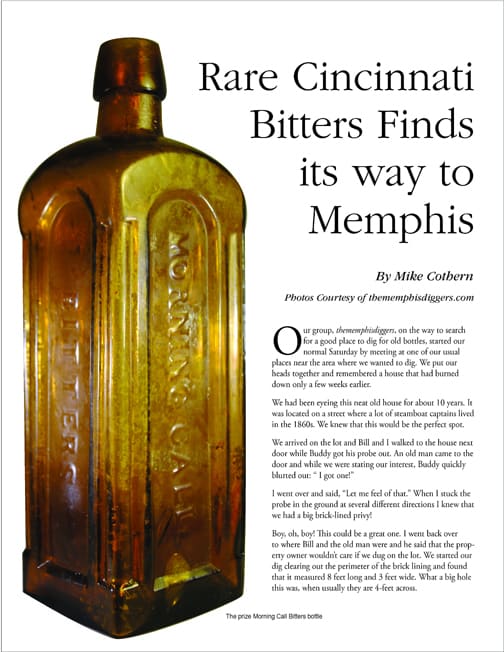 Unlisted Morning Call Bitters
30 July 2011

By now, I suppose many of you have heard about the unlisted Morning Call Bitters that I was fortunate enough to win at the FOHBC live auction at the 2011 FOHBC Memphis National Bottle Show & Sale. After much promotion, fanfare and advance publicity (which is not the way to get a bottle cheap!) the bottle was finally auctioned on 25 June 2011. After rather spirited on-line and floor bidding, the eventual hammer price was $5,460.00. Ouch.
Read: A Morning Call Bitters Comparison
I possess quite a few unlisted and/or extremely rare bitters bottles and this is one I will cherish with the rest.
• To read the Antique Bottle & Glass Collector Morning Call Bitters article (click here)
• To read about the Morning Call Bitters find on The Memphis Diggers web site (click here)
* Thanks to John Pastor with AB&GC. Please subscribe to this GREAT magazine!
**Special Thanks to Mike and Bill (Memphis Diggers)
The Carlyn Ring and Bill Ham listing in the upcoming Bitters Bottles Supplement is as follows:
M 130.5  Morning Call Bitters
// MORNING CALL // BITTERS // MILLS BRO & CO // sp //
9 x  2 3/4
Square with column corners, Amber, LTC, Applied mouth, 4 sp, Extremely rare
Mold similar to C 20 California Herb Birrers
Listed in Cincinnati Directories for years 1866, 1867, and 1868.
Example dug in Memphis, Tenn.