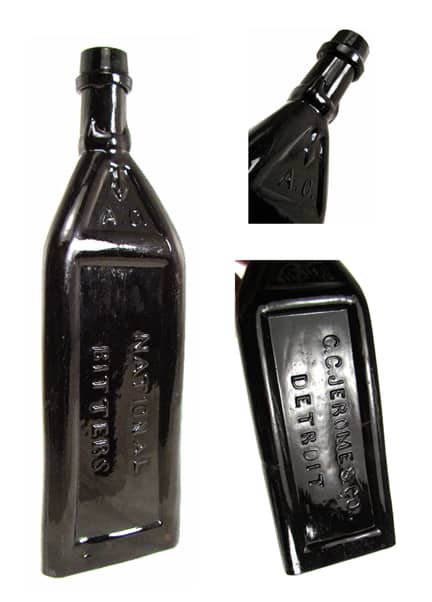 National Bitters C.C. Jerome & Co. Detroit
02 June 2011 (R•090518)

The bottle I watched most closely during the last Jeff Wichmann American Bottle Auctions, 15 May 2011 auction was the odd, triangular National Bitters from Detroit put out by C.C. Jerome & Company. It is pictured at the top of this post. An extreme rarity that I briefly touched on previously.
Read: C.C. Jerome National Bitters from Detroit
THE TRIANGULAR VARIANT
As written up by ABA:
Lot 209, embossed NATIONAL BITTERS C.C. JEROME & CO., DETROIT 1865 S.W. A.C. on shoulder. Applied top and smooth base. Here is a bottle that strays from its typical shape and variant. The examples we had seen or heard of were a coffin shaped variant that was primarily seen in amethyst. That is if you had a chance to ever see one. Ring-Ham lists this bottle as N-9 in black amethyst, which is very aptly described. It is 10 ½" tall and triangular. You would think there would be a pontil mark, however, there isn't. This bottle is extremely dark and looking through the mouth, once can see areas of purple in the corners of the base. This bottle was purchased by a young man in the army in the 1940's in Detroit and has been in his collection ever since. As for condition there is a 1/3" flat flake midway up the edge to the left of the Jerome panel. There is also a tiny flake on the inside unembossed panel side. It is barely seen, as it doesn't interrupt the transition or form of the lip. On the Jerome panel about half way up there is a line the diameter of a strand of hair that travels from the flat flake. Having said all this, with such a deeply colored bottle it's extremely hard to see. The glass is extremely crude overall with areas of waviness and very uneven texture making it even harder to believe there's no pontil. At any rate, this is a surely a bottle for the advanced collector and not for everyone. As for a grade, we'll just leave it at the description and hope you take a look at the video. There is no minimum bid on this bottle. Est. $10,000-$20,000. Winning Bid: $11,500.
I did not get this bottle and was caught sleeping. I am curious, and this did hold me back as far as being aggressive, what was that line running across the bottle?
The Carlyn Ring and W.C. Ham listing in Bitters Bottles is as follows:
N 9  National Bitters
NATIONAL BITTERS // C. C. JEROME & CO. / DETROIT // sp // // s // A.C. // S.W. //1865 //
11 x 3 1/8 (7) 3/8
Triangular, Amethyst, ARM, Applied mouth, 3 sp, Extremely rare
THE COFFIN-SHAPED VARIANT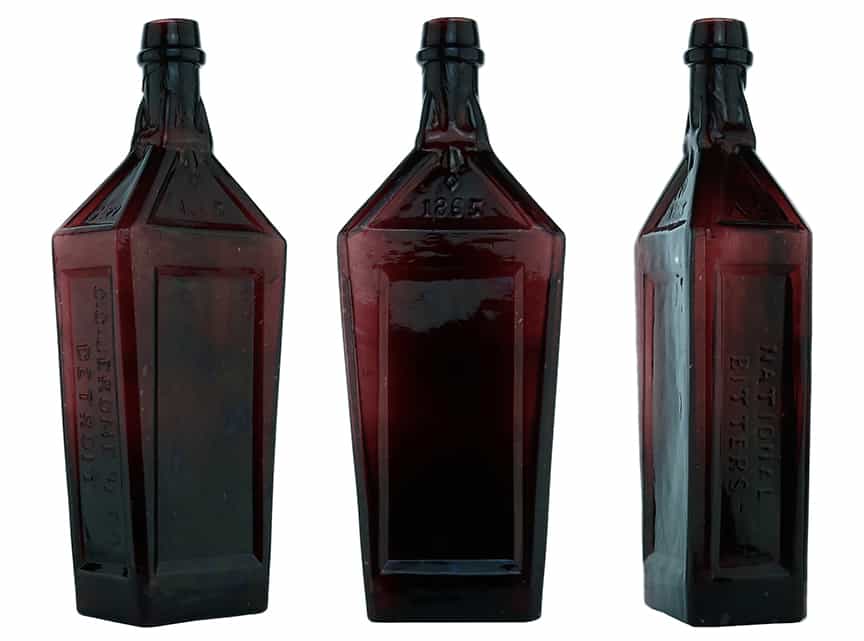 The other National Bitters referenced above in Jeff's auction write-up is the coffin-shaped bottle embossed "National Bitters, C.C. Jerome & Co., Detroit, A.C.-S.W. 1865" in rich amethyst which is pictured above and below. It is the only known example. The top picture is from the FOHBC Virtual Museum. This example sold for around $13,000 in 1990 out of the Cris Batdorff collection and recently sold for a rumoured $150,000. This bottle is pictured below.
The Carlyn Ring and W.C. Ham listing in Bitters Bottles is as follows:
N 10  National Bitters
sp // NATIONAL BITTERS// sp // C. C. JEROME & CO. / DETROIT // // s // sp // A.C. // 1865 // S.W. //
10 3/4 x 3 x 1 5/8 (6 1/4) 3/8
Rectangular coffin, Amethyst, ARM, Applied mouth, 4 sp, Extremely rare
CHARLES C. JEROME
Charles C. Jerome was best known in railway circles as the inventor of Jerome Metallic Packing. Jerome was born in 1833 in Canada, and in his early days studied medicine in Toronto. He practiced medicine for a time at Port Huron, Michigan and entered the Civil War as surgeon in a Michigan regimen. In Detroit in 1865, Jerome was located at 32 Woodward Avenue where he put out his National Bitters in two different bottles. He said the bitters had already been in use for some thirty years and said you could buy it from druggists and liquor dealers nationwide which was a stretch. It must have been a limited run as only three examples exist (one coffin and two triangular). He also used cryptic letters, "S W 1865 A C" in his advertising. You see this with many bitters. I can not imagine a person buying a medicine, that is supposed to make you better, in a coffin-shaped bottle. Not such a good idea that might explain why only one example exists. Maybe this was a phototype.
After the close of the war, Jerome remained at Port Huron until 1869 when he came to Chicago, where he accumulated a considerable fortune. In 1880, he became interested in the business by which he is best known and conducted the business in a way that yielded large returns and made Jerome Metallic Packing widely known. Jerome was well-known among railroad men of the west as his product was used in many steam engines of that time.
Jerome was also known among doctors as the inventor and manufacturer of the Chicago Sanitary Flour. Additionally, he invented the Jerome Horse Shoe which was used by many owners of fast horses.
Jerome died in Nauheim, Germany in 1901, where he had gone with his wife. The illness which resulted in Jerome's death is said to be brought on by exposure during the trip across the Atlantic. He left a wife and three children, among them George C. Jerome, who later ran the Metallic business.
Select Listings:
1835:

 Charles Jerome born abt 1835 in Canada – United States Federal Census
1866:

 National Bitters advertisement (below): Detroit Free Press, Sunday, March 11, 1866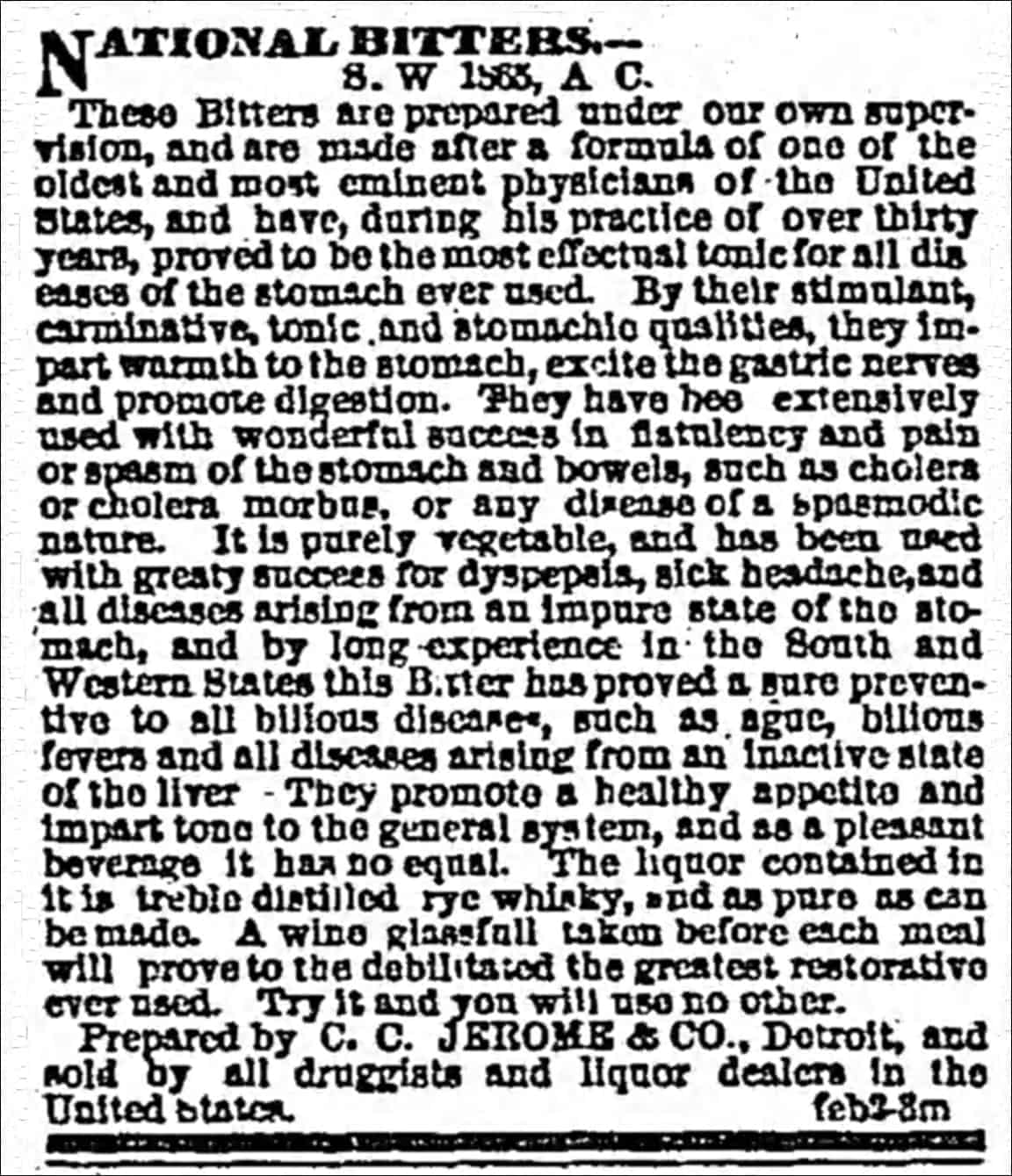 1870:

Charles Jerome, Physician, Age 35, Birth Year: abt 1835, Birthplace: Canada, Home in 1870: Chicago Ward 13, Cook, Illinois, Household Members:Charles Jerome 35, Clara Jerome 24, Ida Jerome 12, George C Jerome 4 – United States Federal Census
1874:

Bold Attempt at Robbery in Chicago (below) – The Lake County Star, Thursday, November 19, 1874

1878:

Patent 211,299. STUFFING – BOXES FOR STEAM – ENGINES. Charles C. Jerome, Chicago, 111. Filed Dec. 16, 1878. To all whom it may concern: Be it known that I, CHARLES C. JEROME, of Chicago, in the county of Cook and State of Illinois, have invented certain new and useful Improvements in Stuffing-Boxes and Packing for Steam-Engines; and I do hereby declare the following to be a full, clear, and exact description of the invention, such as will enable others skilled in the art to which it pertains to make and use it, reference being had to the accompanying drawings, which form part of this specification. – 1879 

United States. Patent Office
1880:

 Patent 230,132. Valve-Stem Packing. Charles C. Jerome, Chicago, Ill (see below) – 

Official Gazette of the United States Patent Office By United States. Patent Office, 1880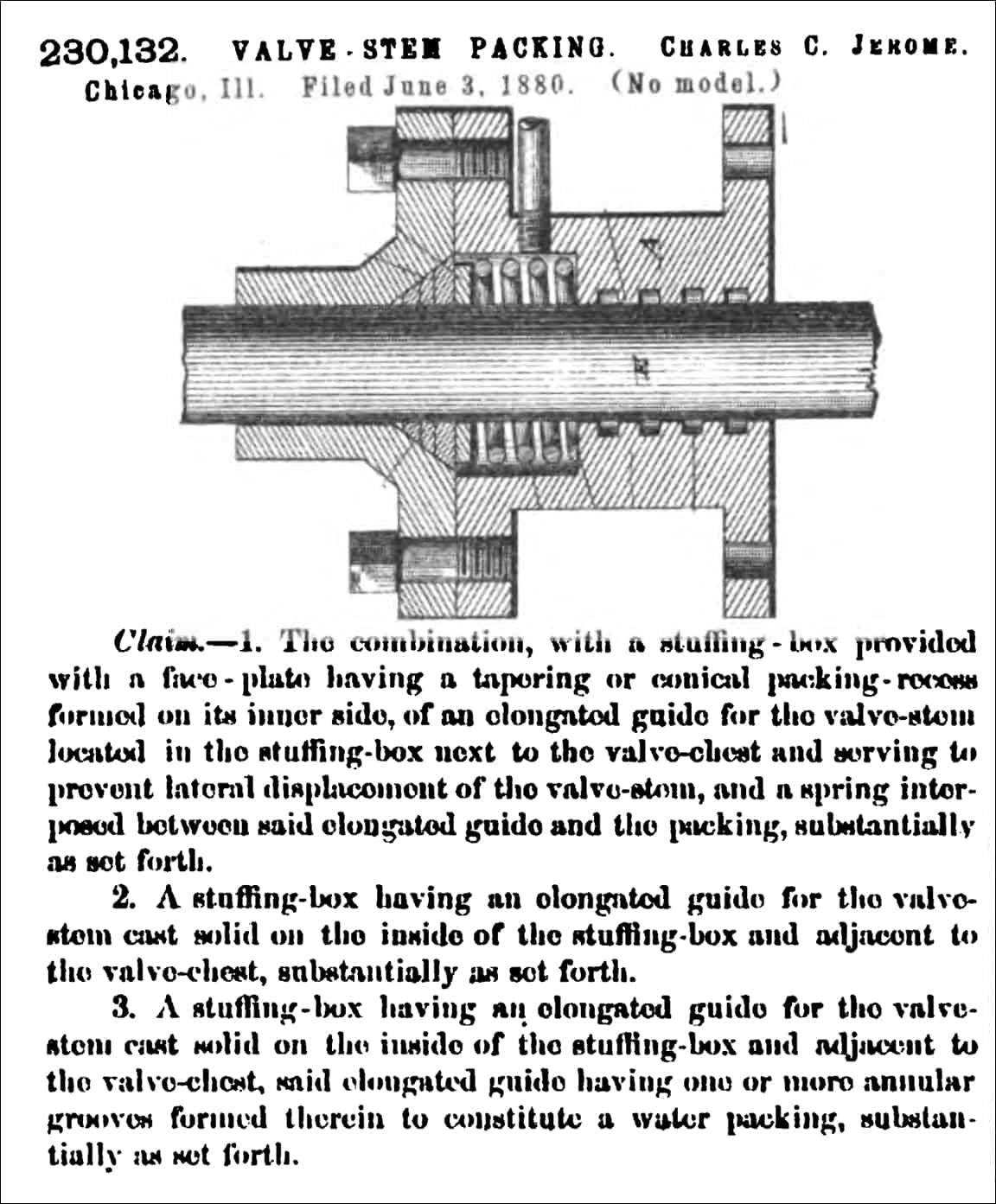 1880:

Chas. Jerome, Age: 45, Birth Date: Abt 1835, Birthplace: Canada, Home in 1880: Chicago, Cook, Illinois, 223 Fremont Street, Married Clara Jerome, Father's Birthplace: Canada, Mother's Birthplace: Canada, Occupation: Works In Packing House, Household Members: Chas. Jerome 45, Clara Jerome 30, Geo. Jerome 14, Clara Jerome 9, Maud Jerome 7 –

United States Federal Census
1898:

Trademark: 31.923. Medicinal Preparation in the Form of a Flour for Certain Disorders. Charles C. Jerome, Chicago, 111. The representation of an eagle holding an angular package in his claws. – The Pharmaceutical Era, Volume 20, 1898
1901:

Charles Jerome death notice (below) – 

The True Northerner,

Friday, June 7, 1901