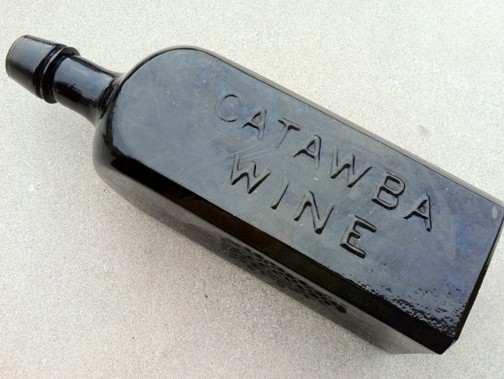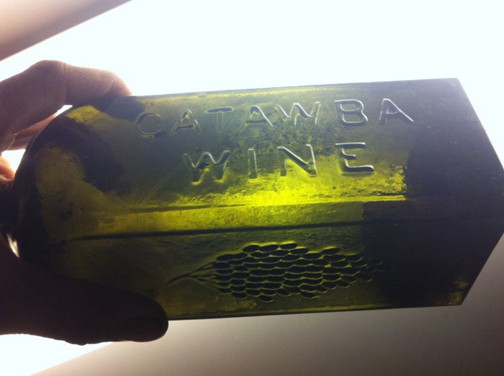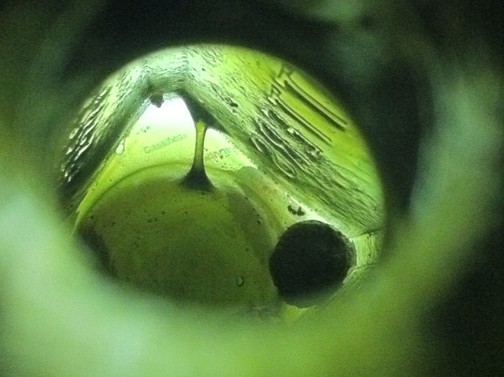 Catawba Wine Bitters on eBay
02 May 2011 (R•06Oct13) (R•082614) (R•022819)

Early, excellent and fresh was the header description of this Catawba Wine Bitters that closed on eBay on 24 April 2011. Three pics are represented above. Under the moniker pearcouch out of New York, the description was noted as follows:
CATAWBA WINE BITTERS/ early, excellent and fresh… An early (circa 1860) smooth based CATAWBA WINE BITTERS in medium dark green with boldly embossed letters . Full of whittle and swirls with some amberish striations through out, nice "orange peel" texture and lots of character (note the crooked crude neck!). 4 sided square with chamfered corners and double tapered lip. As you know, almost all of the known examples of this awesome gold rush / civil war era Western Bitters have been found out West but this one came out of a basement ash pit in Brooklyn NY just days ago and has not seen the light of day in 150 years. Condition is excellent and has NO chips, cracks, heavy scratches or notable imperfections that I can see. There is a nice little interior  "bird swing" inside as pictured below. I gave it a quick soapy rinse but is otherwise as found. There is a bit of interior ash or content residue and it retains its original cork inside. Please let me know if there is anything I've failed to mention or you'd like to see additional pictures.
The closing price was $4,938.88 (strong price for an un-pontiled example) and there were 39 bids. This bottle looks to be a beauty. Some lucky collector is going to be real happy I hope. !! Thanks to Lou Lambert who helped me track this bottle.
Read: Nicholas Longworth – Catawba Wine Bitters, Cincinnati, Ohio
The Carlyn Ring and W. C. Ham listing in Bitters Bottles is as follows: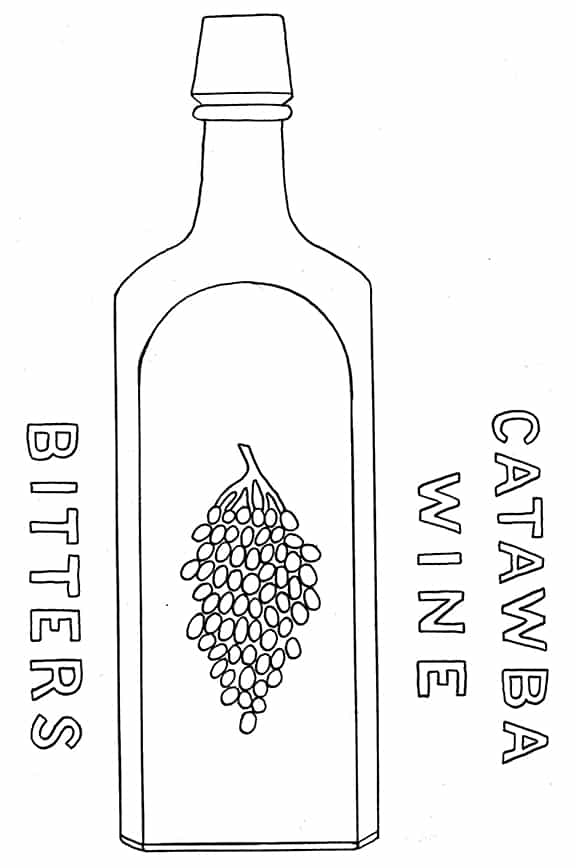 C 85  CATAWBA WINE BITTERS
CATAWBA / WINE // motif bunch of grapes // BITTERS // motif bunch of grapes // P.H. Drake & Co. New York, Depot 53, 55 & 57 Park Place, New York 9 3/8 x 2 3/8 (6 3/4) 1/4 Square, LTC & LTCR, Applied mouth, Green with and without Metallic pontil mark- Rare; Amber and Puce and without Metallic pontil mark-Extremely rare.
Note: Sonoma Democrat March 1860 newspaper advertisement. Longworth & Crew Cincinnati, Ohio, Geo T. Grimes Sole Agent for San Francisco.
---
G A L L E R Y