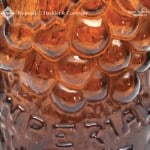 The 30 March 2011 Heckler Auction was full of great glass as usual though for the first time in a while, no Bitters Bottles were on or near center stage. There were however, two (2) fantastic flasks that I watched with interest. Both sold for big dollars. They were cataloged as follows:
Lot 52 "Jenny Lind" and Bust – Glass Factory Portrait Calabash Flask, probably Ravenna Glass Works, Ravenna, Ohio, 1845-1860. Golden Amber with root beer tone, applied collared mouth – tubular pontil scar, quart. GI-104 Exceptional color, fine condition, strong embossing, extremely rare. Est: $15,000-$30,000. This Jenny Lind ended up selling for $29,000.00.
Lot 79 "Baltimore" Below Washington Monument – "Corn fo the World" And Ear of Corn Historical Flask, Baltimore Glass Works, Baltimore. Maryland, 1840-1860. Brilliant emerald green, sheared mouth – pontil scar, half pint.  GVI-7 Brilliant, rare clear color, numerous interesting bubbles in the glass, strong embossing, exceptional. Est: $10,000-$20,000. This beauty ended up selling for $28,000.00.