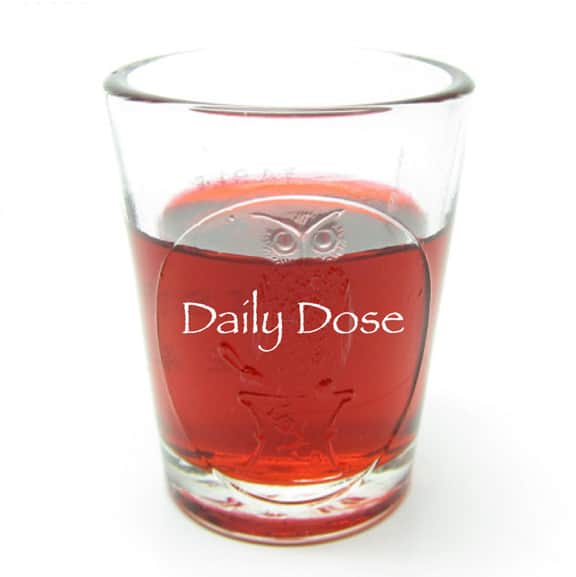 October

 

•

 

December

 

 
|
2 0 1 7
06 December 2017 | Wednesday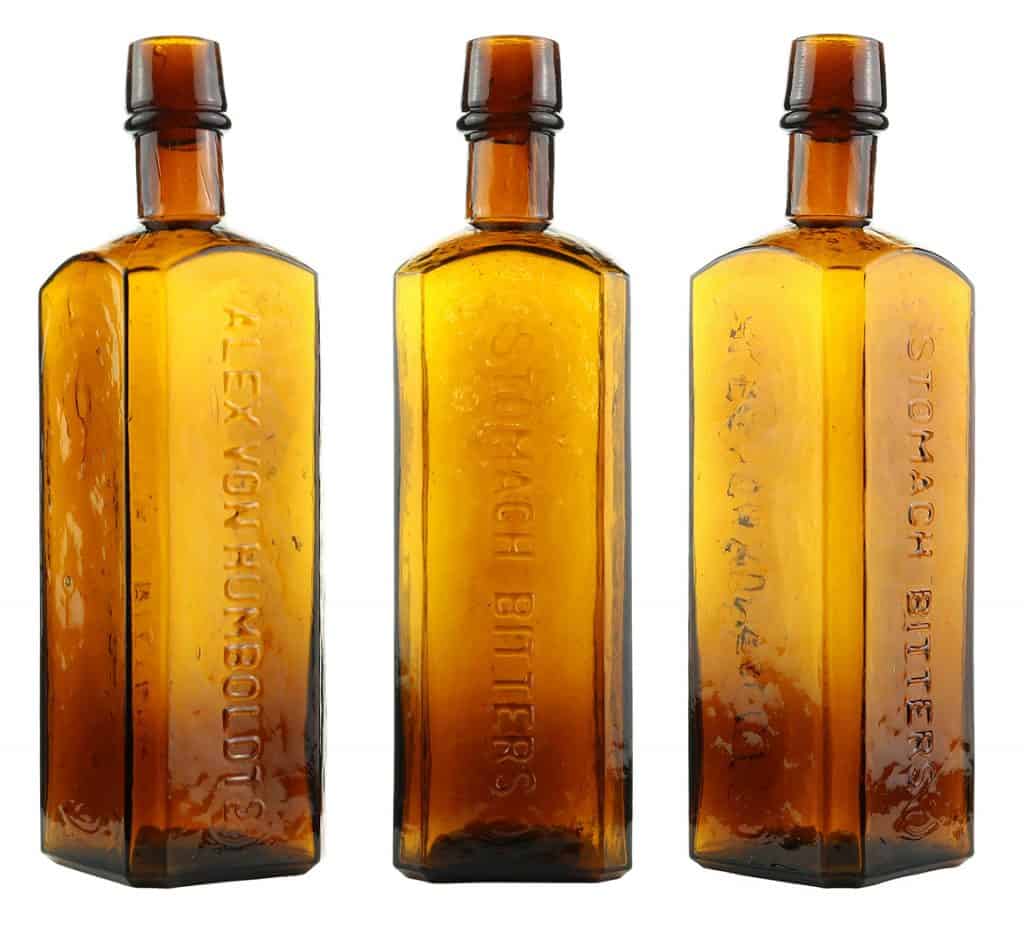 An incredibly beautiful Alex Von Humboldt's Stomach Bitters. Doing gallery work today for the Virtual Museum. 36 degree 3-D imaging and photography by Alan DeMaison. Bottle from the Richard Siri collection.
Read: Three extraordinary things: Alex Von Humboldts Stomach Bitters, Downieville & Coco
03 December 2017 | Sunday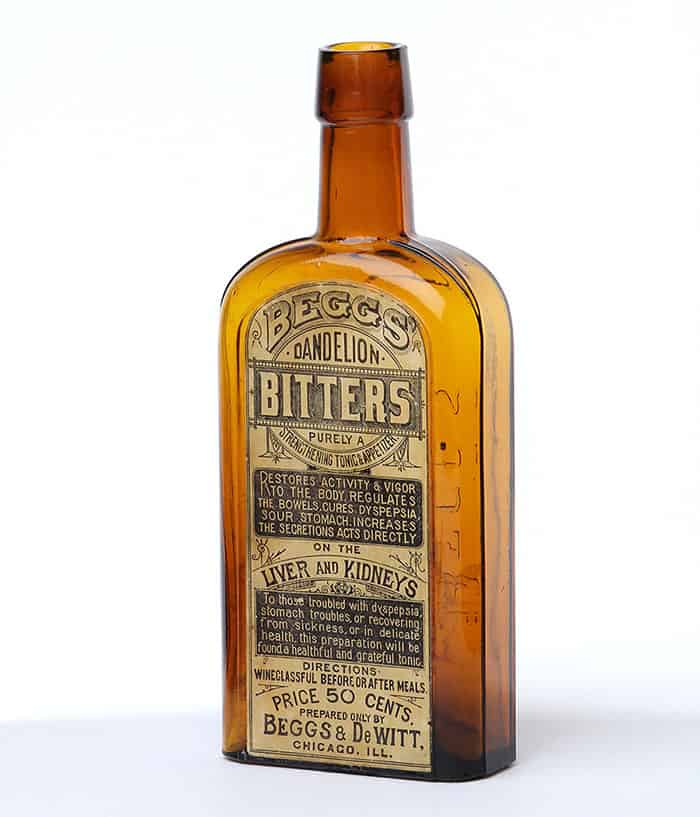 Very nice example of a Beggs' Dandelion Bitters in the recent American Glass Gallery auction. Listed as:
"BEGGS' / DANDELION / BITTERS" (with virtually complete original label), America, 1890 – 1900. Honey amber, rectangular with strap sides, tooled sloping collar – smooth base, ht. 7 5/8″, sparkling attic mint. R/H #B51. Label reads in part, "Beggs' / Dandelion / Bitters / Purely A / Strengthening Tonic & Appetizer / Restores Activity & Vigor To The Body". Very scarce with virtually complete original label.
30 November 2017 | Thursday
Bill, you may want to give this a number. From the current American Glass Gallery Auction.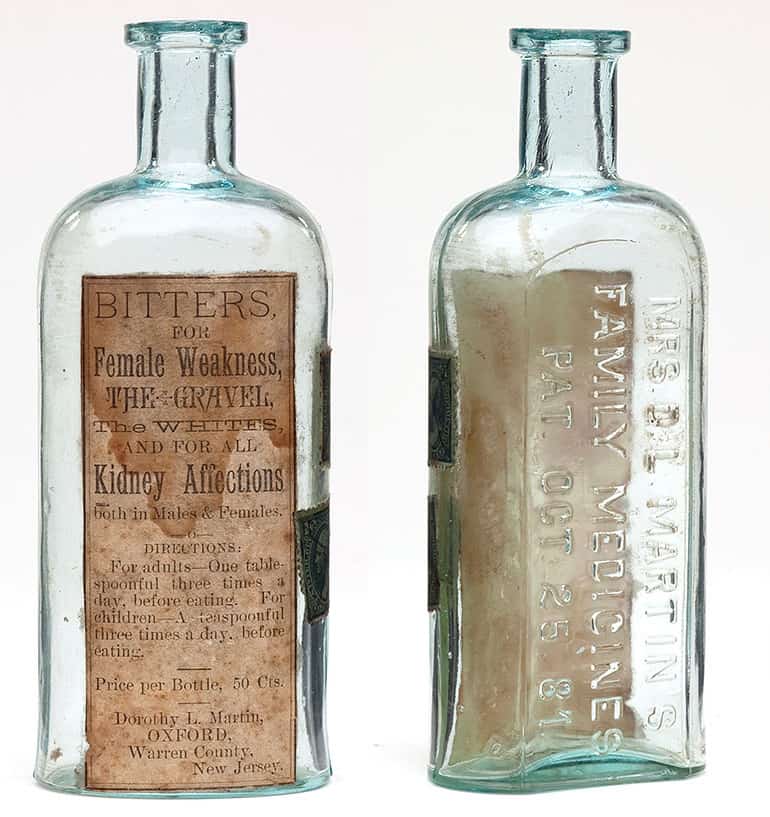 MRS. D.L. MARTIN'S / FAMILY MEDICINES / PAT. OCT. 25. 81″ (with original BITTERS label and revenue stamps), Whitall-Tatum Co., Millville, NJ, 1882 – 1890. Aquamarine, oval, tooled square collar – "W T.& Co" (on smooth base), ht. 6 5/8″; (bottle is perfect, label has some stains). Label reads in part,"BITTERS, / FOR Female Weakness"…"Dorothy L. Martin, / OXFORD, / Warren County, / New Jersey". A very rare bottle, believed to be unique with label.
There are very few female medicine proprietors. Here is one having a bitters label, and for healing "Female Weakness". Rare, and about as complete and perfect as you could hope to find.
Update: The new listing by Bill Ham for the forthcoming Bitters Bottles Supplement 2:
M 42.5 L . . . Bitters For Female Weakness, the Gravel, the Whites, and for All
Kidney Affections, Both in Males and Females, Dorothy L. Martin, Oxford,
Warren County, New Jersey
// MRS. D. L. MARTIN'S / FAMILY MEDICINES / PAT. OCT. 25. 81 // c // // b // W T.& Co
6 5/8
Oval, Aqua, NSC
29 November 2017 | Wednesday
Traveling this week. In from Lou Holis. Bill Ham, please note! Way to go Lou!!!

UNKNOWN BITTERS OUT OF THE BLUE
Hi Ferd, got a great bitters bottle on the 18th of November that I dug from the depths of the world wide web once again surrounded by common bottles. I looked everywhere but came up with zilch on this one. Embossed "Adams' Antidyspeptic Bitters, Philadelphia PA". It is blue aqua, 9 1/2″ high, square with a smooth base and no damage.
I know it is 2017 but things still turn up out of the blue. Crazy, not from some small city out in the middle of nowhere either but from Philadelphia! This bottle is more than extremely rare. It is unique since no one was even looking or missing it. The top and form reminds me of your label-only Kryder's Celebrated German Bitters from Philadelphia. Been about 3 years since I found the rare Smith's Druid Bitters in yellow olive, but the wait and searching paid off. Hope you and your readers enjoy the pictures and can find more info on this never before seen bottle.
Thanks,
Lou Holis
Lou: I'll dig around and do a post with you.
Update: The new listing by Bill Ham for the forthcoming Bitters Bottles Supplement 2:
A 10.5 ADAMS' // ANTIPYSPEPTIC / BITTERS // f // PHILADELPHIA PA //
9 ½  x 2 1/2
Square with beveled corners, Aqua, DLSC, Applied mouth, Extremely rare
ANTIDYSPEPTIC BITTERS / ADAMS'
See s2A 10.5 ADAMS' ANTIDYSPEPTIC BITTERS
28 November 2017 | Tuesday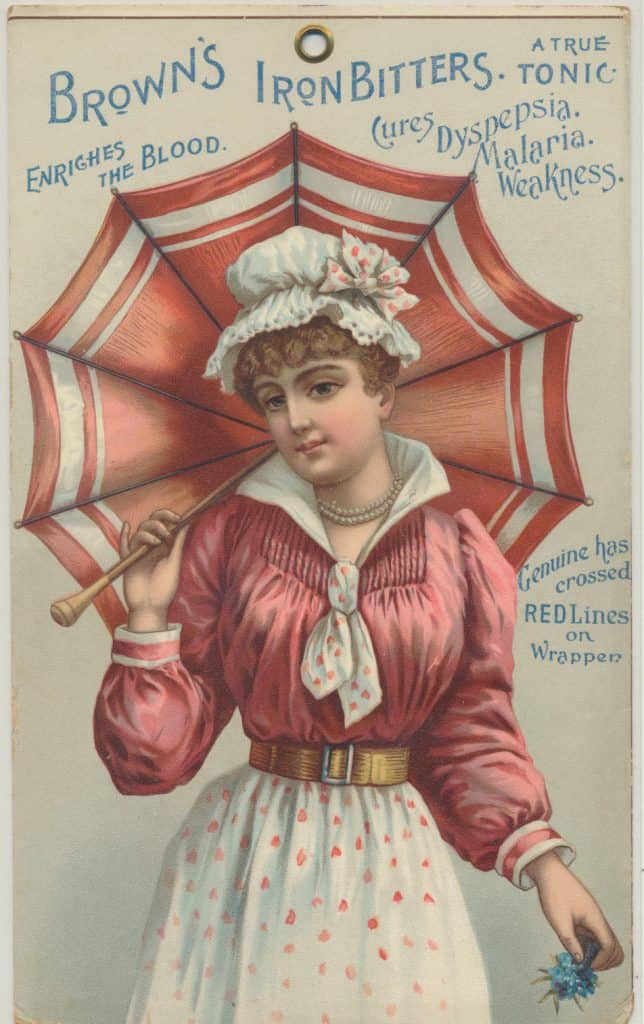 Really cool Brown's Iron Bitters advertising poster that Ben Swanson says he recently added to his collection. Congrats Ben!
24 November 2017 | Friday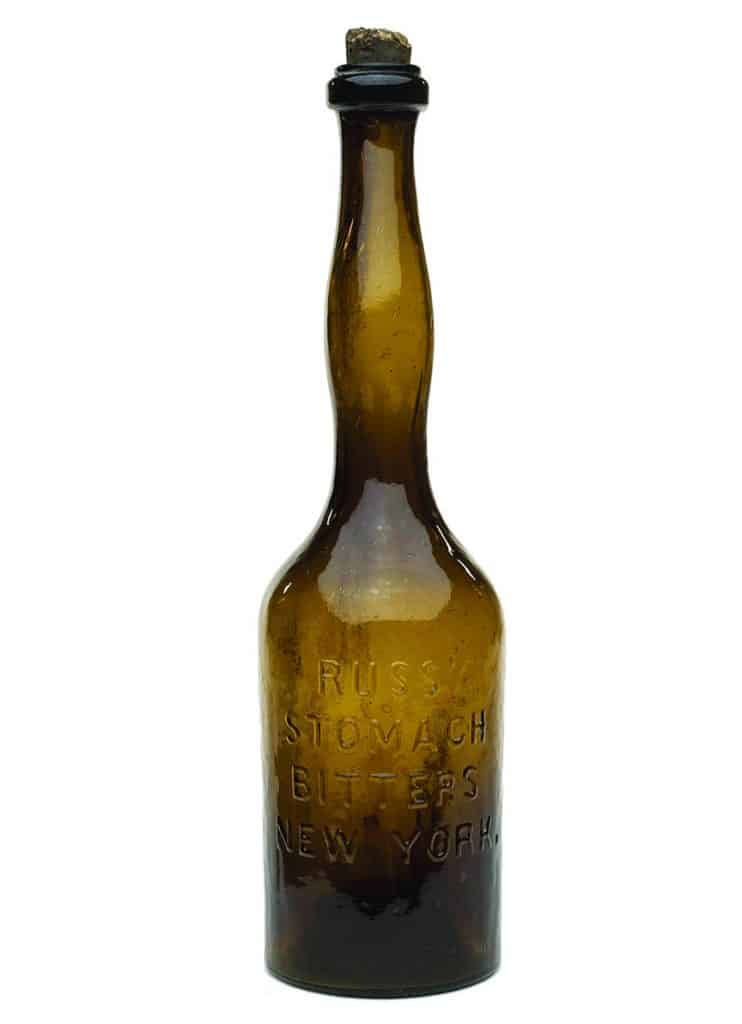 Russ' Stomach Bitters: This rare and beautiful "lady's leg" bitters bottle was discovered just a couple of months ago, in an old barn north of Portland, along the coast of Maine. The barn and attached house were purchased recently and were undergoing renovations at the time. Workers were putting new roof boards on the barn when the bottle was discovered hiding under an eve. The homeowners nearly gave the bottle to the roofer! – John Pastor, American Glass Gallery
Auctioning now… https://americanglassgallery.com/aucti…/…/auction-19/current
Read More: Russ' Stomach Bitters – A New York Lady's Leg
20 November 2017 | Monday
Some cool Bromo Seltzer material. Working on a piece about Private Die Proprietary Medicine Stamps and related tax stamps for Bottles and Extras. The Bromo Seltzer Tower dominates the Baltimore skyline at dusk in the early 1930s. I used to find the blue bottles asa kid growing up in Baltimore.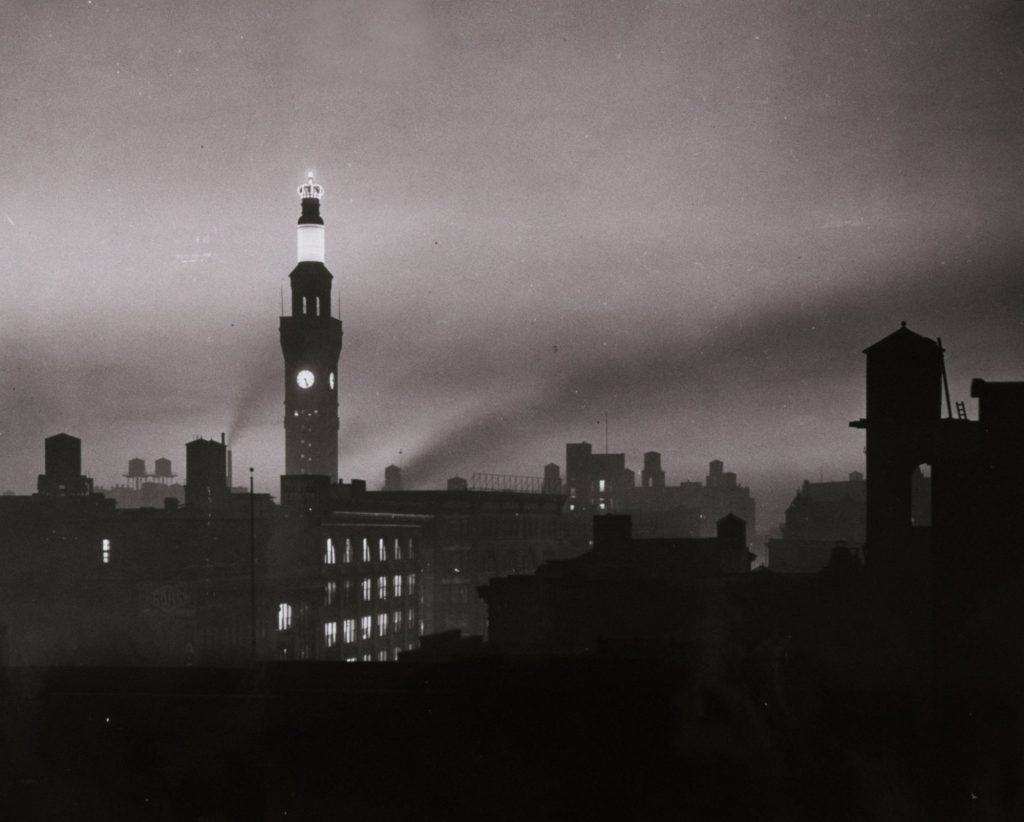 18 November 2017 | Saturday
I like this super Dr. Harter's Wild Cherry Bitters piece in the current American Glass Gallery Auction.
Read: Dr. Harter's Wild Cherry Bitters and the Bottle Gods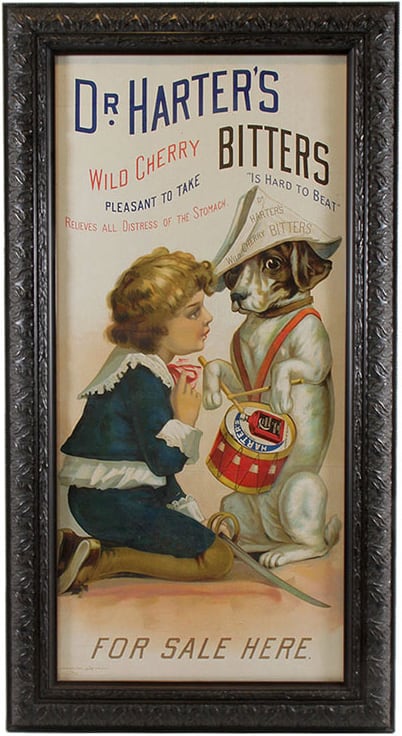 17 November 2017 | Friday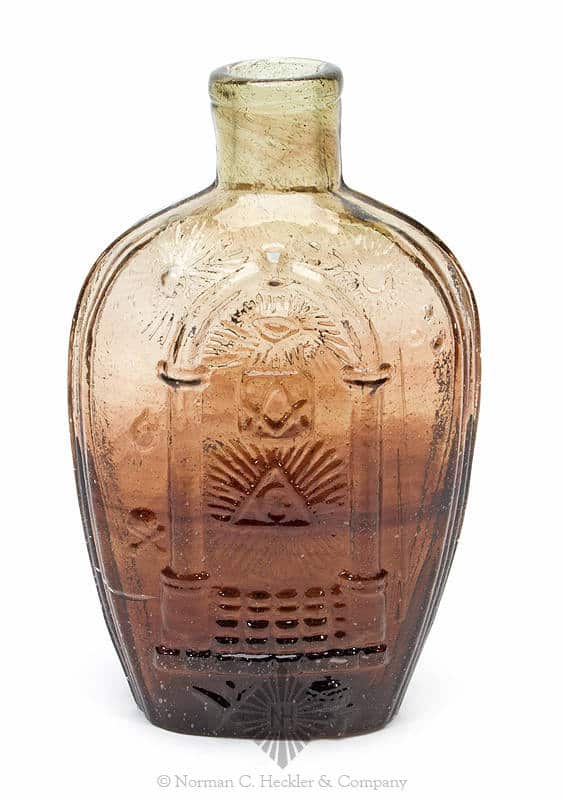 HECKLER SELECT AUCTION 157. This great piece sold this week and met high auction estimate. Lot: 2 Masonic Arch And Emblems – Eagle And "J.K / B." Historical Flask, Keene Marlboro Street Glassworks, Keene, New Hampshire, 1815-1830. Striated pinky plum puce in the lower half shading to greenish ginger ale in the upper half, tooled flared mouth – pontil scar, pint; (light exterior high point wear). GIV-3 Here's a real zinger! Fantastic color combination, bold mold impression, and it's in fine condition.
Estimate: $20,000 – $40,000 Minimum bid: $10,000
Price Realized: $40,000
16 November 2017 | Thursday
Dear Ferdinand,
Whilst recently doing some family genealogical research, I found that one of my Skiles progenitors, James Rumsey Skiles, had been one of the "notables" providing early testimonials on behalf of Prices' potion.
This stimulated my interest (since "Col" Skiles moved from Kentucky to Texas about the same time as the rise of the Texas Tonic to national prominence, and he spent quite a lot of time in New Orleans and Galveston … and Louisville [I noted your seeming surprise that the fine bottle was found in Louisville, but attention to the fact that one of the earliest 'shills' for the product was a testimonial by Skiles … from L-O-U-I-S-V-I-L-L-E), and he apparently became a good friend with the Prices … if not their agent-in-fact).
So, in pursuing the history (and demise) of Texas Tonic, more fully, I 'accidentally' ran-across the attached ad which explains what happened to the remaining stock of the product (after Price had sold-out) … the entire stock was burnt-up in one of the seemingly perpetual fires in New Orleans in those days (when the simplest-and-surest way to "sell" a spoiled or obsolete stock-of-goods that couldn't be sold was to insure it … and set it alight).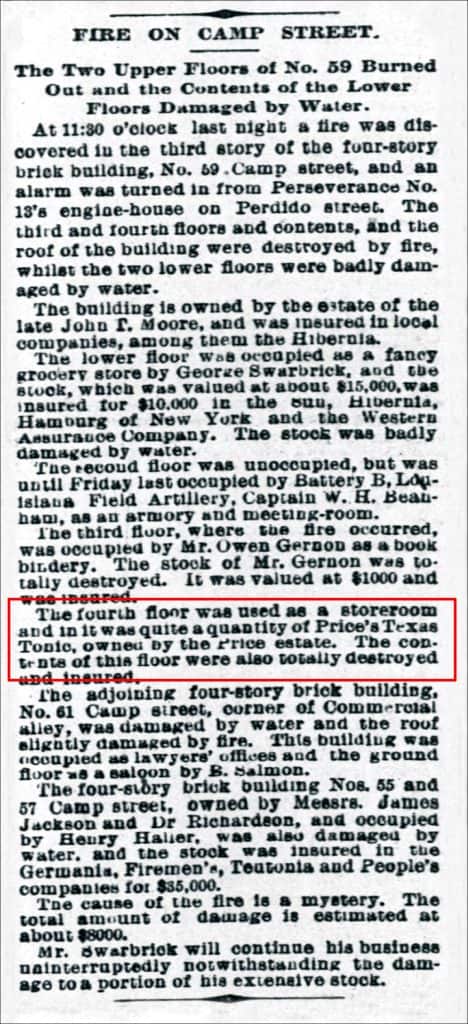 (Even as a retired professional archaeologist and historical researcher) I must say I am very impressed with the quality of your research on the bottles (& patent-medicines they contained … as well as your development of the "whole story" … filling-out the historical background and description of the attendant cultural mileau) on your PeachridgeGlass.com site … and this has been a goad to me to try and assist you with this additional info.
Best wishes for your success,
Bob Skiles
Austin, Texas
Read: The incredible Price's Patent Texas Tonic
15 November 2017 | Wednesday
Ferdinand, Attached is an 1867 "editorial" excoriating Red Jacket Bitters (and the [further?] "desecration" of the Marshall [Harrison County, Texas] City Cemetery by the company's penchant for hanging their advertising on any available fence … even cemetery fences] … enjoy … Regards,
Bob Skiles
Austin, Texas
Read: Red Jacket Bitters – Another Chicago 'Indian'
Hi Ferdinand, just wanted to show you a bitters I dug in New Orleans this past Sunday. I was contacted by Lisa M., who is the great granddaughter of I. L. Lyons, when she saw the bottle on Ebay. Here are some pics. The bottle has no damage and gorgeous iridescence. Enjoy the pics!
Mike Burkett
Long Beach, Mississippi
PRG Note: Ball Lyons & Co. was William Ball and Ezekial Lyons. They were druggists in New Orleans around 1873 and 1874. They were succeeded by I.L. Lyons & Co. (1875-1879). They were wholesale and retail druggists.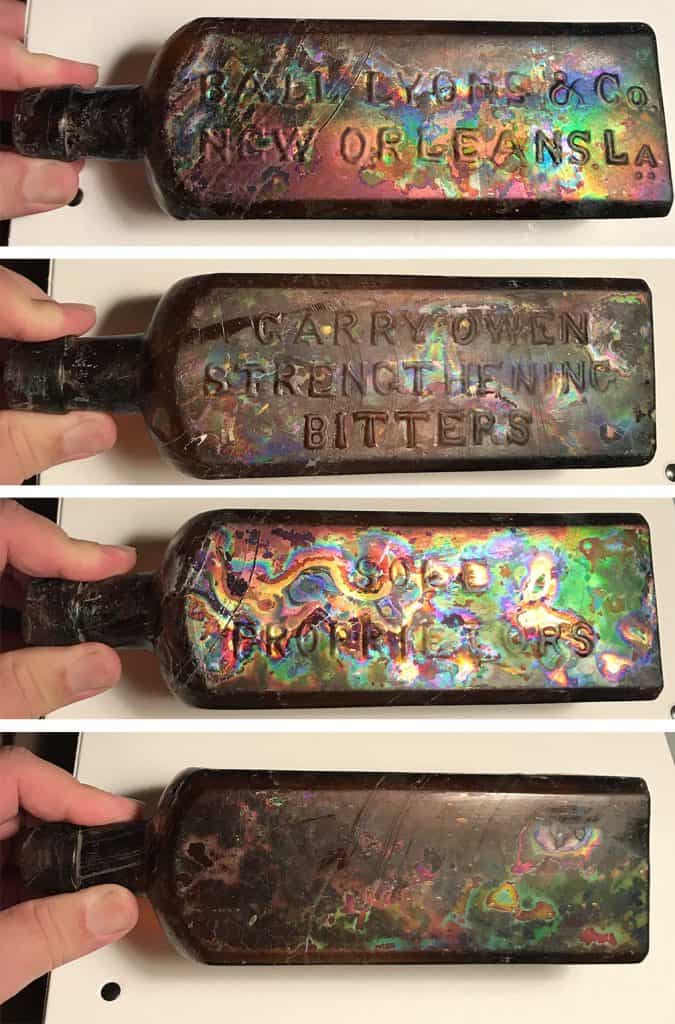 08 November 2017 | Wednesday
Hello Ferd: I found a couple of ads for a bitters that would seem to be from Texas. I searched the archives on your website, but found no mention of this brand, so I thought I would send the info to you. Best Regards; 
Corey Stock
Update: Ferdinand, I saw the advertisements you posted online for the Texas Ranger Bitters…very cool!  Henry Seeligson (Suligson in some documents) was a wholesale grocer and commission merchant in Indianola until around the September 15, 1875 hurricane. He was quite wealthy, having a listed personal estate and real estate value of $98,000 in the 1870 census for Indianola. After the hurricane he moved to Galveston; he carried on the same commission merchant business in Galveston as well as becoming a banker in Galveston. He was born in Pennsylvania on June 8, 1828 and was already in Texas with his older brother Lewis working as a merchant in the 1850 census. He married Anna Sophia Garlick on July 20, 1852 in Galveston, Texas. He died on March 24, 1887 in Corpus Christi, Texas (of typhoid) and is buried in Lakeview Cemetery in Galveston. 
Wouldn't it be wonderful to find a bottle! Certainly would be the quintessential Texas bottle if he had embossed bottles. Of course most of Indianola is underwater in Matagorda Bay these days.
Best Regards,
Brandon DeWolfe, P.E.
Houston, Texas
Update:  The new listing by Bill Ham for the forthcoming Bitters Bottles Supplement 2:
Advertisement
T 14.6 TEXAS RANGER BITTERS, For sale by H. Seeligson & Co., Sole Agents
Henry Seeligson (Suligson in some documents) was a wholesale grocer and commission merchant in Indianola until around the September 15, 1875 hurricane. After the hurricane he moved to Galveston. He died on March 24, 1887 in Corpus Christi, Texas.
06 November 2017 | Monday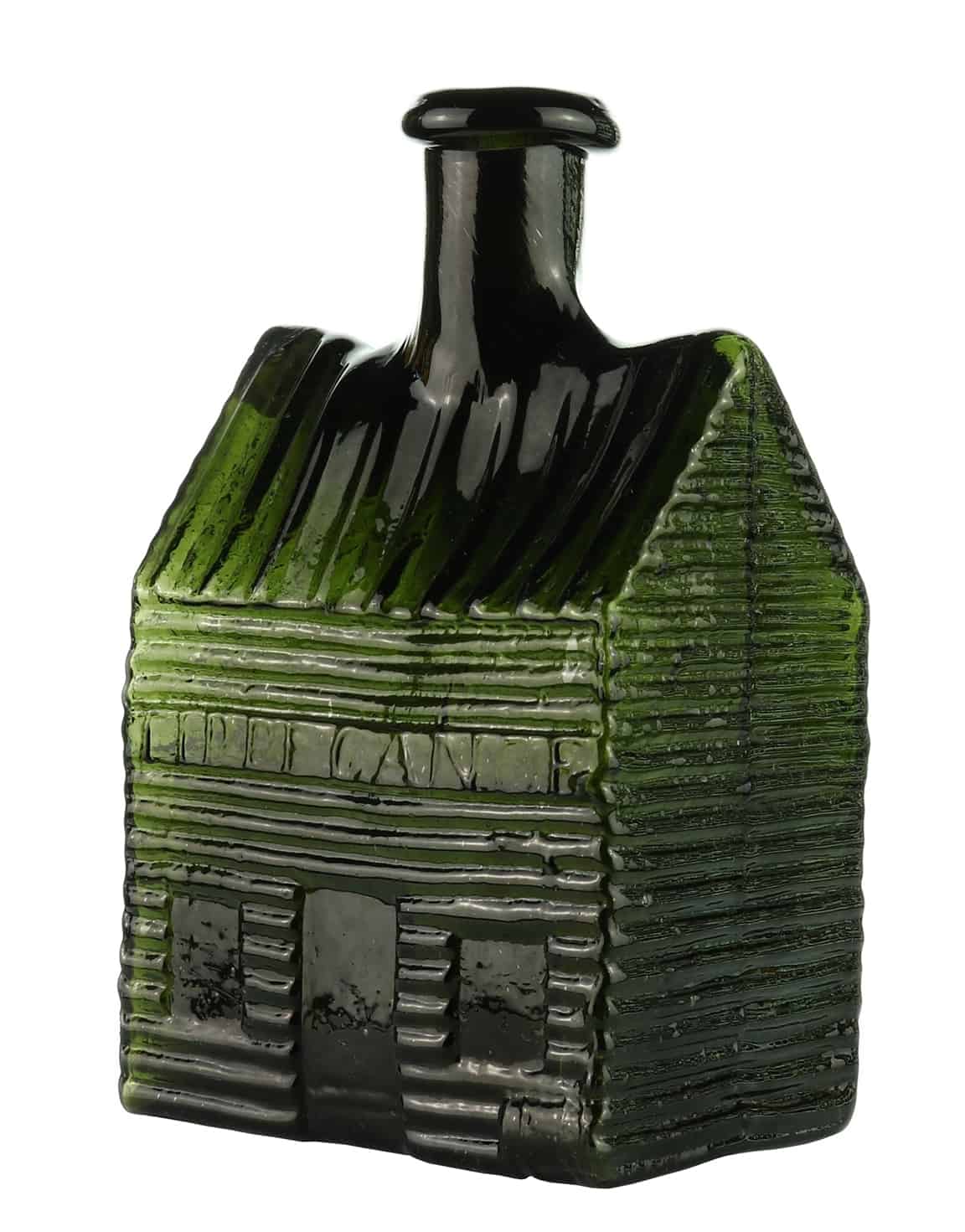 A nice image of a Tippecanoe figural cabin flask, VII-2, donated by an anonymous collector for the FOHBC Virtual Museum project. Photograph by Alan DeMaison.
02 November 2017 | Thursday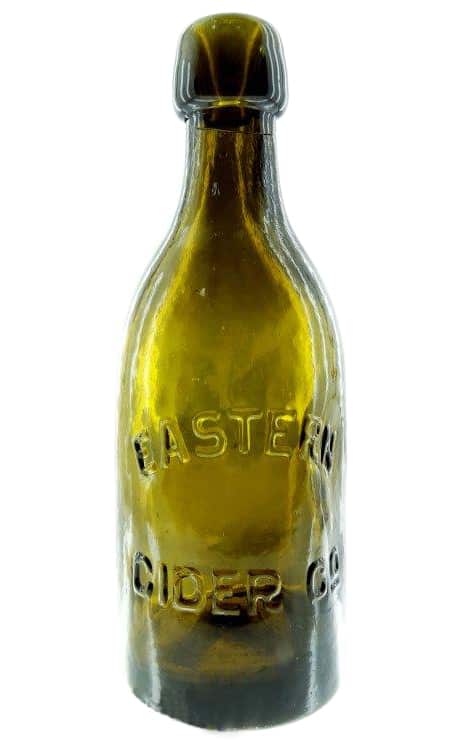 Jeff Wichmann: So I didn't tell many people that the green Eastern Cider in our recent auction was dug by me as a 15-year old in Aptos. There was a dump near the Post Office and we found a lot of stuff, a number of Eastern Ciders. Bob West found out about it and drove to my house and offered me $40 for it which I accepted. I sold his collection and it ended up selling to another collector as Bob wouldn't sell it to me. Ken Salazar somehow ended up with it and unbeknownst to me the bottle I found as a youngster was sitting in my office ready for the auction. I told Dennis Fox, my bottling partner about it and he put a sizable bid in at the end of the auction and to my astonishment I have it back after an almost 50 year hiatus.
These pictures are ones sent to me from Jeff Watts of Hawaii. I am astonished at how beautiful his E.C.'s are and all of his sodas are. So it took a lot of time and a lot of money but I can finally rest knowing I have probably the best bottle I ever found back on my shelf. It's the first bottle I've (Dennis) ever won in my own auction. I have a policy of not bidding in my own sale. I'm sure glad Dennis did. The single photo is my new addition.
01 November 2017 | Wednesday
Working on laying out an article called Jamaica Champagne Beer by Eric McGuire in the January February issue of Bottles and Extras. There is reference to a Triumph Bitters that may be unlisted. The listing below is from a San Francisco 1885 city directory for David Lopez da Fonseca.

Bill Ham provides the following for Bitters Bottles Supplement 2
Advertisement
T 57.1 TRIUMP BITTERS, D. L.Fonsea, mnfr, 223 Stevenson
San Francisco 1885 city directory for David Lopez da Fonseca
27 October 2017 | Friday
Post update for the Hercules Bitters with new catalog number by Bill Ham, Hungarian version, advertising trade cards from Joe Gourd and an advertisement from Corey Stock. Go Astros!

25 October 2017 | Wednesday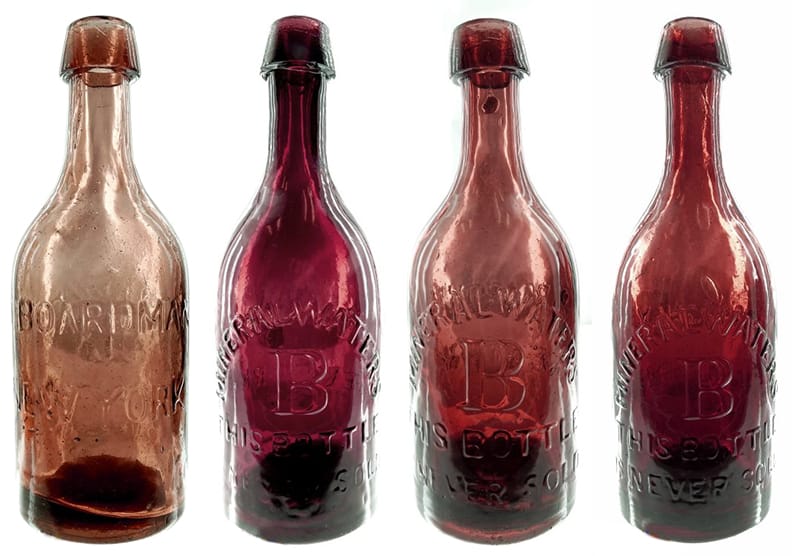 Can you dig it! Four (4) different J. BOARDMAN NEW YORK MINERAL WATERS "B" in various shades of puce. Each with applied tapered top and iron pontil in the recent American Bottle Auctions Auction #64.
16 October 2017 | Monday

F.,
Enjoyed your recent posts on Panama Bitters and the Canal Zone. 
Everything is from where you sit, whether it's in a hotel in downtown Houston or the Panama Canal. As an example, here's a Polar brand ginger ale from Panama. Looking at the graphic on the bottle, us northern hemispherians instinctively think of the arctic pole.  However, the Panama Coca-Cola bottling company chose to look to the south, and put Antarctica on their bottle.  Everything is from where you sit. . .
K. (Ken Previtali)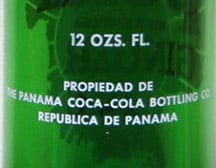 14 October 2017 | Saturday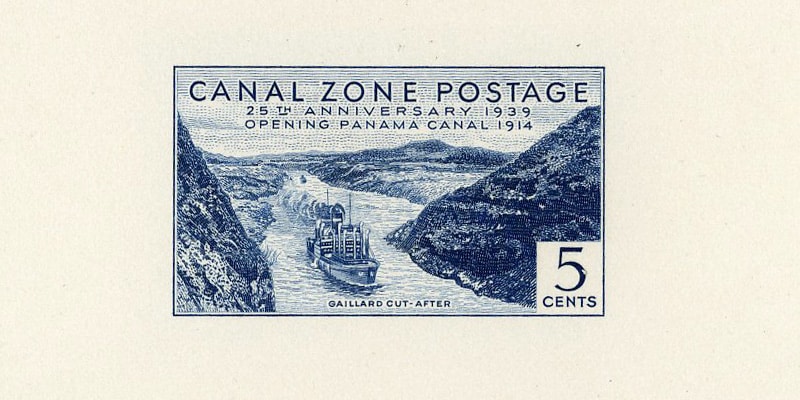 Back in Houston. Rockets game last night and Astros Yankees ALCS game today. Staying downtown at the JW Marriott. Just posted on Panama Bitters.
Here is he new cover for the November December issue of Bottles and Extras. At the printer now.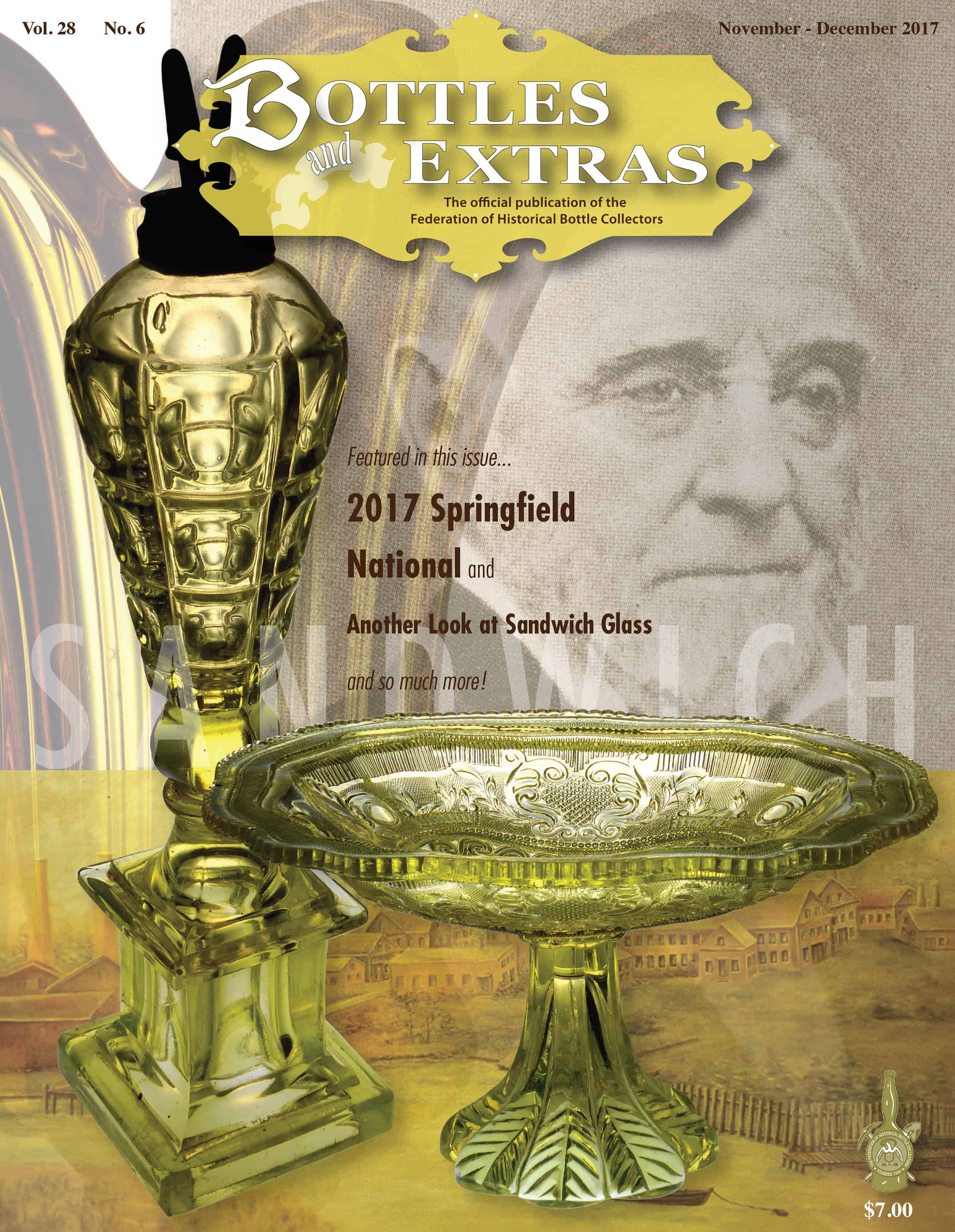 12 October 2017 | Thursday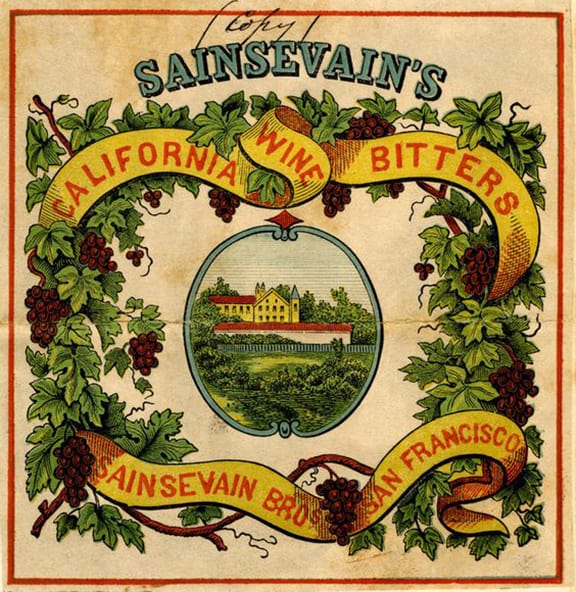 Added this cool label to the El Aliso, Jean Louis and Pierre Sainsevain and their California Wine Bitters post from 2013. Look for a post later today on Dr. Jaffe's Celebrated Cinchona Bitters.
11 October 2017 | Wednesday
Concerned about Richard & Bev Siri (and others) out in Santa Rosa ands surrounding wine country. Crazy, just crazy. Richard reports:
Ferdinand
Were OK now but there are still concerns. Lots of smoke around us and ashes falling on our house so I've got three sprinklers up on the roof and have been cleaning up the leaves around the place. We have lots of trees. My son Rick was evacuated but he's OK today. I know several people that did lose their homes including my ex brother in law and my estimators daughter. When they tell you to grab what you can and get out it would be Bev and the dog. Would hate to see the stuff I have go up in smoke so much of it is not replaceable. I do have insurance but what do you do with money.
Richard
Sporting KC vs Dynamo MLS soccer match hear later today. Great weather in Houston. Off to Fort Worth for the next few days after match tonight.
From John Pastor at American Glass Gallery:
Just received a call, out of the blue this past Thursday, on a rare bitters found in the eaves of an old barn in Maine. We picked it up on Saturday afternoon. It's a Russ' Stomach Bitters New York", R-127. Absolutely pristine condition. Great story to go with it. Is actually one of the last items that we will be including in our November Sale.
Read: Russ' Stomach Bitters – A New York Lady's Leg
Bill Ham: Please consider a new Ring & Ham number in Bitters Bottles Supplement 2 for Dr. Van Dyke's Tonic and Purifying Bitters. This is different than the one listed. The advertisement below is from The Evening Telegraph (Philadelphia), Wednesday, July 13, 1870. From the Dr. Van Dyke's post yesterday.
Interestingly, there is a Pennsylvania link as there was a Dr. Van Dyke's Tonic and Purifying Bitters being advertised in Philadelphia in 1870. See ad below. Notice the doctor is called "Dr. Van Kyke" in the ad! That's pretty funny. Is this the predecesor or inspiration? I bet it is! The "Dr. Van Dyke's Tonic and Purifying Bitters" is the same copy on a label of a later St. Louis variant. See V 8 L above. Dr. James M. Van Dyke was a physician listed in Philadelphia city directories from 1871 to 1878. His earliest appearance is 1861 in the directory.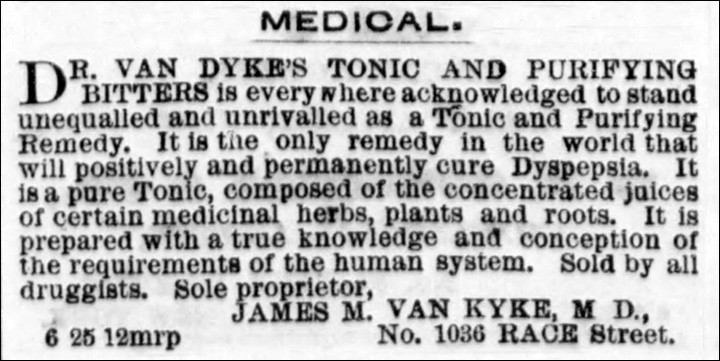 10 October 2017 | Tuesday
Working out of the house today. Finishing an interesting post on Dr. Van Dyke's Holland Bitters from St. Louis and trying to get the November December issue of Bottles and Extras out the door. In the meantime, here is an interesting newsletter from 1981 that reviews Carlyn Ring's "For Bitters Only" book.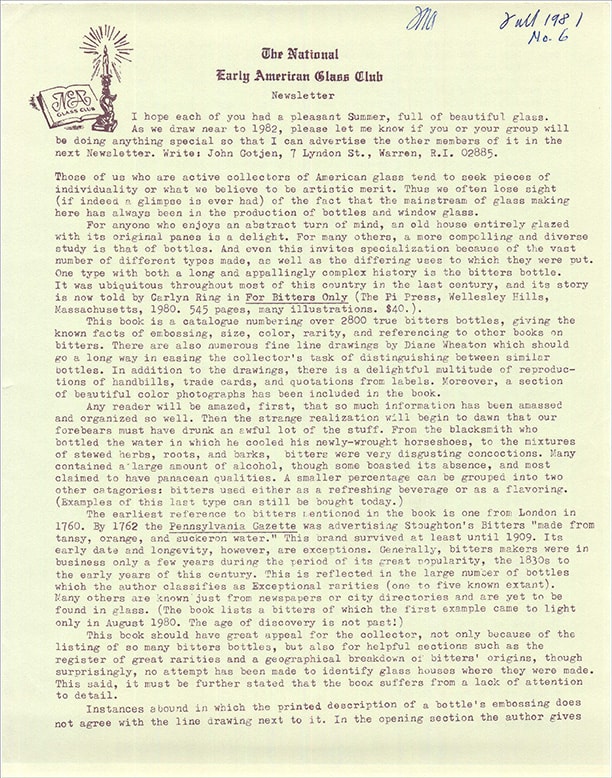 09 October 2017 | Monday
Sorry I have been away for so long. Recovering from Harvey I guess. Living a nomadic life away from norms. This copy below appears in the next issue of Bottles and Extras in the President's Message. It kind of sums things up.
Ok, now for some gallows or dark humor. Back in early August, I was contacted by a lovely young woman from The History Channel. They wanted to talk to me about an upcoming series on collecting and possibly visit the collection in Houston. We talked and I said every bottle has a story. I did mention that the collection was previously featured on an episode of Extreme Collectors but that did not seem to deter her. Well, things happened. We had a fateful appointment with a fellow named Harvey and I was offline and away from my world for a number of days. When I finally looked at my emails and phone messages, she had been trying to reach me to schedule a Skype web interview. My reply was simple… "OK. Underwater at the moment😩" Her reply was "Sounds fun! Let me know when you've come up for air!". Ha. That was a good one. I didn't reply as survival was on my immediate list of things to do. A few days, later another email came in saying, "Oh my gosh…. I did not even realize you were in Houston! I misunderstood what you were saying in the last email. Stay safe!"
Well, we've now had a 100-year flood, 500-year flood and now this 1,000-year flood in a year and a half. Don't put any stock into that baloney. There are changes in our environment, our natural world and with the millions of acres of development that have occurred on the vast rice fields, prairies and natural vegetation that once absorbed our downpours. This last one took the cake. I stopped measuring with my rain gauge when the raised urn and gauge floated away at 30". That's biblical. We are now considering raising the house or razing the house.
Elizabeth and I thank you all for the concern and well-wishes we received. I have been asked many times if any bottles broke? Actually, only one bottle broke. A figural barrel fell off a higher shelf and broke on my head. Probably a message there somewhere. No, it wasn't a Headache Bitters! Lions, tigers and bears, oh my!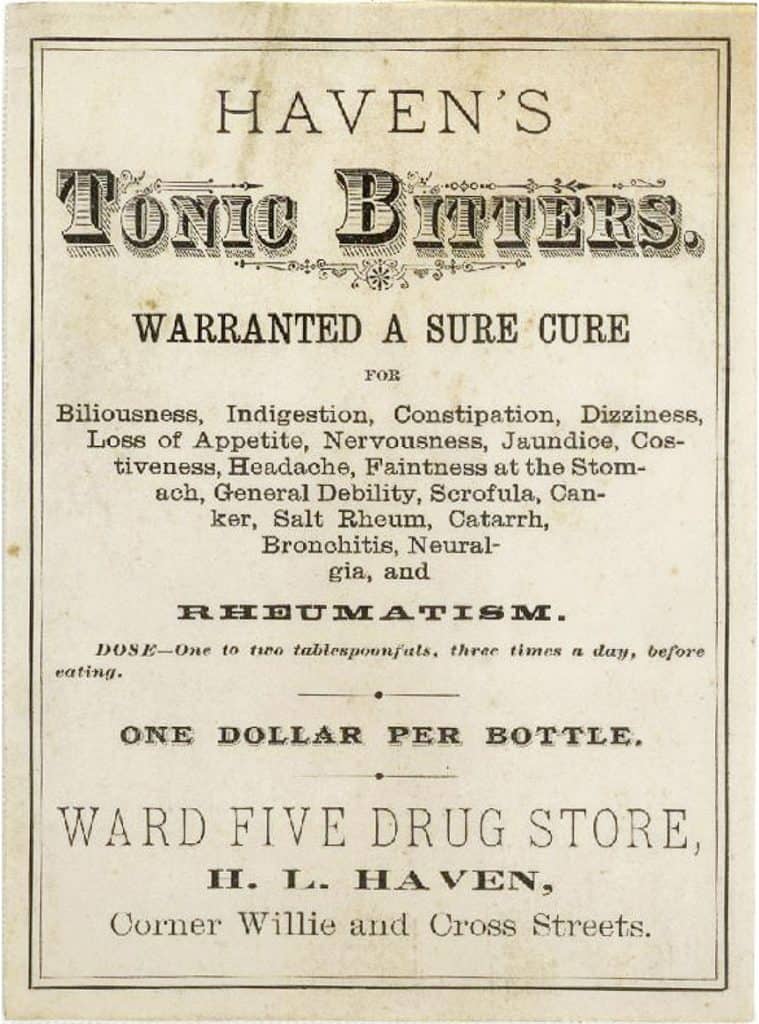 Make sure you read the latest post on Haven's Tonic Bitters. What do you think? Was this label applied?
Martin Van Zant sends in the following for Dr. Henley's Celebrated IXL Bitters, "I ran across these two ads from 1888, out of a flyer for plays, musicals or something of that nature. Thought you know more people out west and could share. These may be common, but I thought it was neat."
Reminds me of the great Henley's article in Bottles and Extras. READ