Baltimore's Iron Bitters –

Brown Chemical Company
30 June 2012 (R•052914) (R•112817)

I like the embossing "BROWN CHEMICAL COMPANY" and the word 'IRON" on the BROWN'S IRON BITTERS and IRON BITTERS from Baltimore, Maryland. These, smaller squares look good together in this mighty-strong pair I have elected to photograph as 99 out of a 100 times, you will find the Brown's in a rather drab shade of brown amber. Just recently, I was able to obtain a nice example of the IRON BITTERS that prompted the pair photography and this post.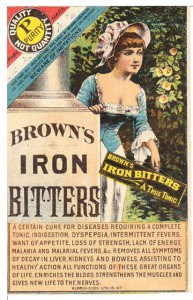 Both the BROWN'S and IRON BITTERS come with an entire field of other exciting and well designed collateral material such as trade cards, games, advertising etc., some of which I have pictured below.
The thing that gets me again, is the BROWN CHEMICAL COMPANY name. What a yummy message to emblazen on bottles where the advertising shows mothers giving heaping spoonfuls of this "iron-like" concoction to their children. Much of the advertising is also addressed to women. A few of my favorite quotes are represented below:
"If you are Weak, Languid, Nervous or Suffer From Dyspepsia or Indigestion, take IRON BITTERS – They will Cure You"
"If you want your Children to be Healthy & Strong, give them BROWN'S IRON BITTERS"
"Cures Malaria, Dyspepsia & Female Infirmities"
"A Prominent Washingtonian Cured of Dizziness, Etc."
"The Workingman's Friend – Strengthens and Heals"
"A Lady Cured of Rheumatism"
In 1879, the Brown Chemical Co. began marketing Brown's Iron Bitters. The company was located in Baltimore, Maryland. The product was 39% proof alcohol and by the 1890s it was one of the top selling bitters. The formula was targeted for female infirmities. The main ingredients were Iron Phosphate, Calisaya Bark, Phosphorus, Vibernum Prowifolium and Coca.
Queen Dollalingo of Perpetual Bloom Island came ill with Dysentery. Jeff Gordon who was a top salesman for Brown's Iron Bitters just happened to be at Bloom Island and gave the Queen some Brown's Iron Bitters. Queen Dollalingo recovered from her illness and would marry Jeff Gordon and made him the King of the Island. (Source Bottle Pickers)
The Carlyn Ring and W.C. Ham listing in Bitters Bottles is as follows:
B 231 BROWN'S IRON BITTERS, Circa 1878,
BROWN'S IRON BITTERS // sp // BROWN CHEMICAL CO. // f //
Brown Chemical Co.   Baltimore, Maryland
8 5/8 x 2 1/4 (6) 1/2
Square, LTCR, Applied mouth and Tooled lip, 3 sp, Greenish yellow and Yellow, Rare; Amber, Common.
I 27  IRON BITTERS, Circa
IRON BITTERS // sp // BROWN CHEMICAL CO. // f //
Brown Chemical Co.   Baltimore, Maryland
8 3/4 x 2 3/8 (6 3/8) 3/16
Square, Amber and Yellow, LTCR, Tooled lip and Applied mouth, Common
See: Brown's Iron Bitters. Pamphlet available.
Read Further: Brown Chemical Co. v. Meyer – 139 U.S. 540 (1891) – U.S. Supreme Court – Argued March 18, 1891 – Decided April 8, 1891 This was a suit in equity instituted by the Brown Chemical Company, a corporation organized under the laws of Maryland, against the firm of Meyer Brothers and Co., of St. Louis, in the State of Missouri, to restrain an unfair competition in trade.
BROWN'S IRON BITTERS & IRON BITTERS